…Family cries for justice
Some irate mob and motorcyclists have allegedly stoned a businessman, Usman Yamah, to death for accidentally hitting a virtually impaired man in Elepe area of Ikorodu, Lagos State.
The deceased, who was accused of hitting a partially sighted man at the Ikorodu garage on Monday, was said to have fled the scene in his red Sienna for fear of being lynched by the angry motorcyclists.
However, in a fit of rage, the angry mob and motorcyclists viciously chased after him, caught up with him at Elepe on the Ijede Road, where it was reported that he was gruesomely stoned to death in broad daylight.
The bike men, who are accused of being northerners, were said to have pulled Yamah out of his car after vandalising it then stabbed him as well as stoned him to death.
According to eyewitnesses, although the virtually impaired victim was hit, he is still alive.
Meanwhile, Abdulmalik Yamah, son of the deceased, has accused the motorcyclists of stoning his father to death and calls for justice on behalf of his mother and three siblings who have since been left in shock.
The son also revealed that upon seeing his father's corpse, his head was swollen with bruises, his limbs were cut off. "My mother and my siblings have since been crying. He was the breadwinner of the family. We want the government to help us get justice".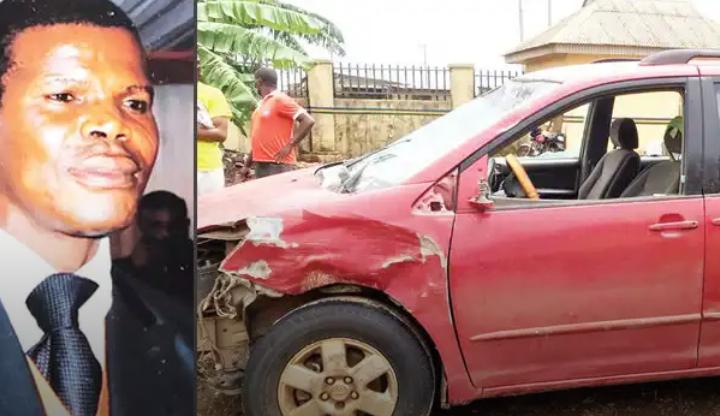 Reacting to the unfortunate incident, the state Police spokesman, DSP Bala Elkana, confirmed that Yamah was stoned to death by an angry mob, adding that the police had commenced investigation into the incident.
Elkana stated, "The incident happened at a place under the Sagamu Road Division, but the man was chased until he got stuck at the Ijede Road. When the man could no longer move, he disembarked and attempted to flee, but the mob threw stones at him till he fell and he was stoned to death."
Elkana added that, no one has provided information about the partially sighted man who was allegedly knocked down. "The mob disappeared before the police were alerted".
He adds, "We have commenced investigation into the incident."
Follow us on social media