Continued…
Olopisco, as he is identified on the Twitter instant messaging platform, (previously identified as 'Dele', in Part I) was either born lucky or naturally has a contract with death, to avoid it at all costs.
This was the second time the Islamic terrorist group had attacked his base, during his aid work in Borno. And this was the second time he survived it.
Like a stroke of luck, he had accompanied some military officers for a soiree, in company of his colleagues, and by the time he returned to base, he couldn't recognise his bed, his belongings or his base, from among the ashes.
He shared his experience: "Konduga is one of the three local governments, in Maiduguri. Although a larger part of it is not fully Maiduguri, due to urban expansion. It is also one Hotspot of Boko Haram activities even till now.
"The town comprises of two settings: Host communities and IDP camps. People in host communities are largely people who refused to leave after Boko Haram attacks or returned after it died down.
"My first mission to Konduga, with other colleagues was to supervise a Malaria campaign involving Mosquito nets distribution in IDP camps. Taking pictures were, however, forbidden. We went by road in a small convoy of 5 cars, and a bus.
"The campaign was in the main markets and IDP camps. It lasted till about 4pm. We were to return to Maiduguri the next day according to plans. Reservations were made for four of us at UNCHR station. That evening, one of us just had this odd feeling. But we ignored it.
"We were strolling from the market where we went to buy suya – Suya there is made from ram not like South were cow is used. There, a lady among us saw a soldier friend who had been on her case for a while now. He was returning to Maiduguri that evening, so he urged us to join him and his colleagues.
"Initially, we hesitated because we were to travel early the next day, but the soldier's Honda Pilot was very tempting, and since he was returning the next morning too, we obliged. After the Hangout, he drove us back to our tent and we left.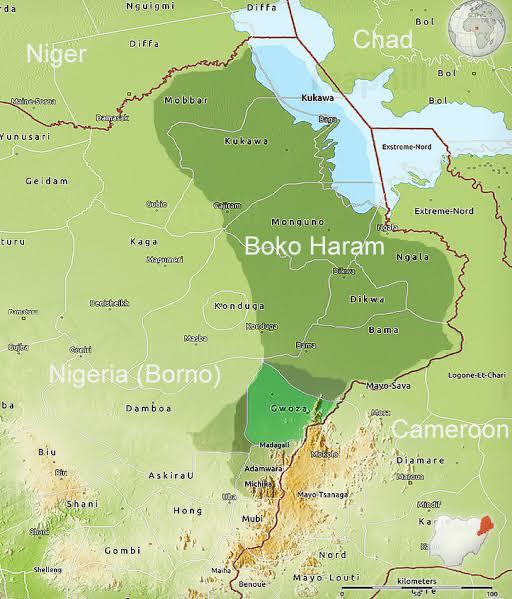 "When we got home. We met our friends around crying and hanging around the whole compound. They shouted when they saw us. 'What had happened?' We asked, almost in unison. 'Dem don bomb Konduga' was what we heard. Exactly the place we were to sleep that night was bombed and the market we just left.
"The lady who had those odd feelings collapsed.
"Two months later, when i returned, i saw the place, everywhere scattered. Bullet shells every where. Those guys came en masse."
'NGOs Sponsor Insurgency In Borno To Siphon Aid Money'
For Olopisco, the realities of life in Borno goes beyond bomb blasts and flying shrapnels."
He said that during his experience as a relief worker in the North, he discovered that most insurgencies in Borno State were privately sponsored by relief agencies, to keep the flow of international aid money active.
He said, "NGO business is not an angelic one as it seems. It is pure business. You have to understand the intricacies of how to get funded to know what is really happening.
"They are being funded by big corporations all over the world in the name of Corporate Social Responsibilities who cut deals with NGOs to avoid tax.
"For example: I have an NGO and I need funding. I approach your company. You give me 10 Naira and have me say N50 Naira so that your CSR will be N50 and avoid paying tax on N40. I need the money so I'll agree.
"Most local NGOs are guilty of this. So I eat N5 and use N5 to run the NGO and I run for more funds.
"These local NGOs are substrate of the international NGOs. They are used to carrying out dirty jobs. They want to remain in business, so no peace.
"Currently, lots of IDPs are now comfortable with free food and supplies that they just want to remain in the tents and get fed and supported.
"There are loud whispers of major sponsors and beneficiaries in the streets, that even the deaf and dumb hear their names. Initially, the empathy and passion was high for the people. But after getting into the system, I saw the rot. It is an abysmal deep pool of shit.
"I was sent to Gwoza. My trip to Gwoza was canceled twice because it is unsafe to fly. You can't go to Gwoza by road. It's a border town with Cameroon. A community of rocks. It has some extensions of Adamawa Mountains.
"The Mobile Police School, Gwoza was hijacked by Boko Haram, in 2014 at the beginning of their insurgency, and recovered in 2016.
"The school was used as their base with their flags up hill. The whole town was deserted with a few held hostage. The situation in the town is a volatile one.
"I was sent to Gwoza alone, but eventually I had a company. I was looking for a lift to the airport. It is not trekable from the mainroad.
"The Maiduguri Airport is on an open land with no fencing, only few organizations within are permitted. I asked the man why there was no attack on the Airport, despite opening the field everywhere. He laughed and said. It can't. It has been negotiated. As long as the government pays.
"The Previous Borno Administration est Ministry of Rehabilitation, Reconstruction and Resettlement. The purpose was to return more people back from IDP camps to their host communities. Once this is achieved, NGOs will be out of business and cash wouldn't flow again. So, they frustrate it.
Soft targets.
"Soft targets are used. Some persons volunteer their children, mainly girls. Some are kidnapped. They wear them with IEDs to enter markets and other populated areas to keep NGOs working. New bombing means more work to do. New camps to set up, more people to feed and more money to earn.
"A Doctor friend who works at Giwa Barracks clinic happened to treat two siblings, one eventually died. She was brutally shot. She and elder sister were donated to Boko Haram, by their father in showing of Solidarity to them. They wore them vests with bombs to be detonated at security post. They escaped and ran towards those soldiers for help. The soldiers were shouting at them from a distance to stop. Confused, the children continued running towards them, and they were shot. Although, the bomb didn't detonate."
Follow us on social media