Mercedes driver,Valteri Bottas got the best time ahead of his team mate Lewis Hamilton in todays final qualifying race at the F1's 70 anniversary grand prix and Nico Hulkenburg who is getting his chance as replacement/stand – in  driver for Racing point/Mercedes also stunned Red Bull's Max Vastappen to take the 3rd place on the starting grid  as Vastappen had to settle for 4th position.
Today's qualifying race had most cars on softer tyres which set up a dramatic and somewhat different qualifying race at the Silverstone circuit, Majority of the top 10 drivers  did Q3 on medium tyres, except Vastappen who would noticeably be starting the race tommorrow on harder tyres.
The Mercedes duo of Bottas and Hamilton were in a  league of their own for the majority of the qualifying races as they exchanged fastest times between eachother and for a moment it was looking like Hamilton was going to end up in pole position but the Finnish Valteri Bottas had other ideas as he came out tops beating Hamilton by .063secs  in the final stages of Q2  and Q3 to get his 1st pole postion start since the one he had at the season opening event at the Austrian Grand Prix.
Renault's Daniel Ricciado ended the race in fifth position after looking poised to either finish 3rd or 4th but he could not improve on a very good run in the Q3, The other Racing Point/Mercedes driver finished in 6th position, ahead of Alpha Tauri driver Pierre Gasly and Ferrari's Charles Leclerc who got a podium finish at last weekend's British Grand Prix.
Alex Albion for Red Bull finished 9th and Mc Larens Lando Norris rounded it up in 10th position on the starting grid for tommorrow's race.
Esteban Ocon finished in 11th place but has been awarded a grid penalty post qualifying race for an incident in Q1 where he was seen to be blocking Gorge Russell.
Ferrari's Sebastine Vettel is conspiquously missing from the top ten place on the grid as he seem to he struggling with his Ferrari car for the second race in the row at the Silverstone and could only manage P1 but he could end up benefiting from Ocon's grid penalty.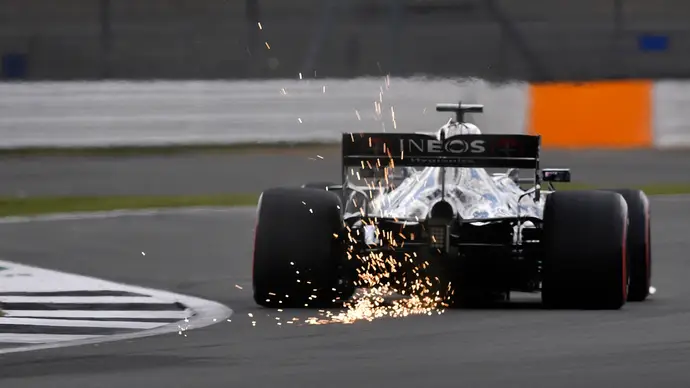 70th Anniversary GP Qualifying result
1. Valtteri Bottas, Mercedes
2. Lewis Hamilton, Mercedes
3. Nico Hulkenberg, Racing Point
4. Max Verstappen, Red Bull
5. Daniel Ricciardo, Renault
6. Lance Stroll, Racing Point
7. Pierre Gasly, AlphaTauri
8. Charles Leclerc, Ferrari
9. Alex Albon, Red Bull
10. Lando Norris, McLaren
The main race of the  F1's 70th Anniversary Grand Prix race is billed to start at the Silverstone circuit  tommorrow afternoon 2:10pm.
Follow us on social media