…Messi was immense as Barca Overcome Napoli to Seal a Place in UCL Q Final
Bayern Munich's free attacking style of play was too much on the night as they ease past Chelsea to secure a quarter final place in the ongoing Champions league. Bayern already with one leg in the Q-final coming into the 2nd leg encounter with a 3 goal advantage from the 1st leg tie at Stamford bridge showed no sign of slowing down as they were dominant from the start as they breezed into the lead as early as the 10th minute when Robert Lewandoski slot in a penalty into Willy Cabalero's goal after he was hauled down and a penalty was rightly awarded as confirmed by VAR, Lewandoski assisted the 2nd goal on the 28th minute when he gave an assist to Ivan Perisic for a cool finish to put the game beyond the Blues already before the half, Chelsea would however get back in the game on the night just before the 1st half in the 44th minute when Tammy Abraham pouced in a close range effort and was helped by a Manuel Neuer's blunder .
Bayern kept it late till the 76th minute for the 3rd goal of the night as Lewandoski was involved yet again when he gave a beautiful assist to an unmarked Tolisso who slotted in a close range effort to put the game to bed finally and killing all possible charge for a miraculous come back the Blues might be thinking of making.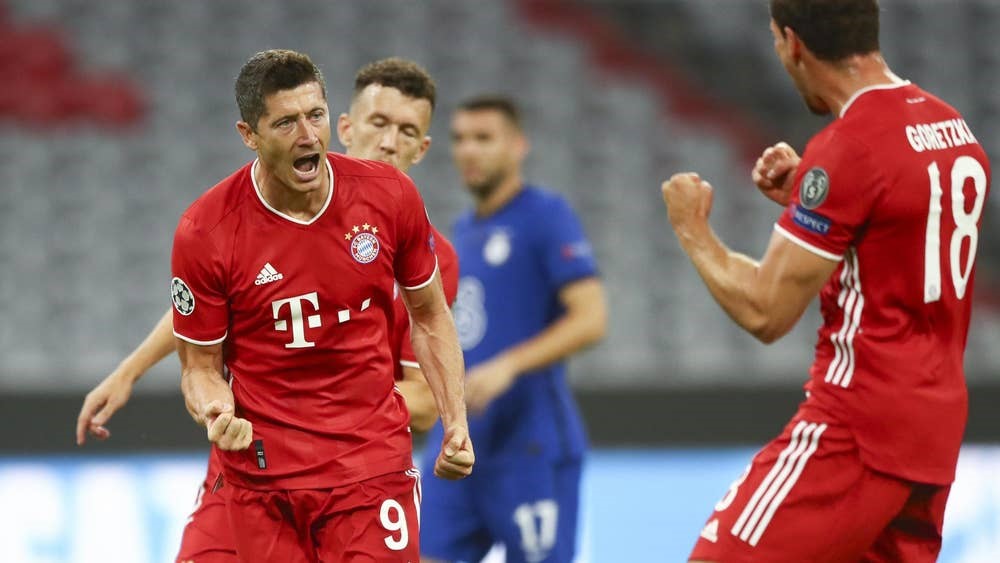 Robert Lewandoski and Bayern still were not done with the goals as Lewandoski who have been involved in all goals (3goals and 4 assist) from both legs against Frank Lampard's Chelsea capped up a very beautiful perfomance with very strong header into the corner from a well taken Alvaro Odriozola cross to finish the match at a very humbling 7-1 aggregate score line for Chelsea. Chelsea have survived two humbling losses in the last two weeks coming from the back of an FA cup final  loss in the hands of  their local rivals Arsenal to end Frank Lampard's impressive 1st season in charge of Chelsea on a very disappointing note with a leaky defense and a long list of injured players.
Robert Lewandoski is no doubt the man on form for Bayern as he has scored 53 goals from 44 appearances in all competition; he has gotten goals in all his Champions league appearances this season (13 goals in 7 appearances).
MESSI HELP BARCA OVERCOME NAPOLI TO SEAL A PLACE IN UCL Q FINAL
Barcelona earned their trip to Lisbon for the quarter finals of the Champions league after they put up a brilliant perfomance against Napoli to win 3-1 on the night and 4-2 on aggregate over 2 legs. Barcelona seem to have gotten over the disappointment of surrendering in a rather disappointing way the La Liga title to their arch rivals Real Madrid as they secured qualification and moved into the Q-final of the Ucl on a night where Lionel Messi magic was brought to bear as he starred at the Camp Nou.
Barcelona got the 1st goal of the night as early as the 10th minute of the match when Clement Lenglet met a well-placed Ivan Rakitic corner with a nice header to make it 1 nil for the Catalans who are desperate of a probable Champions league win to make up for a disappointing league season by their standards.
Messi fired in a solo effort goal in the 23rd minute which once again demonstrated why he is regarded as one of the game's greatest players of all time, he took the ball from around the Napoli corner of the 18 yard box surrounded by 4 Napoli defenders and he managed to dribble and wiggle his way around them before he got a chance to power a curling effort into the far corner despite losing his balance in the process, it was a very symbolic Messi goal which shows nothing but a burning desire to make something out of nothing and a player carrying and driving his team into the last 8 of the Champions league just like he has done on very many occasions and as expected of a player with the captain's arm band, Messi would however get another second goal as he pounced on the Frebkie De Jong cross from close range, but the goal didn't stand as VAR disallowed it.
Messi was yet again in Barcelona's 3rd and final goal of the night as they were awarded a penalty which Luis Suarez stepped up to grab the 3rd goal, Messi was brought down in the area in the build up to the goal by Koulibaly and VAR was called upon yet again and it upheld the decision to award a penalty for Barcelona.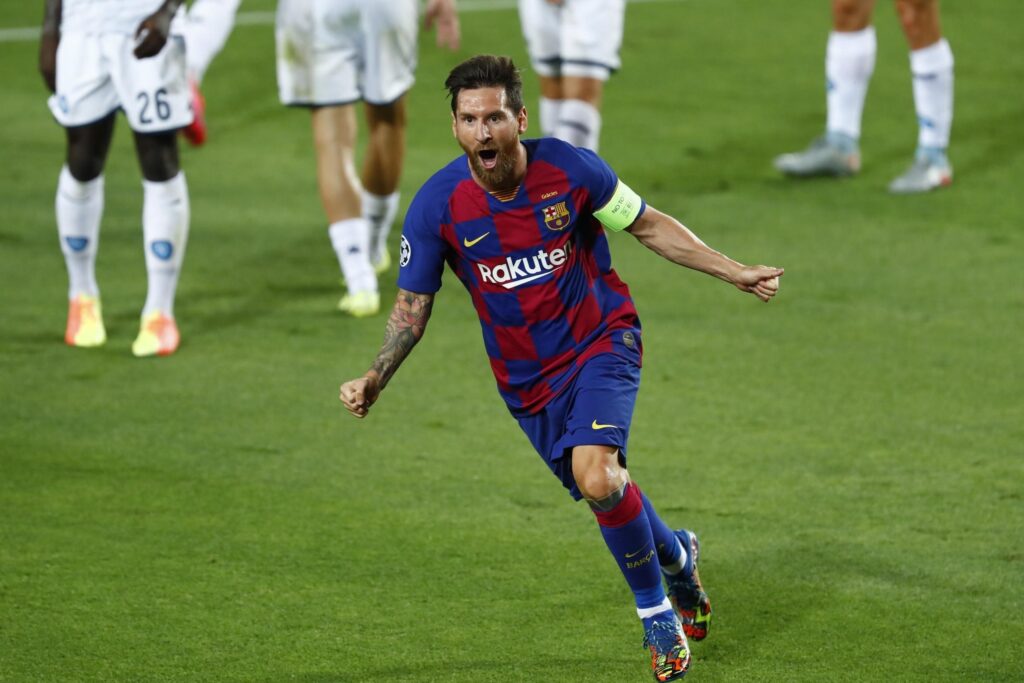 Napoli would later get on the score sheet as well, as they were awarded a penalty of their own when Ivan Rakitic brought down Mertens and Insigne stepped up and slotted the ball into the bottom corner of Barcelona's goal to make it 3-1, Napoli from there on rallied and pilled on some pressure and were trying to get 2 goals in the second half, but it was never to be as Barca had gotten the job done in the opening 45minutes of the match and they held on for a much needed win which would set up a very mouthwatering Quarter final encounter with Bayern Munich which would be their greatest test of the Champions league campaign this season.
UCL QUATER FINAL FIXTURES
– ATALANTA vs. PSG (AUG 12)
– RB LEIPZIG vs. ATLETICO MADRID (AUG 13)
– BARCELONA vs. BAYERN (AUG 14)
– MANCHESTER CITY vs. LYON (AUG 15)
Follow us on social media