It was the second eviction in the BBNaija House tonight. Two Housemates were evicted and sixteen are still left in the game.
Ebuka started off serving it hot by shaking the ships, entanglements, triangles and squares tables in the house.
He spoke to Ozo about his outburst at Prince during the rehearsals and if it had anything to do with the Nengi situation and he said it didn't. He asked Nengi about her situation with Ozo and Prince and she said she had a boyfriend outside the house and was just friends with Ozo.
Ebuka asked Dorathy if she was jealous of Ozo and Nengi situation because she has feelings for Ozo, which she denied and Ebuka reminded her he saw her admit her feelings for Ozo to Ka3na and Lucy.
It was a relief for Kaisha and Trikytee as they survived the eviction axe that fell on Eric and Tochi as the 4 of them were the 4 housemates with the least votes. The housemates voted out Eric and Tochi making them the 3rd and 4th housemates respectively to be voted out of the BBNaija House.
ERIC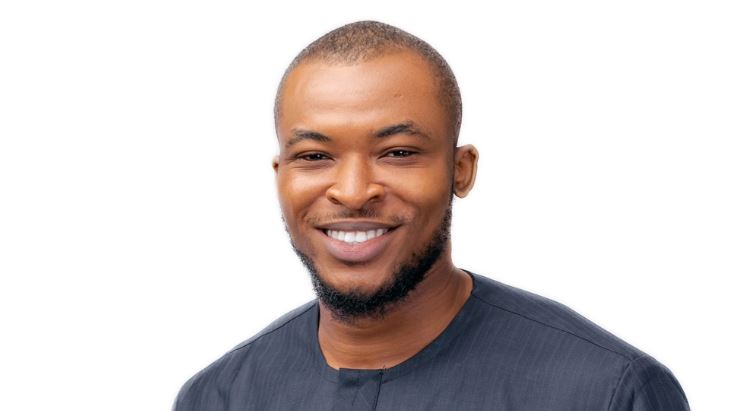 Eric said he felt good. Everything is different from now on. He also can't wait to see Lilo, and would love to continue the relationship outside the house.
He said his plans moving forward is building his fitness brand, taking it higher and higher. Continue modelling and trying his hands on acting.
TOCHI
Tochi said he was disappointed. He didn't think he'd be evicted this early in the game.
Tochi said he expected some housemates to save him and if they didn't, he was okay with it.
He said he wasn't mad at the housemates for voting him out as it was a game and they all have to play it the way they have to. In his own words 'It is What Is it.' Tochi said he was close to Kiddwaya and Nengi and said he was interested in Nengi. He also said he's going into properties and acting after the house.
How the viewers voted this week;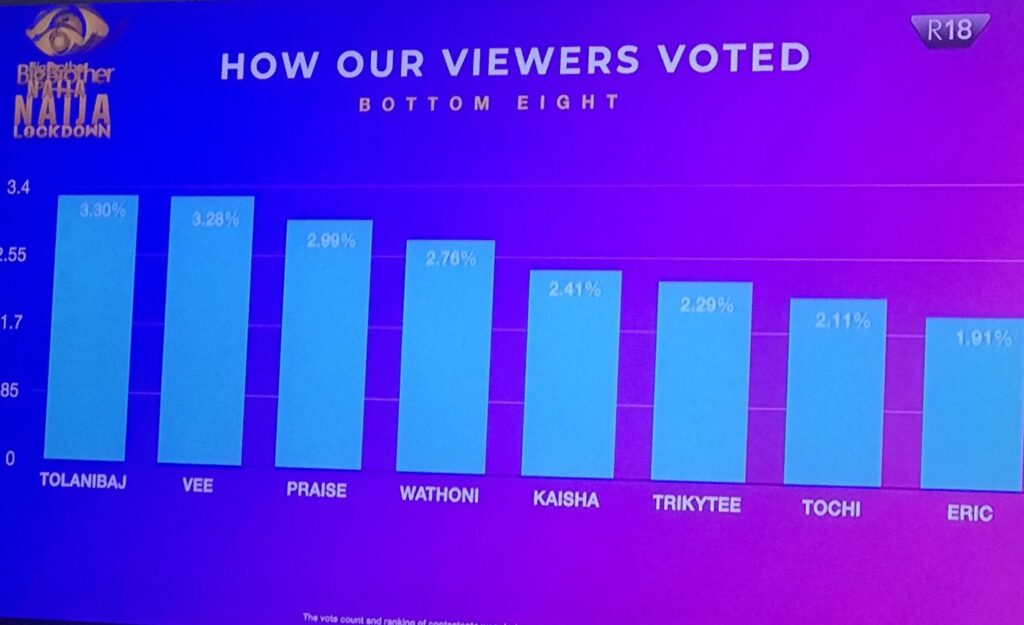 Ebuka continued shaking more tables, asking Erica about her entanglement with Laycon and Kiddwaya and she said she have decided to give Laycon his space. She called Kiddwaya her special friend.
He asked Kiddwaya about his conversation with Nengi about her being a better flirt and if he was flirting with Erica or he has feelings. Kiddwaya said he was just enjoying his time with her as he feels she is a great and beautiful woman with a beautiful smile. Laycon said he has accepted Erica's offer to be friends but have asked her for space as he feels it will do him a lot of good as he needs to look out for himself. Laycon asked for space because he wants Erica to be happy and not have to consider his feelings while doing what she's doing.
Ebuka further push things by asking Wathoni what she thought about the TolaniBaj and Prince's new ship and she said that she was not surprised but thought it would have been Nengi and Prince but that she knows that TolaniBaj really likes Prince but can't speak on how Prince feels about Tolani.
It was an evening of table shaking and we are here for it.
Follow us on social media