Max Verstappen gets his 1st win of the F1 season at the 70th Anniversary Grand Prix at the Silverstone circuit just ahead of the Mercedes duo of Lewis Hamilton and Valteri Bottas , a very dramatic afternoon saw Red bull shock the Mercedes team to claim a very significant win which has seen Vastappen overtake Valteri Bottas on the drivers standing, but Lewis Hamilton is still on top with 107 points, thats 30 points ahead of Verstappen on 77 point and Valteri is close by with 73 points.
Verstappen started well despite running longer stints in the opening stages, but Red Bull decision to  start the race 1st with harder tyres was the smart move that paid off on the day, Verstappen who started in P4 made a quick move on turn 1 to get ahead of  Racing point/Mercedes stand-in driver Nico Hulkenburg who started in P3 and in no time Verstappen was racing behind the Mercedes drivers. Mercedes tyre problems from last weekend's British Grand Prix race reared its head again as its tyres suffered some blisterings and Bottas was called in to pit first as his back tyres were suffering bad blisterers and he made the stop at lap 13 of 52 and Hamilton at the end of lap 14 of 52 and that was the 1st time Verstappen shot into the lead, but the Mercedes duo came back to set a series of fastest laps but it was obvious they were both still struggling with thier tyres.
Verstappen on the other hand was having a great aftertoon piling the pressure and going after the Mercedes drivers in his hard tyres before making a much needed stop on lap 26 and rejoined the race in P2 behind Bottas and it was only a matter of time before he made his move on Bottas and he took the lead which he held on to for the win
Hamilton in the closing laps of the race made a move on his teammate Bottas to move to P2 which he held on to as he equalled another Mack Shumacers record for most podium place finishes.(155).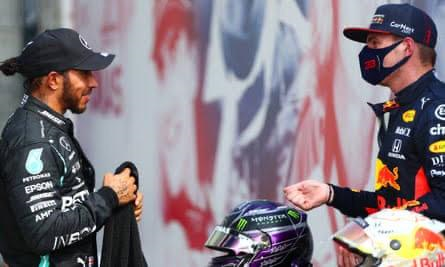 Ferrari's Charles Leclerc had an impressive race to take fourth position ahead of the other Red Bull driver Alex Albion who finished in 5th after starting the race on 9th on the starting grid. The Racing Point/Mercedes duo of Lance Stroll ended in 6th and Hulkenburg who had a good qualifying race as he started the race in P3 ended in 7th place.
Esteban Ocon who got a grid penalty after the qualifying race yesterday and was demoted to start at the back at P14, later managed to finished in 8th position.
Ferrarri's Sebastine Vettel had a terrible start as his car took a spin on its own the very 1st lap, but later managed to also recover and finished in P12.
Renault Daniel Ricciado took a spin as well but recovered and ended the race in P14 right behind Mc Laren Carlos Sainz who finished in P13 despite starting the race in 5th place on the grid.
Kevin Magnussen was the only driver not to finish the race at today's 70th Anniversary Grand Prix.
70th Anniversary GP: Top 10 result
1. Max Verstappen, Red Bull
2. Lewis Hamilton, Mercedes
3. Valtteri Bottas, Mercedes
4. Charles Leclerc, Ferrari
5. Alexander Albon, Red Bull
6. Lance Stroll, Racing Point
7. Nico Hulkenberg, Racing Point
8. Esteban Ocon, Renault
9. Lando Norris, McLaren
10. Daniil Kvyat, AlphaTauri
The next F1 event would be taking place next weekend in Spain Aramco Grand Premio Espana, simply put, the Spanish Grand Prix on 14th – 16th August 2020
Follow us on social media