Apart from being a criminal act, it is also one of the most committed and escapable offences in this community.
Residents across Alimosho, a local government area in Central Lagos, decorate their houses and stalls with refuse, while some of them go as far as burning them covertly.
When our correspondent visited the community, it was discovered that most of them also dump their waste in public spaces, such as road medians, school fronts and open fields, otherwise described as "black spots".
According to some of them, they do that only when the waste disposal officers do not come regularly to dispose their dirt.
A resident in the community, who preferred to be identified as Mr. Micheal, said that "Most times when these LAWMA people come late, we just carry our dustbins, put them in nylons and go and dump it in the roundabout there. Since they do not want to come to our houses to carry it, let me see if they would not carry it from the roads."
Another resident, who preferred to remain anonymous, said that, on the issue of dumping the waste improperly – without bagging them in sacks, after sanitation – , that it is the fault of the Lagos Waste Management Authority (LAWMA) for not providing them with disposal bags.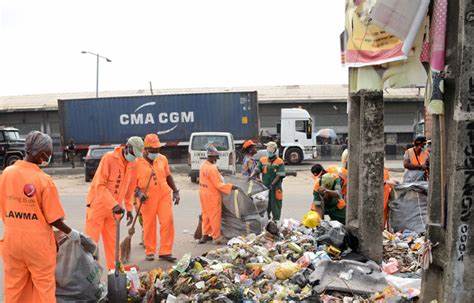 He said, "Well, after we do sanitation, we put the dirt we pack from the gutters on the road here so that the water can dry. When it dries, we put it back inside a sack for the LAWMA people to come and carry it, if we have sacks. LAWMA did not give us any sack. So, if we have where to put it we would, and if we don't we would leave it like that."
In his Ekoro area of the community, our correspondent observed that some of the waste excavated from the gutters are left bare on the ground, which leaves them to the mercy of strong winds to scatter them across the roads.
Further, some of the residents opine that the waste disposal fees are too exorbitant for them to afford. However, TheLagosToday gathered that houses pay N750 naira, monthly, for their waste disposal, and in turn the waste disposal officers are to pick-up their refuse once weekly.
"It is too much o! How can I be paying 750 Naira every month for dirty? It is too much abeg," a woman, who preferred to be identified only as Stella, lamented.
Mixed Reactions
However, some of the residents also agree that the act of disposing the waste indiscriminately is a wrong behaviour.
For Mrs. Funke Nwaneri, a florist in the Abule-Egba area of the community, people should desist in engaging in the act.
"People are doing it, but it is not good. When we pack our dirt from the gutters, I leave it for a day to dry. Then, I separate the dirt from the sand and I pack it into a sack and leave it for the LAWMA people to come and carry it. It is wrong to leave it like that on the road."
An electronics seller in the same area, Mr. Chukwudi, opined that sometimes the shop-owners or residents are innocent of the offence, adding that passers-by mostly dump these refuse indiscriminately in front of random buildings.
He said, "You see all these dirt on the road, sometimes na wetin people wey dey pass don drop. They would just throw it anyhow and breeze would just blow it to the front of shops or houses. So, sometimes, it is not even their fault (residents)."
Our Correspondent noticed, also, that some of the residents burn the refuse at junctions or inner road corridors to avoid being noticed.
It was also gathered that they, sometimes, burn them, to escape paying waste disposal fees.
However, for the Mobile POS Agent in the same Abule-Egba axis, who preferred to be identified as Ms. Balikis, sometimes the residents burn the refuse, because the LAWMA trucks cannot carry the specific type of waste they produce.
She said, "You see the front of this compound now? These trees normally shed their leaves. As they fall, we cannot pack everything like that into a sack. It is too stressful. Apart from that, if we do it, it would not enter into the LAWMA trucks. They know. So, we normally burn them and then pack it when they come."
Although our correspondent observed that some of the burned trees had been left un-bagged for days, which further allows them to be blown into the streets by fierce winds.
Lack of Enforcement
When the LAWMA unit operating in the community was contacted, our correspondent was referred to the waste disposal company that operates in that axis.
According to the Managing Director, Amazing AAT Internix, Mr. Babatunde Adewale, the problem persists in the area, because there is a combined lack of sensitization and enforcement from the health inspection authorities.
He said, "People generate waste from money. So, if you have money to generate waste, should you not have money to dispose waste? How much is this money we are talking about? N750 Naira in a month! If you are in a single room and parlour, you are paying N300 Naira. So, the issue of not having money to pay for waste disposal is totally out of it.
"Some people even claim that waste disposal is supposed to be free. But even when you go to Freetown, nothing is free. Our people's orientation is the basic reason they indulge into indiscriminate waste disposal and burning of refuse too.
"In terms of the waste disposal trucks going to pick-up the waste, each compound is supposed to have a container. Waste are meant to be containerized. And when the waste are containerized properly on front of each resident, I don't think there is any reason the trucks would not go there to pick up the waste. There are also some situations where people keep waste in their rooms and houses; they are not outside. How are the waste disposers supposed to bring out the waste from inside their houses?
"I think it is just a deliberate sabotage by the people, not all the people. There are some places that are learned. A learned people would not burn waste. A learned people know that it is compulsory to patronize the PSP operators. A learned people also knows that they are obligated to call the Waste disposal companies, regularly, if the trucks do not come to their compounds – they have their numbers. So, they need sensitization. I had a meeting with some Community leaders in Idimu."
Adewale emphasized that residents are expected to hold the waste disposal companies accountable, by constantly calling them when they do not pick up their waste regularly.
He also charged residents to constantly separate their waste from sands, as waste disposal trucks are unable to compile sand, alongside with waste.
The MD further lamented that the health inspectors in the community needed to step up their efforts to curb the menace.
"In those days, we used to hear about 'Wele Wele'. They are health inspectors that come into your houses and look at your toilets, environments and all, every Saturday. They allot officers to inspect. People used to keep their houses clean, then, to avoid paying a fine. If the government doesn't take the situation serious, by going to each resident to ask for their waste disposal receipts, the problem would be reduced. 97.5 percent of people who dump waste indiscriminately are those that do not pay their waste disposal fees. When people know that the government would seal up their houses, you would see that they would strive to pay."
Follow us on social media