A warehouse belonging to Guinness Nigeria Limited located on Wempco Road, Ogba, Ikeja area of Lagos has been razed down by a fire that occurred early this morning.
While the cause of the fire is still being investigated, it was gathered that the fire started at about 2 am this morning.
The fire incident was said to be occasioned after the warehouse stocked with plastic crates belonging to Guinness Nig. Ltd suddenly went on fire, before the city's fire service extinguished the fire, at 7 am.
According to the acting director, Lagos State Fire Service, Mrs Magret Adeseye, a distress call was received at about 3:30 am over the burning building.
She said, "Immediately, I deployed my men to the scene of the fire at Guinness Nigeria at Wempco road, on getting here we got to know that it's a warehouse with empty crates of bottles totally destroyed by fire, but no loss of life," she said.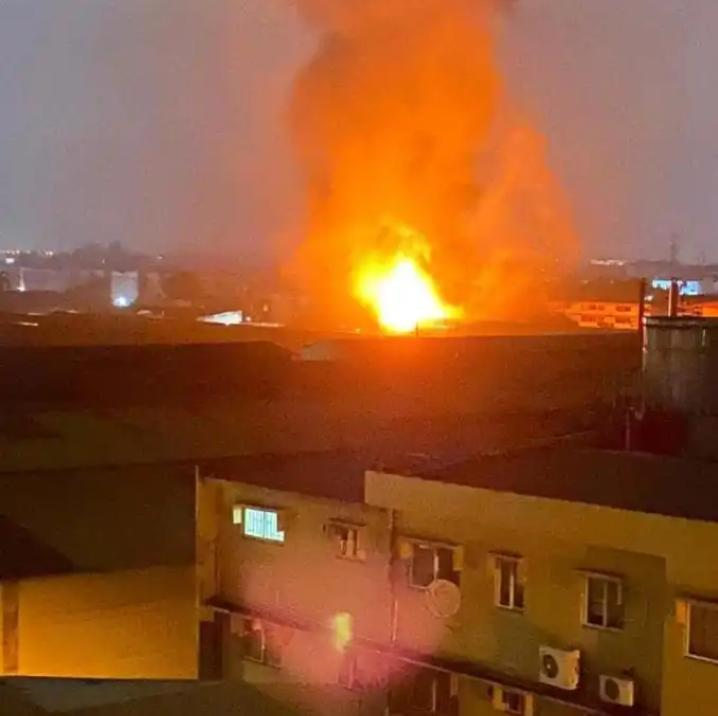 "The damping now is taking on, while the cause of the fire is yet to be determined," she added.
The Director-General of the Lagos State Emergency Management Agency (LASEMA), Dr. Femi Oke-Osanyintolu, said the agency received a call at about 4:05 am and immediately deployed officials to the scene.
Oke-Osanyintolu further stated that the immediate cause of the outbreak could not be determined while agency responders and LASG Fire Service officials are on ground to carry out a dampening exercise to forestall any spread or secondary incident.
He said, "Around 4:05 am, we were informed that there is a fire incident along Wempco road, we activated our emergency response plans, all the key stakeholders that are important in managing emergency moved to the scene.
"On getting to the scene, we discovered that a store that has a lot of crates of Guinness bottles was on fire, and we were able to curtail the spread by 7 am, we put out the fire finally, we are now doing the damping," he added.
Oke-Osanyintolu, however, urged the company to follow procedures in ensuring the safety of their workers while extrapolating the advice to other companies.
"I will appeal to the management of this place that they should put fire hydrant in their premises, and we are extrapolating to other companies that have these types of storage facilities. We are also appealing to do material testing of the structure and ensure the safety of their people.
"We have put out the fire, we have condoned the place off, and we will do a holistic investigation to really ascertain the cause of the fire. There is no loss of life but the damages is enormous," he added.
Follow us on social media