Despite the fact that there were no fans to cheer and watch the teams play on the night, an intense filled atmosphere all started with Bayern getting all the possession and were quickly rewarded with a quick goal as early as the 4th minutes when Thomas Muller and Robert Lewandowsky combined nicely in the Barca area to get Muller in perfect position to put the German Champions in front for the 1st goal on the night, Barca reacted swiftly afterwards and they had a brief spell on the ball. Jodi Alba found himself in a good position as he squared the ball into the Bayern area which was intercepted by David Alaba and directed into his own goal, beyond Manuel Nuer in Bayern goal to make the game all square as early as the 7th minute to set up what looked like a very interesting evening of Champions league football.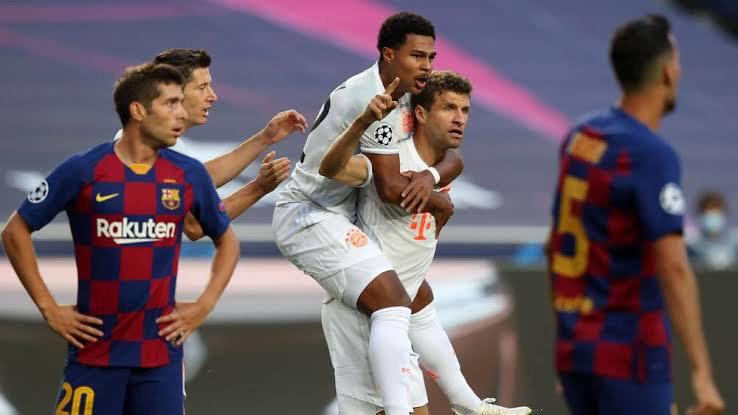 The game became somewhat kind of an end to end affair after the Barca equalizer with both teams sizing each other up and trying to carve a way to open each other's defense and then came a period of 10 minutes of complacency which saw the Spanish giants concede 3 quick goals in 10 minutes. The 1st of the quick 3 goals came in the 22th minutes, Barca's Sergio Roberto made a defensive error which Serge Gnabry pounced on and passed a teasing ball to Ivan Perisic who slotted in the Bayern's 2nd of the night. Flick's side got the 3rd on the night as the former Arsenal man Serge Gnabry was involved again has he fired in a goal himself courtesy of a Leon Goretzka assist, and then came the 4th Bayern goal from Joshua Kimmich cross which was met by Robert Lewandowsky volley which gave Marc-Andre ter Stegen no chance in goal for Barca and it ended that way(4-1) into the half time.
2nd half resumed and Barca's under fire manager Setien, brought on the underperforming French man, Antoine Griezmann into the fray and not long after then in the 57 minutes, Barca broke from the left and Luis Suarez did well to take out the on rushing Jerome Boateng out of the way beautifully and then slotting a low ball into right of Nuer's goal to make it 4-2 on the night and for a moment it seem like Barca were in to stage an incredible come back but shortly after then in the 63rd minutes Alphonso Davies had other ideas as he found himself one on one with Nelsom Semedo and he took him on and deflected him nicely before making an unstoppable brilliant run into the Barca box and squared the ball into the area for Joshua Kimmich to tap  in for Bayern's 5th .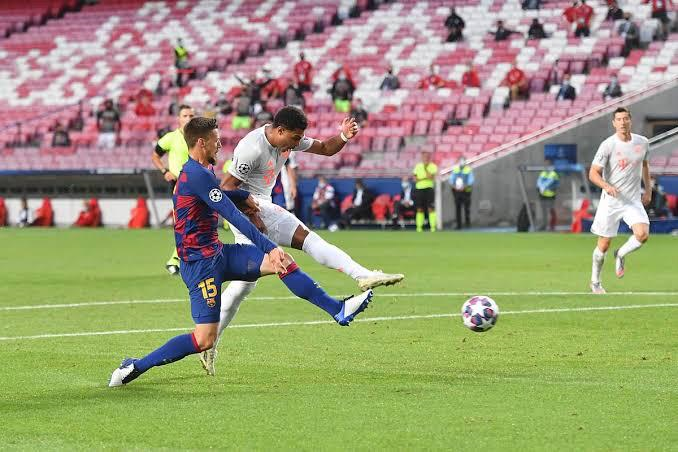 Fifteen minutes from time in the 75 minutes, Barca loanee, the Brazilian Phillipe Coutinho was brought on to replace Gnabry and he was involved in the 6th goal as he set up "Man on fire" Robert Lewandowsky for his brace on the night through an header from close range which was reviewed by VAR and was upheld to get the score line up to an embarrassing 6 -2. The humiliation for the Catalans was not done on the night as two quick late goals within 5 minutes (85th and 89th minute) for the "substitute" Coutinho made sure the match ended on a very embarrassing note (8-2) for Messi and his Barca teammate who were second best at everything and didn't show as much drive, passion and urgency that is usually characteristic of a team in the quality of Barcelona.
Thomas Muller who was making his 113th Champions league appearance, the most by any German player in the competition was named man of the match on a very remarkable and memorable night of Champions league football.
Bayern have won 31 of 34 games since Han Dieter Flick took over as manager with a Bundesliga and DFB-Pokal trophies to show for it. A champion's league trophy would sure be the very well-deserved icing on the cake for a very remarkable season.
Barca have survived one of the embarrassing seasons in recent times, as there has been a coach change Seiten replacing Ernesto Valverde which has not really impacted results and their style of play, crashing out of the Copa del ray, giving up the title to Madrid in the way they did and now a very humiliating and embarrassing defeat to champions league rivals Bayern,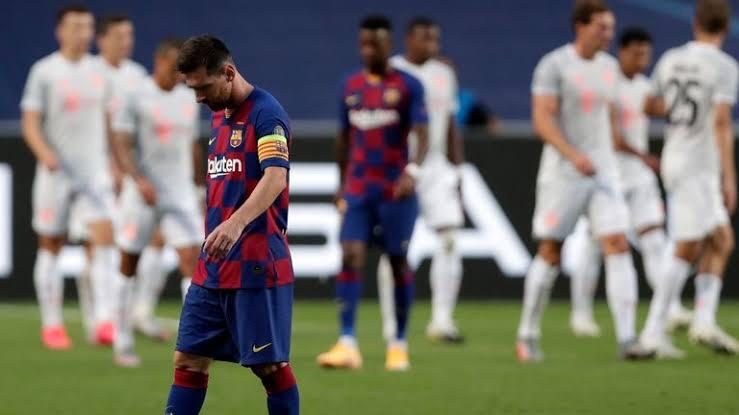 it would be safe to say Barca have reach a rock bottom and an end of an era and are a team desperately in need of new directions and immediate radical changes.
Bayern will now play the winner of the Manchester City versus Lyon who would square up against each other on Saturday evening in the Champions League semi-final on August 19.
Follow us on social media