The Special Adviser to the Lagos State Governor on Housing, Mrs. Toke Benson-Awoyinka has met with stakeholders and Real Estate Developers in the state in a bid to sanitise and strengthen operations of the sector.
In her opening remarks, Benson-Awoyinka stated that the meeting, which held at The George Hotel Ikoyi, was to deliberate on ways the housing sector could contribute towards achieving a 21st Century Economy as well as measures needed to curb the high rate of fraudulent practices in the Real Estate Sector in Lagos.
She pointed out that the urgent need to tackle fraudulent practices within the sector necessitated the upgrade of the department under the Ministry of Housing to a full-fledged agency.
Her words, "The Real Estate Regulatory Authority Bill is before Lagos State House of Assembly for necessary review and assent."
While acknowledging the vital roles of the participants in Lagos real estate sector, especially in facilitating business relationships between sellers and buyers, the SA noted that fraudulent practices by some developers has discouraged genuine investors in the industry, especially from outside the country.
She charged, however, stakeholders to work with the agency to enhance the integrity and reputation of the property market in line with the vision of the State Government.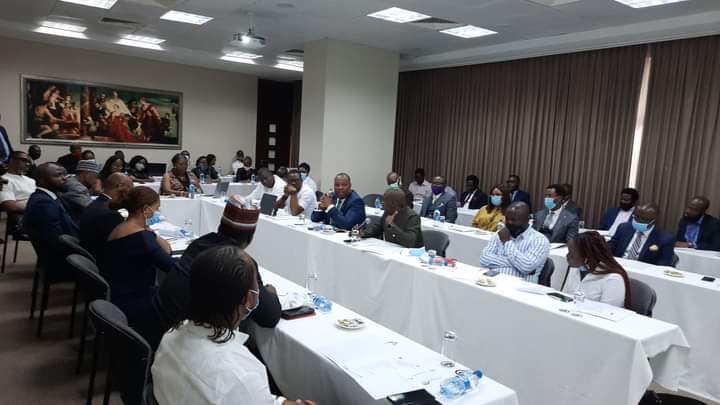 "Real Estate is the Oil of Lagos State and greater opportunities abound in the industry, through the confidence and trust of clients during business transactions," she hinted.
"It is required that every Real Estate Practitioner/Property Developer must register with the Lagos State Real Estate Regulatory Authority (LASRERA) to assist the Agency build a robust database for practitioners in the sector and ease of accessibility for members of the public, who would want to engage their services", Benson-Awoyinka reiterated.
The Developers, in their reaction, expressed their appreciation to the agency for bringing them together towards the development of the real estate industry, stressing that the need to sanitise and regulate the sector is long overdue.
They, however, pleaded with the state government to provide complementary infrastructure in order to reduce the cost of development while making it more affordable and accessible to the people.
The stakeholders also requested that the Agency should create a "One-Stop-Desk", where issues around government processes can be resolved through seamless transactions.
Follow us on social media