Something about this season's F1 Italian races, last weekend in Monza was filled with lots of drama, but that's nothing compared to the many intense and shocking drama of yesterday afternoon's race at the maiden edition of the Tuscan Grand Prix at the Mugello circuit in Tuscany Italy.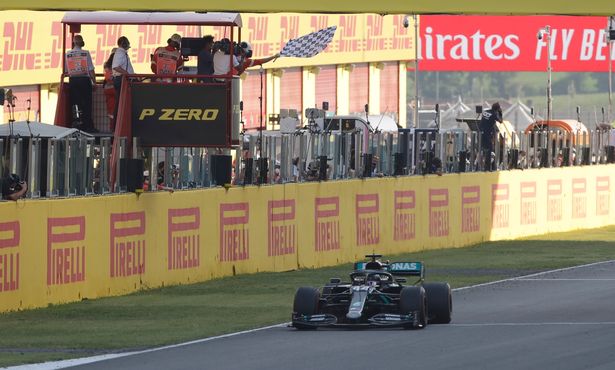 There was lots of chaos recorded as we have had red flags been shown in the last two weekends, something I have not seen in F1 in the last 3 years , we had the safety car been brought out staying on to control the pace of the race for more than 6 to 7 laps, multiple crashes involving lots of cars and automatically forcing a lot of cars to retire from the race, but at the end of the race it was the driver at the top of the drivers standing and reigning champion, who held on to his pole position start and prevailed, Lewis Hamilton came out tops as he wins the maiden edition of the Tuscany Grand Prix, the second race in Italy in the space of two weeks, he did so remarkably beating his teammate Valteri Bottas to it and 3rd place podium finish also for Red Bull's British born ,Thai driver Alex Albion, his very first and significant podium finish .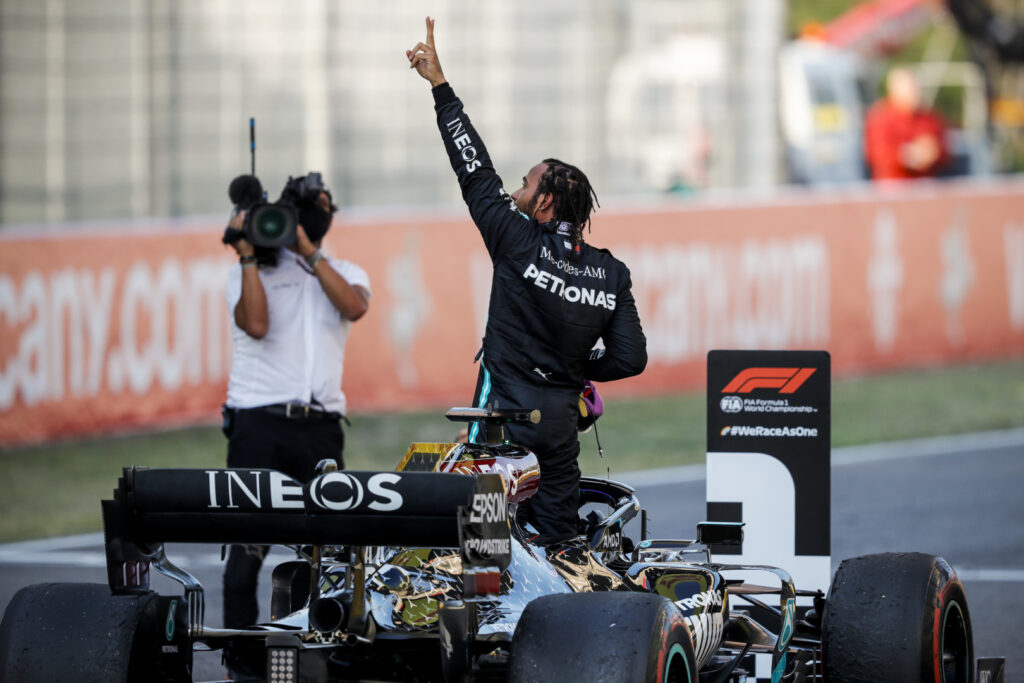 Lewis Hamilton has taken a step closer to Michael Schumacher's records of number of F1 wins after doing all he could to avoid been caught up in any of the clashes.
At the end of the race , we had 8 retirements as only 12 drivers managed to cross the finish line after periods of frantic driving with starts and restarts, The 1st retirements were recorded as early as the very 1st lap when the duo of Max Verstappen and last weekend's surprise winner in Monza, Pierre Gasly were involved in a coming together which brought about the emergence of the safety car and the first 1st red flag of the race, There was a pile up of cars coming together after that incident and it brought about retirements from 4 drivers .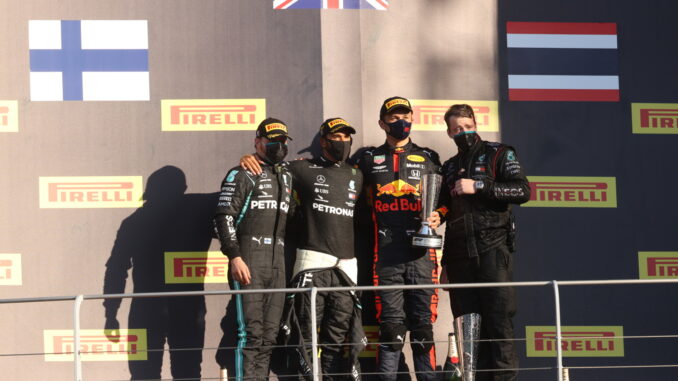 Mercedes and Ferrari were the only teams to have two drivers finish the race and score double points as other teams had just a driver ending the race. The Ferrari duo of Charles Leclerc and Sebastian Vettel had a good race by their recent standards and managed to finish in the top ten for the 1st time this season, a remarkable performance compared to last weekend where both drivers disappointingly did not finish the race at their home ground in Italy, Having both drivers finishing this time and in the top 10 would give the Ferrari team a bit of something to cheer as they celebrate their 1000th race.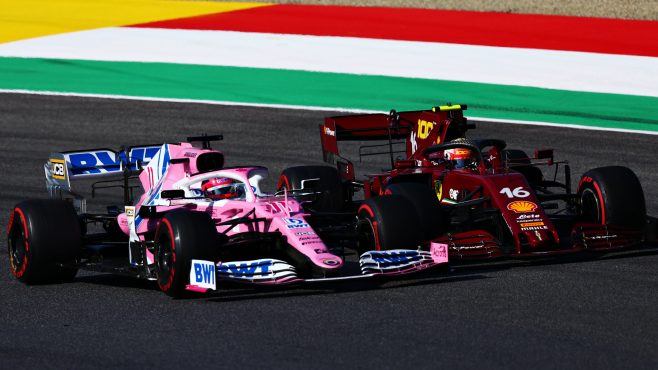 Daniel Ricciardo, Danil Kyvat, Kimi Raikonnen, Sergio Perez, Lando Norris all made up a surviving list of drivers that managed to cross the finish line and scoring very important points for their teams as most of their team mates have either retired as a result of been victims of the many crashes recorded during the race.
Tuscan GP result – top 10
1. Lewis Hamilton, Mercedes
2. Valtteri Bottas, Mercedes
3. Alex Albon, Red Bull
4. Daniel Ricciardo, Renault
5. Sergio Perez, Racing Point
6. Lando Norris, McLaren
7. Daniil Kvyat, AlphaTauri
8. Kimi Raikkonen, Alfa Romeo
9. Charles Leclerc, Ferrari
10. Sebastian Vettel, Ferrari
Verstappen who would have seem like a worthy challenger for the Mercedes front runners had a very early engine problem and was seen in the midfield as early as the 1st lap and he was caught up in the 1st lap crashes as a result of that.
Lewis Hamilton with the win have now opened up a 55-point gap to his closest challenger on the drivers standing who is coincidentally his Mercedes Team mate Valteri Bottas on 135points and Max Verstappen is in 3rd with 110 points as he didn't score any point in yesterday's trace
Mercedes tops the constructors' table with a whopping 325 points as compared to Red Bull's 173 points, Ferrari is in a disappointing 6th position with 66 points.
Williams' Teams have still not scored any point this season.
The next F1 Grand Prix event is moving to Russia at the Sochi Autodrom and that in two weeks' time between 25th and 27th September.
Follow us on social media