Save the Children Nigeria has begun the Babajide Sanwo-Olu led administration in its efforts and intervention to combat the spread of COVID-19 in the state, as it donated N7.5m Infection Prevention and Control (IPC) materials in Ikorodu Hospitals and PHCs.
The IPC materials were donated to 27 Primary Healthcare Centres (PHCs) and two General Hospitals in Ikorodu Local Government Area of Lagos State.
Representing the Country Director, Dr. Isah Adamu, Chief of Party, INSPIRING Project, Save The Children disclosed that the donation of IPC materials was necessitated to address the increasing number of deaths caused by pneumonia among children.
According to Adamu, research has shown that pneumonia is killing millions of children under the age of five while it has also not been getting the needed attention from governments at all levels; local, state and federal.
He noted, "We therefore called for more commitments on the part of all stakeholders to ensure that pneumonia and other childhood diseases get the required financial commitment."
He said it was necessary because pneumonia kills more under five children than some other very common ailments.
Adamu also revealed that situational analysis and baseline studies have shown that the selected local governments in Lagos and Jigawa States have the greatest burden of diseases with limited available health facilities and great political commitment to monitor and sustain the intervention.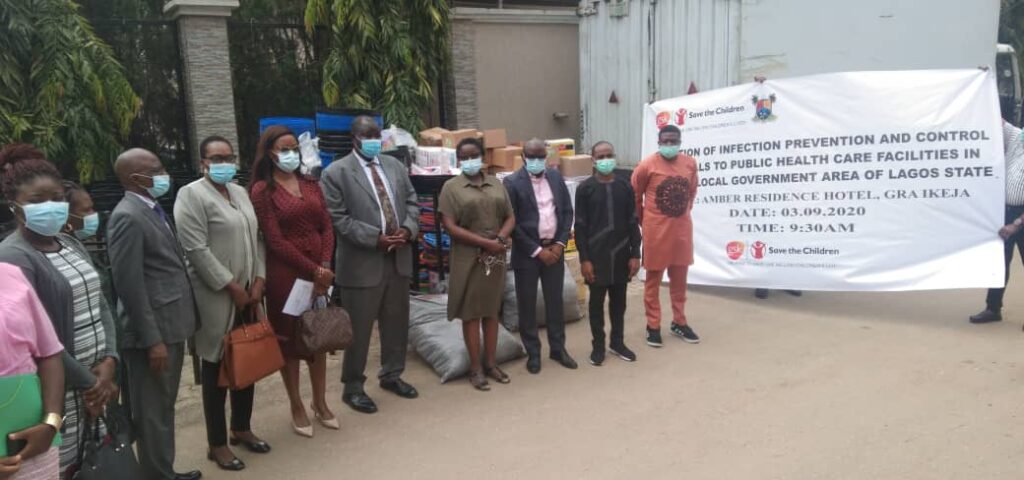 "The support from Save the Children seeks to strengthen the health care system in Nigeria, through trainings of health workers.
"We have trained 60 health workers so far and intend to train 200 in Lagos alone. This is a pilot project which will still be extended to other parts of the country. And we have a plan to donate PPEs very soon because those PPEs have been ordered for already."
Our main objective, he continued, is to keep supporting states and local governments in terms of achieving quality healthcare delivery especially in the area of preventing Pneumonia and other childhood diseases.
In her response, representative from the Lagos State Ministry of Health, Dr. Sade Oludara commended Save Children for the IPC materials that were donated to the state while calling on other non-governmental organisations, corporate bodies to give the needed support because government cannot do it alone.
Among the materials donated were: Hand washing materials, Oxygen Concentrators, Sanitisers, Pulse Oximeters, nose masks, and gloves among others.
Follow us on social media