After 88 years of a heroic existence, the late iconic Justice Adolphus Karibi-Whyte has been finally laid to rest. The Former Judge of the International Criminal Court for Yugoslavia (ICTY) and retired Justice of the Supreme Court of Nigeria climaxed his earthly sojourn in the energetic town of Abonnema, Rivers State, where his body has been buried. A befitting ode to a man of unprecedented energies!
It was a sad day for Nigeria as the renowned Jurist died following a heart failure, on May 22. A befitting tribute by Dan Akpovwa, Thisday publisher, describes Karibi-Whyte as one who would: "Live on in the hearts and minds of many, not just because of his very many scholarly judgements, but also for his sheer humanity. As a human being, he was very kind, considerate and compassionate. For me personally, he was all of that and more. That is why his passing is difficult to accept."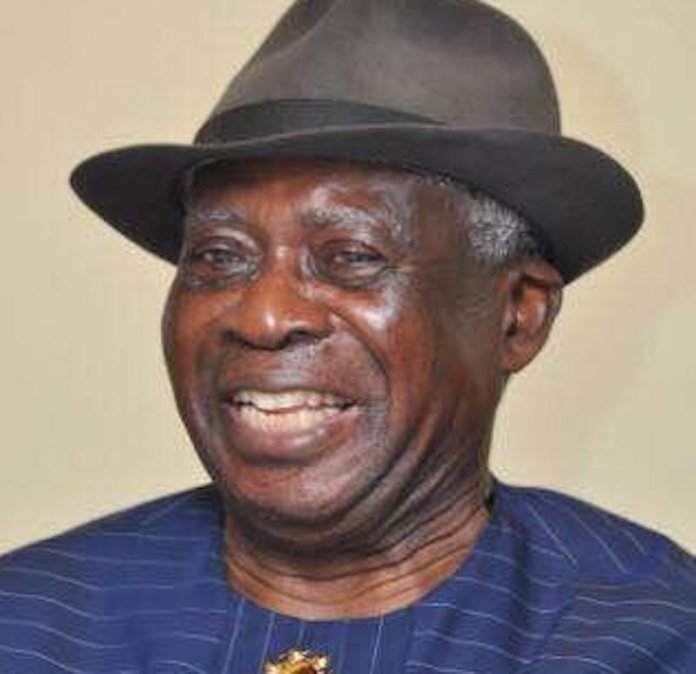 Born on January 29, 1932 in Abonnema, Akuku Toru Local Government Area of the state, Justice Karibi-Whyte had the best of two worlds in law – the academia and bar/bench.
Until his death, he was the traditional head of Tubofia and Boto Group of Houses of Abonnema – a major Ijaw tribe. He is survived by his wife and seven children.
Karibi-Whyte graduated from Kalabari National College, Rivers State, in 1950 and started working as clerk of court, a position he held till 1957.
In 1960, he bagged a law degree from the University of Hull and was called to bar in Middle Temple a year after. He bagged his Masters in Law, in 1962, from the University of London, before securing his doctorate in law from the University of Lagos, in 1970.
His career took another dive, in 1973, as Rivers State Ministry of Justice appointed him as Draftsman. It propelled higher, in 1976, as he was appointed Judge of Federal Revenue Court. His journey transited to him working in the Court of Appeal (1980) and Supreme Court of Nigeria (1984).
Justice Adolphus Karibi-Whyte served as Chairman of various Commissions, including Commission of Inquiry, Counterfeit Currency Tribunal and Inquiry into Nigeria Agricultural and Cooperative Bank, Civil Disturbances Tribunal, Committee for the unification and Reform of Criminal Code, Penal Code, Criminal Procedure Act and Criminal Procedure Code.
He also served as chairman for Nigerian Institute of Advanced Legal Studies, Committee of Pro-Chancellors of State-Owned Universities. He was also Head Law Report Committee of the Federal High Court.
In November 1993, he was also appointed as Judge of International Criminal Tribunal for former Yugoslavia, between 1994 and 1995. He was also the Chairman for the Nigerian Constitutional Conference.
Undoubtedly, Karibi-Whyte led a life of intelligence, refinement and impact. He remains high-ranking among the litany of heroes Nigeria has ever experienced. His life's work has been a major pillar of growth for the Nigerian Judiciary and even the world over.
Follow us on social media