Three people, including a baby, have been feared killed and several others injured on Sunday evening after a multiple accident occurred at Iyana-Ipaja area of Lagos State.
The accidents, which occurred at Al-Moruf Bus Stop in Iyana-Ipaja along the Lagos-Abeokuta Expressway, involved a truck laden with beer bottles, a bus conveying church worshipper and a car.
The truck was said to have collided with the bus then fell on the car.
Most of the bottles were said to have fallen to the ground and spilled its content.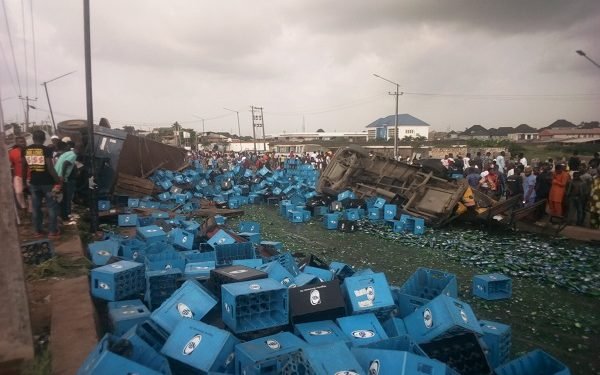 While people were trapped underneath the truck, bystanders tried to help before emergency responders arrived the scene.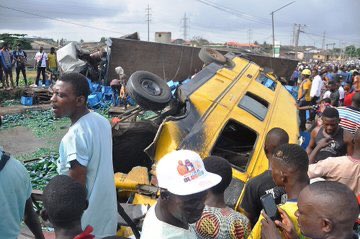 Meanwhile, another eyewitness, simply identified as Dayo told The Lagos Today the brake of the trailer failed. "The driver was waiting for the bus behind to stop, but the bus didn't listen and the truck ran over the bus. It was like a movie".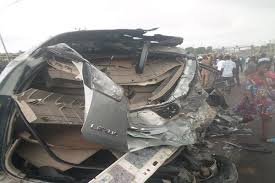 The Director General, Lagos State Emergency Management Agency (LASEMA), Dr. Femi Oke-Osanyintolu confirmed that two male adults died.
The DG added, "Upon arrival of the agency's officials at the incident scene, a multiple vehicular accident involving three cars and a truck conveying alcoholic drinks was discovered. The truck had fallen on its side spilling its contents (crates of beer)."
"The agency's heavy equipment has been activated for the recovery operation. Two adult males unfortunately lost their lives in the accident. Their remains were recovered from the wreckage and handed over to authorities for transport to the mortuary.
He continued that the other affected vehicles have been recovered from the carriage way to a lay-by with the use of light tow truck in order to ease traffic pressure.
"Operation is ongoing as the responders are awaiting the agency's heavy-duty equipment and officials of LAWMA to clear the waste off the road."
Follow us on social media