Japan's Seiko Hashimoto has been appointed the next Tokyo 2020 president, after her predecessor quit due to sexist comments.
The former Olympics Minister is a seven time Olympian herself, having competed as a cyclist and a speed skater.
Former chief Yoshiro Mori resigned following a backlash, after he was quoted as saying women talk too much.
Another octogenarian male leader was initially billed to replace him, but this was also met with protests.
The Japanese Olympic Committee board currently has 24 members, five of whom are women.
Mr Mori had earlier commented that should the number of female board members increase, they would have to "make sure their speaking time is restricted somewhat, they have difficulty finishing, which is annoying".
He later apologised for his "inappropriate statement" and added that the priority was to make sure the Olympics were held in July.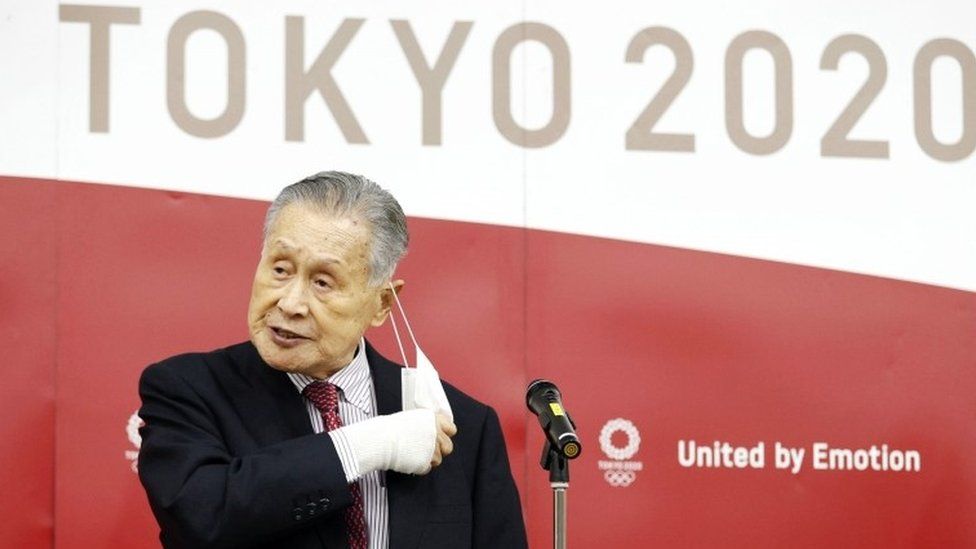 Ms Hashimoto said on Thursday that she had resigned from her role as Olympic minister to take on her new position as chief of the Tokyo Games.
The Summer Olympics will begin on 23 July, after already being postponed by a year due to the pandemic.

Who is Seiko Hashimoto?
The 56-year-old has served as Japan's Olympics minister, doubling as minister for women's empowerment, since 2019
The former athlete has taken part in seven Olympics – competing in speed skating at four Winter Games, and track cycling at three Summer Games. In 1992, she won a bronze medal in the women's 1,500m speed skating event in Albertville, France
Her parents reportedly named her after "Seika", which translates to "Olympic torch" in Japanese
With her daughter's birth in 2000, Ms Hashimoto was the first politician in Japan to take maternity leave while in office – something she campaigned for when she was pregnant. She also became the first upper house lawmaker to give birth while holding office
She is married to a policeman, and is a mother of six including three stepchildren

Grappling with an Olympic-sized challenge
by Mariko Oi, BBC News
There were calls for a woman to replace Yoshiro Mori after he resigned over his sexist comments.
When it was reported that 84-year-old Saburo Kawabuchi, a former Japan Football Association president, had agreed to take over the post, some asked: don't we have a woman or a younger man who could do the job?
It also raised eyebrows that Mr Mori had handpicked a successor. Last week Seiko Hashimoto – in her position as the Olympic Minister then – asked for transparency in the process. Now she has ended up in the role.
Ms Hashimoto isn't without controversy – in 2014, Japanese media ran pictures of her kissing figure skating champion Daisuke Takahashi, and noted she was 49 then while he was 28.
Ms Hashimoto later said she "regretted" her behaviour, while Mr Takahashi said he didn't consider it to be sexual or power harassment. But that didn't stop her critics from speculating that he must have been pressured to say so due to her position.
Those critics are now not pleased with her appointment, saying it is just lip service to choose a woman following the Mori controversy.
But Ms Hashimoto has bigger things to worry about: how to hold the Tokyo Games during a global pandemic, the recent spike in Covid-19 cases in Japan, and falling public support as the cost of the Games balloons.
BBC
Follow us on social media