Alimosho local government area has received the highest allocation of over N700 million among the 20 LGAs in Lagos state for the month of April.
The National Bureau of Statistics report on allocation to the several Local Government Councils in Lagos State disclosed this on Friday June 19.
In a climatic order, Alimosho received N745,037,814.55; Ajeromi/Ifelodun received N564,042,790.49; Kosofe received N554,079,753.30; Mushin got N545,694,072.37; Oshodi/Isolo received N542,884,016.79; Ojo got N536,824,729.89; Surulere has N510,164,315.15; Ikorudu received N527,611,517.23.
Others like Agege received N497,697,212.51; Ifako/Ijayi got N488,403,425.81; Somolu got N479,609,146.25; Eti-osa was given N457,180,365.75; Ikeja received N457,096,184.31; followed by Lagos Mainland with N452,814,756.79; Amowo-Odofin was given N454,181,248.60; Badagry received N439,606,481.83; Apapa has N424,230,255.65;
Epe N424,216,171.04; Lagos Island received N420,842,631.28; and Ibeju-Lekki was allocated N396,204,951.98.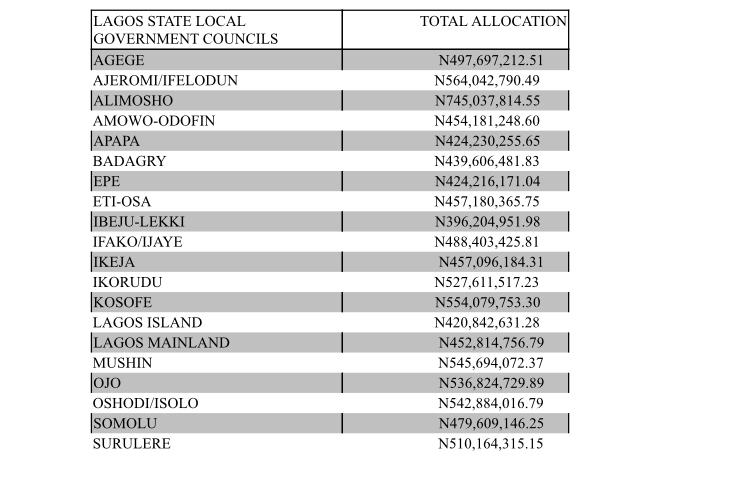 Follow us on social media