Ambassador Carl-Michael Gräns is a Swedish diplomat since about 20 years.
He is the Swedish Ambassador to Nigeria, Ghana and Cameroon since September 2019.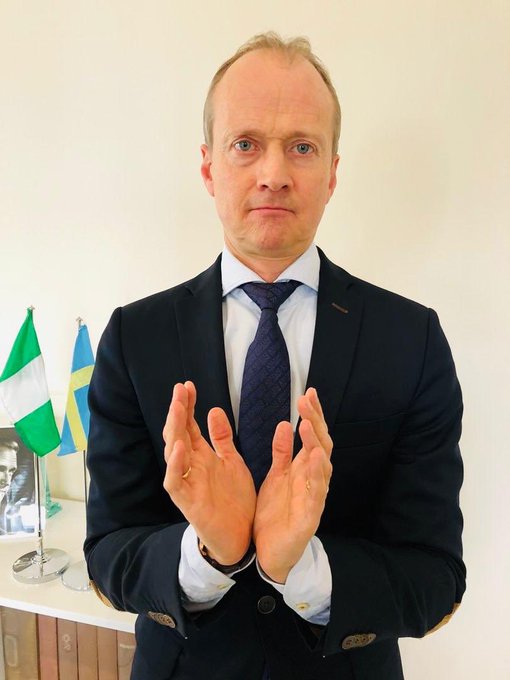 Background highlights: Baccalauréat Degree in French 1988 (Paris). M.Sc. from Stockholm School of Economics (1997), Bachelor Degree in Russian from Uppsala University (2003). Former studies at the State Linguistic University of Moscow. Diplomatic program in 2000. Former postings abroad: Swedish Embassies in Vilnius, Lithuania, Paris, France and Tel Aviv, Israel (summer 2011). Exchange diplomat at the French Ministry for Foreign Affairs in Paris 2008-2009. Press Counsellor at the Swedish Embassy in Berlin, Germany 2015-2019. Different services at the Swedish Ministry for Foreign Affairs in Stockholm: EU-Department/EU-coordination, Iran/Middle East, Head of Section for Russia and Central Asia, among other things.
The Lagos Today got up and close with Ambassador Carl-Michael Gräns to learn more about him, projects, his experience and views on Nigeria as a nation.
LT – Thank you distinguished Ambassador for accepting this interview. So to proceed, can you tell us a bit about your background?
Ambassador Carl-Michael – I am a Swedish citizen working for Swedish diplomacy for more than 20 years. I arrived as Ambassador to Nigeria, Ghana, Cameroon and ECOWAS in September 2019. My former postings, Vilnius, Paris and Berlin, were all in Europe, so I am very excited to be posted in Africa for the first time!
LT – Sweden is believed to have some of the world's cleanest cities, for example, Stockholm. Why is cleanliness important to Sweden?
Ambassador Carl-Michael – I think it is important to all countries, but in Sweden as well as in other Nordic countries in Europe, we have been working on this for a long time. It has been a gradual process through decades of new scientific findings, new political movements, new legislation and new patterns of consumption. It is also important to have free media, that can investigate and report to the citizens. Moreover, the business companies have a responsibility in this. We call it Corporate Social Responsibility. So it is really about cooperation within the entire society.
LT – On the issue of cleanliness, during the World Cleanup Day, we observed that the Swedish Embassy embarked on a cleanup, in Abuja, as part of campaign efforts to promote environmental cleanliness. What inspired this activity?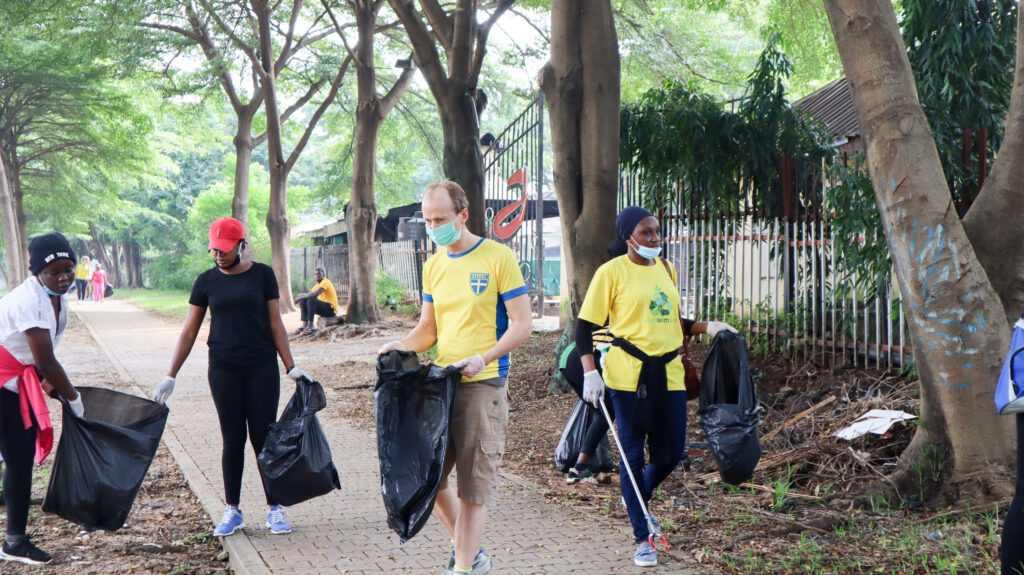 Ambassador Carl-Michael – The activity is called "Plogging" and it comes from the mixture of two words: "jogging" and "plocka" (to "pick up" in Swedish) and this is actually what you do. You go jogging and pick up litter and trash from the streets and parks at the same time! It all started in Sweden a couple of years ago and has become a trend in Europe. We thought it would be a good thing to do on World Cleanup Day and joined the Nigerian movement #PloggingNigeria.
It was a great experience to see so many young enthusiastic people engaging in the activity.
LT – Sweden has continually achieved a decline in its annual carbon emissions – a reality that is evidently difficult to attain globally. What is Sweden doing right to boost its environmental sustainability and how can others learn from her?
Ambassador Carl-Michael – Without boasting, I think Sweden is a good example of the fact that it is possible to have economic growth and reduce carbon emissions at the same time. We don't see this as a contradiction, which of course is very promising for the future. Sure, our patterns of production and consumption have to change and we need to go from dependence on fossil fuel to renewable energy, but economic growth will come in other ways: through new techniques, new solutions and businesses. We need to have a future-oriented approach. The Swedish government has set ambitious goals for sustainability, including going fossil-free by 2045 and 100 per cent renewable energy. In Sweden, pricing carbon through CO2 taxation has been the main policy instrument to decrease fossil fuels. Since 1990 to 2017, Swedish GDP has grown by 70%, meanwhile greenhouse gas emissions have decreased by 26%.
LT – On the issue of sustainability, a core of Sweden's power supply is generated from renewable sources, especially Solar energy. How was Sweden able to push through the odds and achieve this?
Ambassador Carl-Michael – To be quite honest, a big part of Swedish electricity comes from hydroelectric power because we happen to have big rivers in the north of our country. But we do invest in other renewable energy sources as well, both wind and solar energy. Especially solar is a very promising source of energy when it comes to Africa, since you have a very smooth and regular exposure of sunshine. In Sweden, we have a big difference between winter and summer, which makes storage a major issue for us. There are several Swedish companies investing in solar energy infrastructure present in Nigeria, such as Sweborg Nigeria Limited and SolarWave AB. Power it Up Solar Solution Sweden is another Swedish-African start up that aims to be the leading service supplier in transforming the energy sector towards renewable alternatives. They created a demo site in Lagos, to showcase their energy solution, which has already generated publicity and promising business leads. You also have a huge river, the Niger, which could open opportunities for production of electricity.
LT – Looking at the Nigerian environment, what would you say are the major problems with our sustainability efforts?
Ambassador Carl-Michael – Nigeria is such a big country with a variety of businesses and climate conditions. Of course, being an oil and gas producing country, you need to focus on how sustainable your processes in these sectors are. I know that a lot of gas is being burned in the Niger Delta in southern Nigeria, so-called "flaring" only because it is cheaper to burn away, than to be properly taken care of. This has to change, by investing in infrastructure, giving the right legal conditions etc. Waste management is another big challenge for Nigeria. More than half of all waste produced in Sub-Saharan Africa is produced in Nigeria…
LT – So, how do you think Nigeria can manoeuvre itself out of the maze of pollution in the country?
Ambassador Carl-Michael – Cooperation on local, regional and federal levels will be needed, as well as legislative work and the involvement of new techniques, solutions and companies. The entire society has to get together. Here both media and civil society organizations can play an important role to mobilize and drive change for the future. To achieve decoupling, meaning having GDP growth while decreasing emissions, it is important that Nigeria is assisted with capacity building, as needed. New technology available today can make this a reality rather than an obstacle to development.
LT – This has been a nice chat. If I may ask, what is your favourite Nigerian city?
Ambassador Carl-Michael – So far, because of Covid-19, I have only visited a few of them. But Lagos is of course outstanding, both in size and diversity of restaurants, art galleries etc. I was lucky to visit the Art X Fair of modern art as well as the Lagos Biennal last year and hope to do so also in the future.
LT – What are your top three favourite aspects of Nigerian culture?
Ambassador Carl-Michael – Spontaneity, colourfulness and entrepreneurship. Then Nigerians love to dance…
LT – If you were to describe Nigeria in one simple sentence, what would it be?
Appreciating its diversities while recognizing the importance of being united.
LT – Do you have any other comments you would like to add?
Ambassador Carl-Michael – Thank you for taking interest in Sweden and what we do. I hope to visit Lagos again soon.
LT – Thank you very much for your time.
Follow us on social media