What an eviction show it was! Ebuka gave us a show and definitely came through with the table shaking and we are here for it.
Ebuka asked Tolanibaj about her not wanting to be in the same group as Lucy. Why? She denied for a while that that wasn't the case but agreed later and said it was because she doesn't think Lucy is easy to work with.
Ebuka went further by exposing Brighto. He questioned Brighto about him telling Kiddwaya that Neo was fake and Brighto said he can't remember saying Neo is fake.
Next he asked Lucy how she feels about Praise. She said it was a like, dislike situation but that she likes him right now.
The eviction show as usual had Tricky Tee, Wathoni, praise and Vee as the four housemates with the lowest votes . The housemates went into the diary room to vote and some voted as follows:
Nengi voted for PRAISE and WATHONI to go home.
Tolanibaj voted for PRAISE and VEE to go home. Is anyone surprised by Vee being in the bottom four and TolaniBaj voting against her bestie.
Brighto voted PRAISE and TRIKYTEE to go home.
At the end of the voting session, Praise was voted out by his fellow housemates.
PRAISE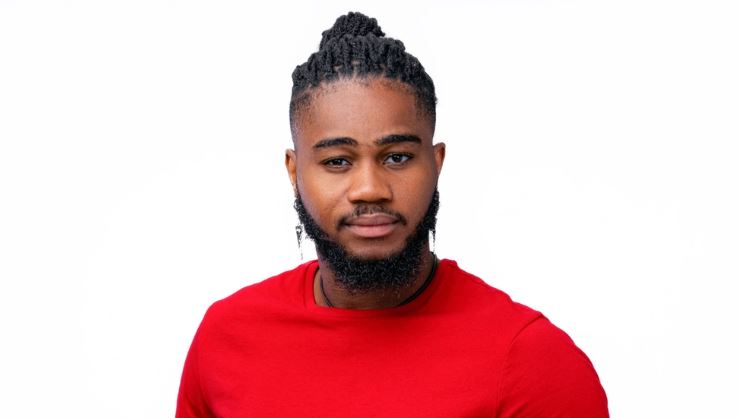 On stage, Praise said he feels blessed already. Making it this far really is an achievement. Praise said he and Ka3na had an understanding, both of them were aware of their lives outside the house.
He said Wathoni was his spec. But no one is competing with his fiancé. For his plans for the future, Praise said he is not rushing into anything, but we'll definitely be seeing his face. A company to empower dancers, he said.
How the viewers voted: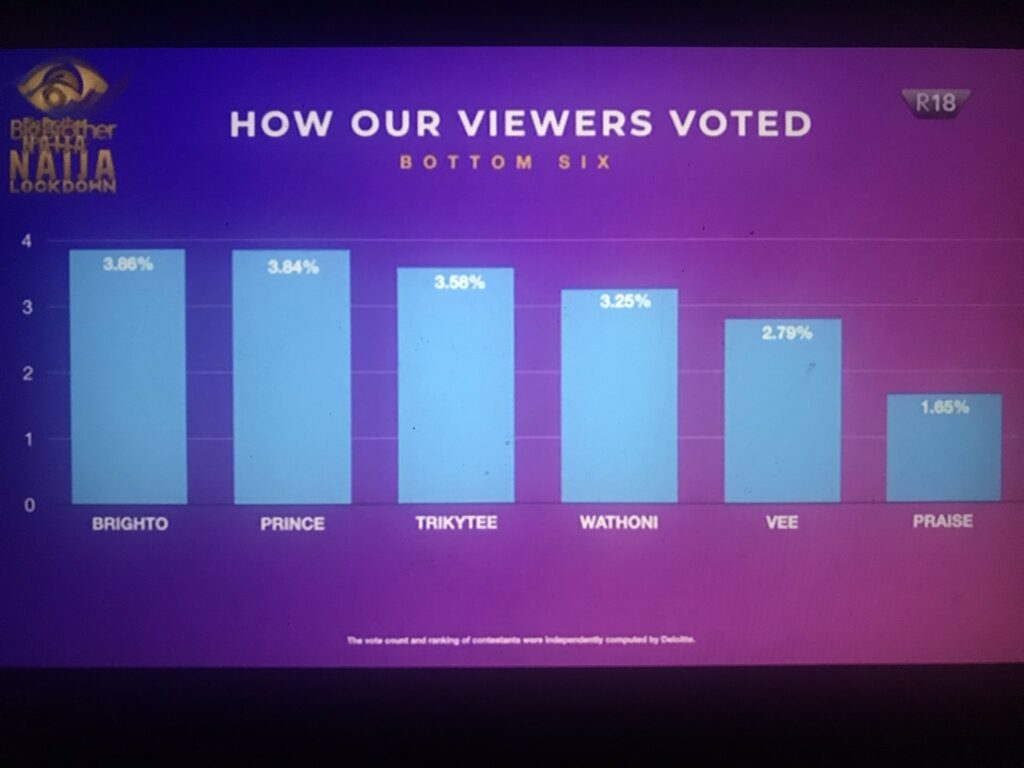 Ebuka came back and told Tricky Tee and Wathoni that they were safe and of course to shake more tables, this time addressing the Erica and Laycon issue, specifically Vee's role in it. He asked Vee why she told Laycon to stop talking to Erica and Vee said she did it cause she was looking out for her friend Laycon and his feelings and that it was nothing personal against Erica.
He went further by asking Prince about his dynamic with TolaniBaj and the fact that they both have said that Tolani wasn't his first choice. Prince disagreed with him on the statement and said Tolani said that and not him, the fact he picked someone else as the person he will like to date during the truth and dare game doesn't mean he made his choice then. Prince said he and Tolanibaj are an item, and he intends to keep it that way. I guess this ship is sailing after all.
The shocker of the night was Tricky Tee having the highest vote among the bottom 4 and Vee being in the bottom 4.
Instagram videos credit: bigbrothernaijagist
Follow us on social media