The bitcoin roller coaster continues.
The price of the top cryptocurrency hit an all-time high of nearly $42,000 less than a week ago before quickly falling back to around $30,000 — more than a 20% plunge.
But it has roared back in recent days and is once again trading just shy of $40,000.
The drastic shifts illustrate just how volatile bitcoin has become, and suggests that bitcoin (XBT) investors hold on tight for what could be a bumpy, if ultimately profitable, rise.
The cryptocurrency is clearly benefiting from recent weakness in the dollar and the expectation that the Federal Reserve will keep interest rates near zero for several more years.
That confidence is bolstered by the fact that more mainstream financial institutions like BlackRock (BLK) are declaring bitcoin a 21st century version of gold.Bulls also point to the fact that PayPal (PYPL) and Square (SQ) are allowing customers buy and sell bitcoin and that top investors such as Mike Novogratz, Paul Tudor Jones and Stanley Druckenmiller all back the cryptocurrency.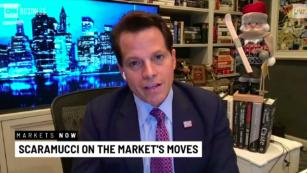 Scaramucci: Bitcoin is due for a correction 01:02The interest on the part of well-known investors and blue chip companies is one reason why bitcoin fans think the current rally differs from late 2017 — when prices rose to nearly $20,000 before crashing to around $3,500 just a year later.
Follow us on social media