Valteri Bottas wins the maiden grand prix of the season at the Red Bull Ring in Austria ahead of Ferrari's Charles Leclerc and Mc Larens driver, Lando Norris who started the race in P3 ended up the final podium place in 3rd position after he benefited from Lewis Hamilton earning a 5 seconds penalty for an incident that happened in the final laps of the race which involved the Red bull driver Alex Albon. Hamilton was demoted from 2nd place finish to 4th.
Bottas Winning the Austrian Grand Prix
Bottas who had a very good race from start to finish crossed the finish 0.6 seconds ahead of his team mate and reigning world champion Lewis Hamilton, but the penalty decision against Hamilton ensured that we didn't have a Mercedes 1st and 2nd at the first race of the F1 season in Austria.
MAJOR INCIDENCES DURING THE RACE
Red Bulls Alexandre Albon and Mercedes Lewis Hamilton Incident.
The safety car was deployed on three occasions during Austrian grand prix and coming from the period of restart after the emergence of the second safety car, The red bull driver Albon was flying in a steady mode, apparently he has had his tyres changed during the restart to softer tyres and he made a move on Hamilton to overtake him on the outside, but Hamilton held his ground and there was a contact with both drivers' tyres and it caused Albon to take a spin off into the gravel which ultimately ended his race and any chance at a good finish during the race.
The race stewards found Hamilton guilty at the coming together of both drivers and that caused Hamilton his second place finish as 5 seconds penalty was awarded.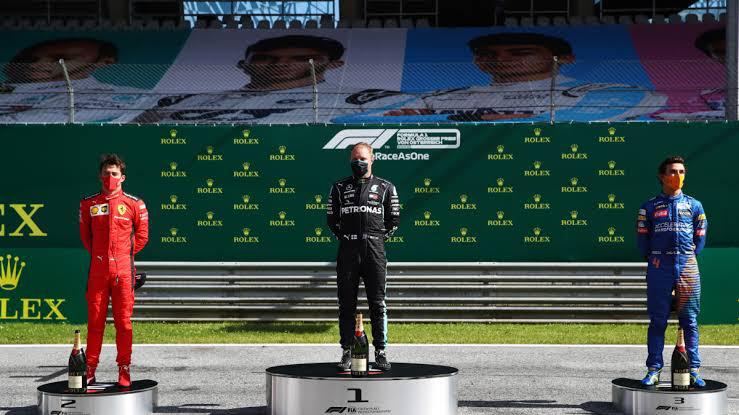 Red Bull failing to impress on their home circuit
Team Red Bull failed to impressed as both drivers did not finish the race at their teams home circuit in Austria. Max Verstappen retired after a loss of power which was caused by an mechanical problem with his engine which could not be resolved and it was a very quick end to his first race of the season as it all ended prematurely at just lap 11 of 71 laps, the other red bull driver Alex Albon did not finish the race as well and both ended the race with zero point.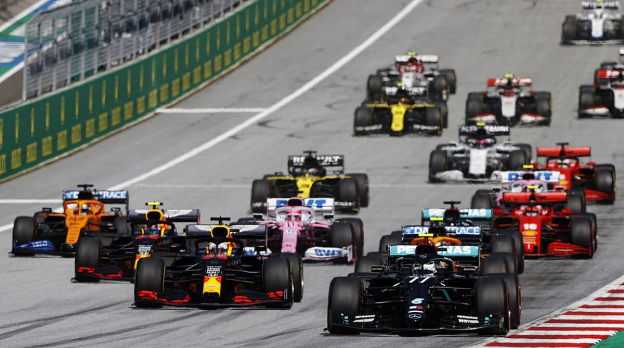 BOTTAS FLYING START
Valteri Bottas had a seamless and confident performance at the Austrian GP as he took full advantage of his pole position start on the grid as he went on to win the first race of the season. His composure and decision making throughout the race suggests that this might be the season he finally grew out of the shadow of Hamilton as the other Mercedes driver. Since joining Mercedes, Bottas has won eight races, three in 2017, four in 2019 and one in 2020 at today's Austrian GP.
Drivers that did not finish the race
(1) Alexander Albon
Red Bull Racing Honda
(2) Kimi Räikkönen
Alfa Romeo Racing Ferrari
(3) George Russell
Williams Mercedes
(4) Romain Grosjean
Haas Ferrari
(5) Kevin Magnussen
Haas Ferrari
(6) Lance Stroll
Racing Point BWT Mercedes
(7) Daniel Ricciardo
Renault
(8) Max Verstappen
Red Bull Racing Honda
The next Formula 1 event would be Pirelli Grosser Preis der Steiermark and coincidentally be hosted at the same Red Bull Ring, Austria next weekend between July 10-12.
Follow us on social media