As India recorded an all-time high rate of Coronavirus-related deaths, over the last 24 hours, the Presidential Steering Committee on COVID-19 (PSC) has warned Nigerians to brace up for a third COVID-19 wave.
On Sunday, India reported 346,786 new cases of COVID-19 for the previous 24 hours, with 2,624 deaths – the world's highest daily toll since the pandemic began last year. Overall, nearly 190,000 people have died from COVID in the country, while more than 16.6 million have been infected.
The PSC warning came as the Rapid-Response initiative group of the Academy of Medicine Specialties (AMS) stated that to avoid a third wave of COVID-19 in the country, the Federal Government should close international airports to all flights for at least two weeks.
PSC said the cases in India and Turkey are of particular concern to the country due to the demographic similarities with Nigeria and the fact that they currently experience serious third waves, adding that over 2,500 Indians died on Sunday alone, more than they suffered on any day in the first and second waves, and more than the total Nigeria has ever lost on record.
The World Health Organisation (WHO) director-general voiced alarm yesterday at India's record-breaking wave of coronavirus cases and deaths, describing the situation as "beyond heartbreaking. WHO is doing everything we can, providing critical equipment and supplies, including thousands of oxygen concentrators, prefabricated mobile field hospitals and laboratory supplies," Tedros Adhanom Ghebreyesus told reporters in Geneva during a media briefing.
India's unfolding coronavirus crisis is at its most visceral in the overwhelmed graveyards and crematoriums, as bright, glowing funeral pyres light up the night sky in its worst-hit cities. Outside crematoriums in cities like the capital New Delhi, which currently has the highest number of daily cases, ambulance after ambulance wait in line to cremate the dead.
Delhi has been cremating so many bodies that authorities are getting requests to start cutting down trees in city parks for firewood as a record surge of COVID-19 collapses India's tattered healthcare system.
'Vaccination Source'
The Federal Government has said that Nigeria will not accept vaccines from private and unverified sources due to warnings by international police organisations of the high rate of fake COVID-19 vaccines said to be in circulation, and reports of risks of adverse effects reported after vaccination.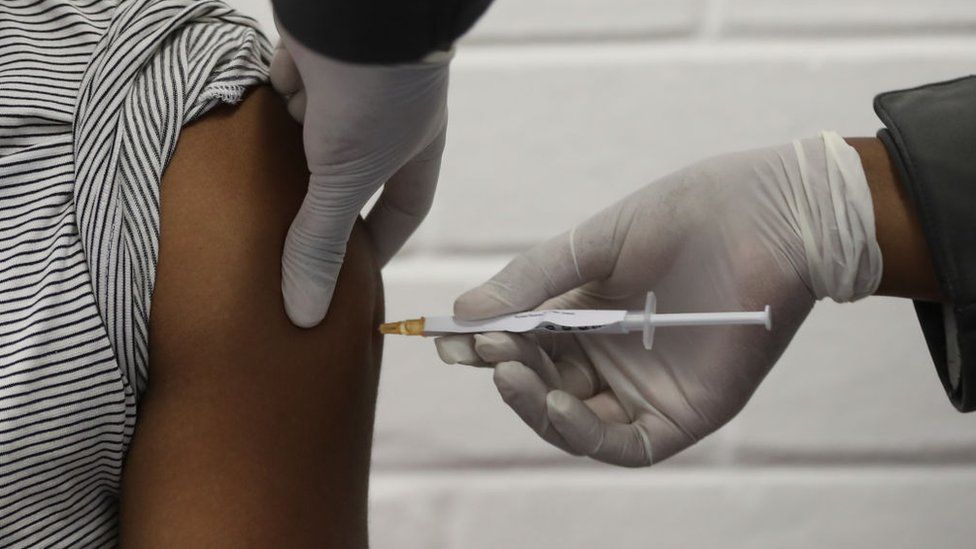 Consequently, the National Agency for Food and Drug Administration and Control (NAFDAC) is pursuing initiatives to test and authorise more vaccines for use in Nigeria. Minister of Health, Dr. Osagie Ehanire, who gave the warning at the briefing of the committee yesterday in Abuja, said government has observed that not only vaccine hesitancy is responsible for the rising COVID-19 cases in India, but insufficient compliance with public health advisories, such as social distancing and wearing of face masks.
Ehanire stated that Nigeria is still expecting more AstraZeneca vaccines and is looking forward to acquiring J&J vaccines, a single shot vaccine that has been re-certified as fit for use by United States regulatory organs.
The minister explained that the Covax facility is to provide vaccines for at least 20 per cent of the population, "while the African Union vaccine purchase pooling facility AVATT, backed by Afrexim Bank, are our designated sources of vaccine acquisition."
The minister observed that many more COVID-19 positive persons now present themselves voluntarily for treatment, adding that in the past two weeks only one patient in isolation centres had needed oxygen treatment.
He said: "This development has reduced pressure on oxygen need, making it more available for other conditions such as pneumonia and asthma. Plans by the Federal Government to build new oxygen plants in all states are well on track, as well as plans by Global Fund to repair or update existing, faulty plants."
Also speaking, Chairman of PSC and Secretary to the Government of the Federation, Mr. Boss Mustapha, noted that "experience in other countries warns us of the unpredictable pattern of COVID-19 resurgence as study of developments in places like Turkey, India, Thailand and Brazil with severe disease and high fatality ratios, helps us to recalibrate our response."
The SGF observed that the vaccination programme was still progressing but the country still had reasons to intensify campaign against hesitancy. He disclosed that as of date, Nigeria has vaccinated 1,173,869 representing 58.3 per cent of the eligible persons targeted in the current phase, who have received the first dose of AstraZeneca vaccine. Boss Mustapha observed that this number is low in PSC estimation.
The Federal Government also said it anticipates delay in vaccine supply to Nigeria, which may also affect and impact the remaining phases of the vaccination campaign. Executive Director of the National Primary Healthcare Development Agency (NPHCDA), Dr Faisal Shuaib, who disclosed this during the briefing by the Presidential Steering Committee on COVID-19 yesterday in Abuja, explained that all states of the federation, including FCT, are currently administering only 50 per cent of their allocated doses of vaccines while the remaining 50 percent will be administered to clients who had earlier received the first dose, adding that this would be scheduled between 8 and 12 weeks from the date of their first dose.
Shuaib noted that notwithstanding vaccinating 1,173,869, the government was aware of the global scarcity of COVID-19 vaccines due to high demand, especially in countries where the vaccines are being produced. According to him, the Federal Government has signed up to receive about 29.8 million doses of the Johnson & Johnson vaccine through the African Union (AU) and is also expecting deliveries of vaccines through the Covax facility by the end of May or early June 2021.
Follow us on social media