Featuring Hollywood stars Jessica Alba and Zac Efron, and directed by critically acclaimed, Craig Gillespie, the campaign showcases Dubai as the ultimate cinematic backdrop in a series of blockbuster trailers
Dubai's Department of Tourism and Commerce Marketing (Dubai Tourism) has launched a new global campaign Dubai Presents featuring Hollywood stars Jessica Alba and Zac Efron. The campaign invites global travellers, experience seekers, storytellers and artistic creators to put themselves in the picture, write their own script and appear in their very own theatrical adventure, with Dubai's breathtaking locationsstaging the perfect backdrop.
Building on the 2019 global platform 'A Story Takes Flight', the new campaign Dubai Presents features Alba and Efron in a variety of engaging plots across a series of trailers, and is designed to showcase the diversity of experiences and destinations on offeracross the city, inspiring viewers to seek out picture perfect locations to tell their very own story.
Filmed by Director's Guild award-winning director Craig Gillespie, the campaign features a series of short trailer films, kicking off with the Spy-action genre, with each film taking viewers on a captivating journey across the city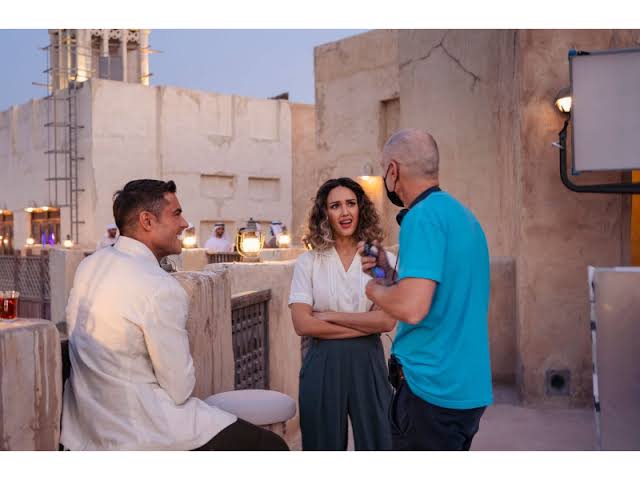 The first film in the Dubai Presents series stars Alba and Efron as a sparring couple and plays on the classic spy action genre, featuringdramatic espionage-style sequences with a humorous twist. Taking viewers on a journey through iconic destinations such as Burj Al Arab, Jumeirah Al Naseem and overwater restaurant Pierchic, the film explores Dubai's sophisticated Jumeirah district before heading out on an epic desert caper to Dubai's adventure capital Hatta, home to sweeping sandscapes and a multitude of activities including hiking, biking and kayaking.
The campaign is being launched in more than 15 languages and will be rolled out in all international markets throughout 2021, across multiple platforms including TV, OOH, OTT, cinema, digital and social.
Drawing on Dubai's status as a global creative hub and a beacon for the international community of filmmakers, content creators, and other aspiring creatives, the campaign celebrates storytelling andcontent creation in all forms. Appealing to tourists of all ages, with all budgets, Dubai Presents demonstrates that Dubai is the perfect destination, offering the full spectrum of cinematic experiences for all tastes.
Internationally acclaimed actress, author and founder of The Honest Company Jessica Alba said: "Being able to play multiple characters across different movie genres for this project gave me an opportunity to see the city in ways I wouldn't have imagined. One moment I was winding my way through the spice souk in Old Dubai, and the next I was on the top floor of the iconic Burj Al Arab performing my own stunt sequence for an action scene. Dubai has so much to offer- from beautiful locations to the amazing food and an energy to match, I loved every part of it."
Award-winning actor and producer [Greatest Showman; Extremely Wicked, Shockingly Evil and Vile; Down to Earth with Zac Efron] Zac Efron commented: "I've been to Dubai previously but I was never able to truly appreciate the city in this way. Despite the fact that I travel often, it is rare to get to have the time and the opportunity to really explore and enjoy the city's offerings. The desert was particularly special to me…such a peaceful and calm landscape and unlike anything I had ever seen. The people of Dubai were incredibly warm and hospitable and invited me to enjoy the culture by their side. I love the idea of discovery and exploration and Dubai did not disappoint."
Director's Guild, award-winning director Craig Gillespie commented: "The most exciting thing about this project was being able to use the art of cinema to showcase just how dynamic and diverse Dubai can be. For some it is the ultimate luxe adventure, for others, it is a romantic getaway with quirks and nostalgia or an eye-opening journey to discovering culture and heritage. Zac and Jessica's versatility as actors combined with dramatic backdrops and a crew from around the world made for movie magic and we're so excited to share this series with the world."
Issam Kazim, CEO, Dubai Corporation for Tourism and Commerce Marketing (Dubai Tourism) commented: "Thanks to the city's leadership, the ecosystem's collaboration and open dialogue, Dubai was one of the first cities in the world to reopen its doors, one of the first cities to bring back business events; hosting both tourists and business travellers, safely and successfully. Last year, we made a promise to the world that Dubai would be ready to welcome them when the time was right for them. Now is that time, 2021 is the year Dubai Presents picture perfect moments with family and friends. Whether it be for a weekend break, an extended holiday or even a creative vacation, we promise it will be a blockbuster experience for all."
Following strict Covid-19 protocols, filming took place over a duration of five days with a diverse cast and crew of over 180 people representing 27 nationalities – from celebrity talent and director, award winning production and creative teams to a world-class filming crew, Dubai Presents evokes the creative spirit of a cosmopolitan city rooted in multiculturalism.
Issam Kazim continued: "Inspired by His Highness Sheikh Mohammed bin Rashid Al Maktoum, Vice President and Prime Minister of the United Arab Emirates, and Ruler of Dubai's vision to transform the Emirate into a "global capital for creative economy", Dubai Presents positions Dubai as an artistic and cultural destination where creatives and storytellers connect. The campaign supports Dubai's strategic vision to redefine the city through a cultural lens and invites the world to share their take on the city."
Watch trailer: https://www.visitdubai.com/en/dubai-video
About Dubai's Department of Tourism and Commerce Marketing (Dubai Tourism)
With the ultimate vision of positioning Dubai as the world's leading tourism destination and commercial hub, Dubai Tourism's mission is to increase the awareness of Dubai among global audiences and to attract tourists and inward investment into the emirate. Dubai Tourism is the principal authority for the planning, supervision, development and marketing of Dubai's tourism sector. It markets and promotes the Emirate's commerce sector and is responsible for the licensing and classification of all tourism services, including hotels, tour operators and travel agents. Brands and departments within the Dubai Tourism portfolio include Dubai Business Events, Dubai Calendar, and Dubai Festivals and Retail Establishment.
Note to editors:
Strict COVID protocols were in place for the duration of filming in line with global best practice, including a pre-defined production and event safety plan, pre-defined contingency crews and personnel and a dedicated Covid Compliance Team overseeing all elements of operation. Some of the measures included provision of personal protective equipment and infection prevention supplies such as masks, hand sanitizer and disinfectant across all shoot locations; in addition to PCR testing for all cast and crew every 48 to 72 hours starting the week before the shoot.
Follow us on social media