One of the leading advocates for #EndSARS protest and youth representative in Lagos, Rinu Oduala, has called on the youth to fully engage in the reform process.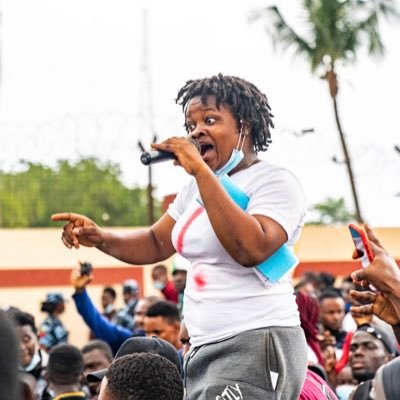 Rinu took to her Twitter account, @RinuSavvy, to make this submission to avoid resurgence of another harmful unit.
Her tweet, "SARS may be banned, but something else may take its place if we don't fully engage in the reform process."
To drive home her view, Rinu alerted, "When the fruit of a tree is consistently bad, you uproot and plant again. Uprooting takes energy and patience."
Reacting to her question, "Nigerian youths, do we have the energy and patience?", she got some mixed reactions, and suggestions.
A Twitter user, Olatunji Alao, replied, "Don't go starting another protest because you guys won't be able to control it and hoodlums will take it over."
Another Twitter user, Akinlade Lawrence, questioned, "Did you say patience? The same patience we threw away earlier which culminated into the destruction and unnecessary loss of lives? I think WISDOM is what we should embrace to engender change."
TG Banks response to the two earlier comments. "What exactly do you mean by this? Are you saying protesting was a wrong move?"
CarterNoris, however suggested that there should be something like police school, where officers will spend between three to four years to get a B.SC in policing.
"They will learn everything they need to be good at their work," he emphasised.
Meanwhile, Ben Dazi reacted to the police school suggestion, adding that funding is the challenge.
He tweeted, "There is a police academy in Kano, where cadets spend about five years if I remember correctly. D problem with policing in Nigeria has to do with funding.
"Without adequate funds, operations will be affected. US spends about $700b yearly on defence, our annual budget for Nigeria is less than $40 billion."
Rinu's tweet has since attracted 117 comments, 1,982 retweets, and 7,120 likes.
Follow us on social media