Ahead of International Worker's Day, Future Female Invest, an organization powering financial opportunity for African women with a mission of driving women economic empowerment solutions under its "READY TO INSPIRE" initiative is set to host an event tagged "Career Series for the Ambitious Woman" on 1st May 2021.
The virtual event will equip women and young girls, entrepreneurs, mentors, experts and investors by providing practical educational advice from iconic and passionate women from diverse fields and across various works of life on how to take control of their lives during uncertain times.
Some of the speakers for the series include; Business leader with expertise in Supply Chain Management- Azukaego Chukwuelue, Career growth expert and coach- Ema Clark, Global speaker and CEO Future software Ltd- Nkemdilim Uwaje Begho, Zulaika Sunthbocus, Mary Olushoga and Olayinka Oyedeji.
During the series, participants will be exposed to a myriad of learning, networking, and growing opportunities, including tips on how to write the sterling and professional CV, write a cover letter, how to get promoted at work, how to sell yourself to prospective employees and nail your interview, effective communication for work place success, and more!
This announcement comes on the heels of Future Female Invest's recent partnership with Old Mutual to launch the "Ready to Inspire" initiative, a year- round campaign that will create and curate women led and owned conversations to enable all women to achieve their potential, using knowledge, role models, webinars, coaching and more!
The partnership will reach 50,000 women through an innovative and compelling campaign across Nigeria over a 12-month period that will help them thrive providing N1 million in Capital Seed Fund or COVID-19 Business Recovery funding for women led businesses in Nigeria, as well as a N500,000 career development training for professional women and free coaching and mentoring for selected women.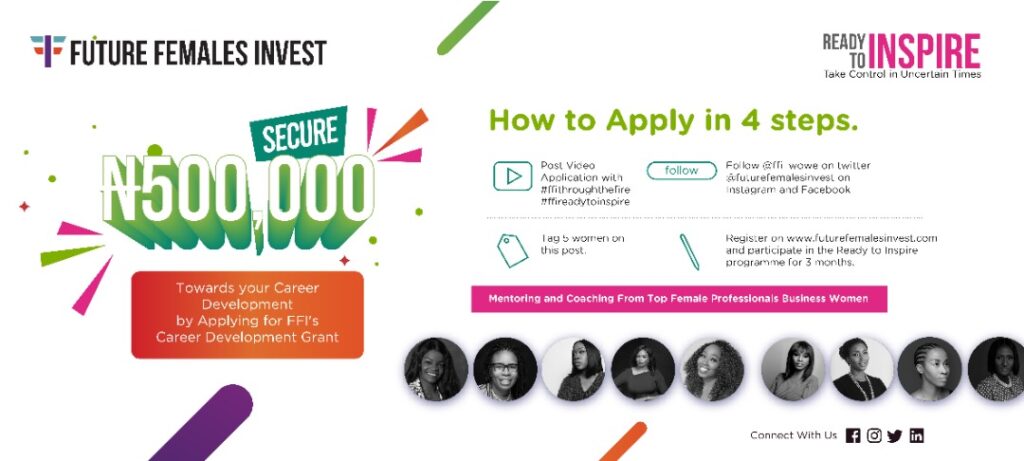 Future Female Invest creates systems change to make the world a fairer place for women, they offer regular services and programmes such as; Ready to inspire, Ready to thrive and FFI Enterprise studio.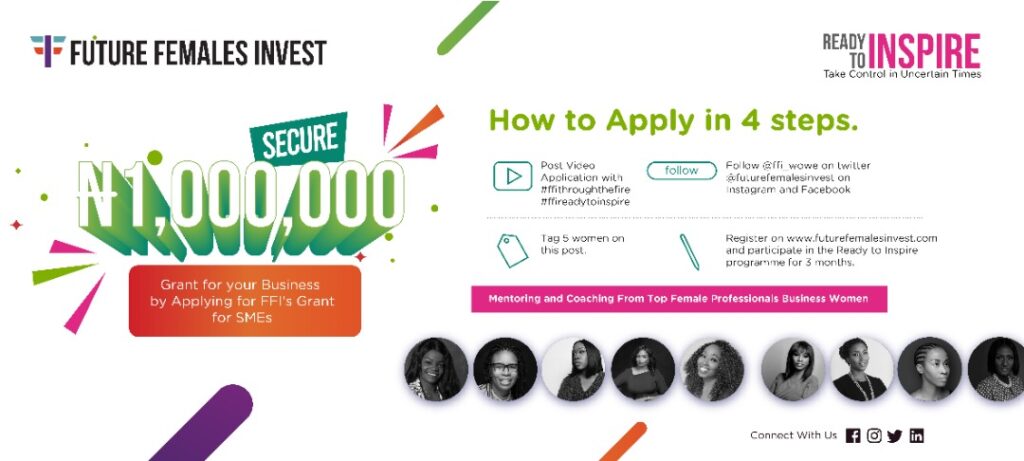 This event is FREE, but registration is mandatory.
Register for the ready to inspire programme right here: www.readytoinspire.org
About Future Female Invest
Future Females Invest was founded by Aysha Julie and Tori Abiola, who were tired of the lack of access to finance for African Female Founders. In 2019 Future Females Invest merged with Women of West Africa Entrepreneurs to become truly Pan-African; financially empowering and enabling African Female Founders.
The Future Females Invest believes that African women entrepreneurs are the drivers of the economy. They build sustainable and profitable businesses that have a big impact on society. Future Females Invest is changing systems by providing consultancy, training, access to investment and markets, ecosystem support to African women entrepreneurs, investors, NGOs and gender empowerment advocates in public and private sector organizations.
Follow us on social media