…he claims he attempts to cry for 7 days
While attempting to join the likes of Nigerians attempting to break records for cooking, massaging, kissing, singing, and others, another Nigerian has claimed to partially go blind for attempting to break the Guinness World Records (GWR) for the longest crying Marathon by an individual.
Meanwhile, the GWR has publicly disassociated itself from the attempted record.
Some days ago, there were reports that a Nigerian man identified as Tembu Ebere confirmed that he partially went blind while attempting to cry for seven days to set a record in the Guinness World Records.
This is as the craze to achieve feats of endurance sweeps across the country after a chef, Hilda Baci, in May officially broke the record for the longest cooking marathon (individual), with a time of 93 hours, 11 minutes.
Ebere who confirmed his health issues said that he forced himself to cry for seven days for the record but along the line, he went temporarily blind.
Ebere, who has been attempting to cry non-stop for seven days said that he experienced headaches, puffy eyes and a swollen face and went partially blind for 45 minutes amid his efforts.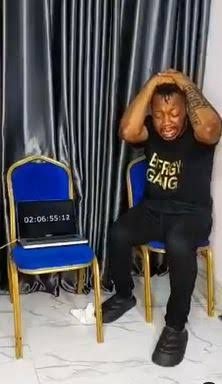 He had told BBC, "I had to re-strategise and reduce my wailing," adding that he was determined to cry for one week as he planned despite the difficulties he encountered.
Reacting, Guinness World Records distanced itself from such a record, stating that it did not approve it as it would never be able to monitor such a record.
"Just to quell some recent rumours, we wouldn't ever monitor a record for the longest marathon crying. Here's what can be monitored by our team," the body wrote.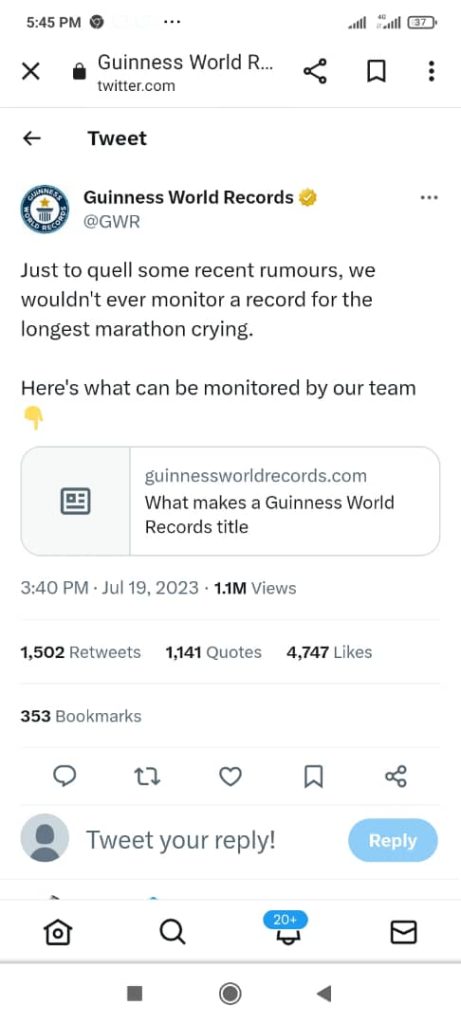 Follow us on social media