A video of John Lyon, an alleged kidnapper known for flaunting dollars on social media, has gone viral with Lyon weeping like a child in police custody.
In the video, the suspect popularly known as "Lion White" was shirtless, putting on only boxers and kneeling down.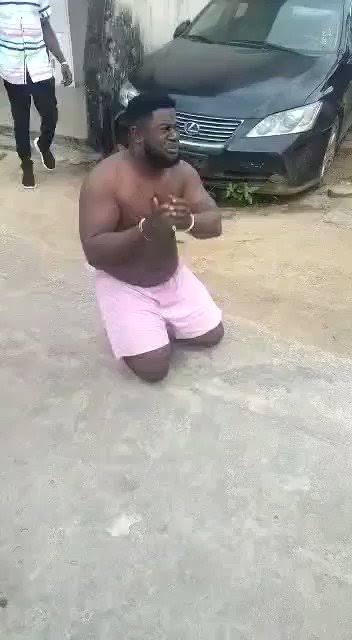 Lyon pleaded for mercy, saying he was only involved in kidnap operations twice. He also asked to be released because his wife had just been put to bed.
A voice in the background suspected to be that of a police detective asked the suspect in pidgin: "So, are you saying it is only two persons you have joined your gang to kidnap?
Lyon replied: "Yes, sir," and the voice declared: "You are a liar."
A man, who claimed to be one of his victims, challenged Lyon that he saw him while he was in captivity and was being tortured.
Pictures and videos of Lyon's flamboyance life are circulating on social media.
In one video, the suspect displayed wad of dollars, repeatedly saying, "Money is good. Hustle! Hustle!! Hustle!!!"
There were also pictures of him at different social gatherings, including one at Transcorp Hotels, Abuja.
The suspect, who reportedly operated in Bayelsa State, was also seen in different branded shirts of one of the leading political parties in the country.
In one picture, he posed with security operatives at an event which looked like a campaign rally of a prominent politician in the state.
In some reactions, a Twitter user under the name Immaculate, wrote: "You can see the Bayelsa kidnapper too. So many people are into illegal jobs and runs, but they appear legitimate and working upright. That is Nigeria for you. So many wrongdoings not until the law catches up with them."
Tweeting with the handle, Seefinish_Publyk, another social media user wrote: "John Lyon Shameful crying.
"A kidnapper terrorizing Bayelsa State popularly known as Lion has been caught at #Abuja after his last job. He is crying like a baby. Why not avoid begging or crying by not committing the crime."
Derinde, another social media user, said: "This guy John Lyon, popularly known as Lion was tracked down, arrested in Abuja after his last job. An alleged kidnapper and part of a kidnapping gang operating in Bayela."
Police declined to confirm or deny the story.
Contacted for reaction, Josephine Adeh, Police Public Relations Officer in the Federal Capital Territory (FCT), promised to confirm and revert, but she had not done so at press time.
Contacted again for update on the development, Adeh refused to confirm or deny the development, saying: "I did not confirm the story, and how can I give update?"
Follow us on social media