The Lagos State Government has commenced a week-long disinfection of 33 major live bird markets across the state.
The state Commissioner for Agriculture, Ms. Abisola Olusanya, in a statement on Monday, said the government started the pre-festive season project with the Awolowo Live Bird Market, Mushin.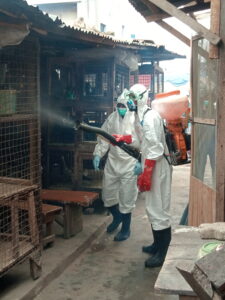 She noted that the exercise would prevent the spread of the deadly avian influenza and other zoonotic diseases during the Yuletide when the demand for live birds would increase.
The commissioner urged all stakeholders to support the project and ensure its success.
The President of the Live Bird Marketers Association of Nigeria, Lagos State, Mrs. Olushola Osoba, noted that it was the fifth time this year that the state government would be disinfecting the markets.
She said, "The Lagos State Government is really doing well for us. This year, this is the fifth time the state government will be disinfecting our market for us. Because of this, the mortality rate of our chickens has reduced."
Follow us on social media