Lagos State Government, through its building Control Agency (LASBCA), yesterday moved towards ending the menace of building collapse by re-launching completion and fitness for habitation certificate for new buildings in the state.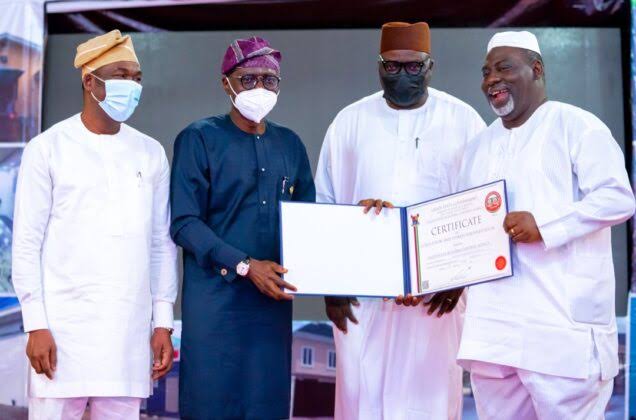 Governor Babajide Sanwo-Olu, who performed the ceremony in Ikeja, said the huge financial and emotional loss as well as pains that comes with building collapse and sometimes loss of loved ones, called for a more holistic and all-encompassing approach or strategy to stop recurring incidence of building collapse.
According to him, the launch of the certificate would be a game changer in building control and portrays a government that thinks ahead and that is concerned about the safety of life and property of the citizens.
In implementing this certificate of completion and fitness for habitation, LASBCA, he said, will ensure strict compliance with existing masterplans by Lagos State Physical Planning and Urban Development to guide against unregulated construction works.
He urged tenants to hold their landlords accountable before paying rents by demanding a certificate of completion and fitness for habitation from them.
The governor said law-abiding citizens and those whose construction works are done to specifications have nothing to worry about as the initiative will save them the stress of presenting several documents to the monitoring and enforcement teams from the state.
LASBCA's General Manager, Gbolahan Oki, noted that the aim to relaunch theatre projects is to enhance professionalism and expunge quackery in the building industry.
According to him, LASBCA, is poised to take building control to greater heights through enhanced broad-based participatory planning and a conscious and deliberate commitment to deepening building construction engagements with the citizenry, professional bodies and sectoral stakeholders.
Follow us on social media