The Eze Ndigbo of Ajao Estate in Lagos, Frederick Nwajago has been arraigned for alleged terrorism by the Lagos State Government.
Nwajagbo was arraigned before the state high court sitting in Tafawa Balewa Square on nine counts charge due to a viral video he made and he was arrested on April 1.
In the 49-second viral video, he threatened to invite members of the  Indigenous People of Biafra to Lagos to secure properties of Igbo people living in the state.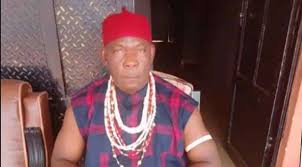 He was accused of "attempt to do acts of terrorism, participation in terrorism, meeting to support a proscribed entity, attempt to finance an act of terrorism and preparation to commit an act of terrorism, preferred against him by the state government."
He was quoted to have said, "IPOB, we will invite them. They have no job. All of the IPOB will protect all of our shops. And we have to pay them. We have to mobilise for that. We have to do that. We must have our security so that they will stop attacking us at midnight, in the morning, and in the afternoon.
"When they discover that we have our security before they will come, they will know that we have our men there. I am not saying a single word to be hidden. I am not hiding my words, let my words go viral. Igbo must get their right and get a stand in Lagos State."
Follow us on social media