The Lagos State Government has concluded plans to enrol at least 3 million residents into the state's health insurance scheme within the next one year.
This is part of the state government's effort aimed at providing access to health to the over 24 million people living in the state in terms of improved financing and delivering of quality healthcare especially in the face of the recent Covid-19 pandemic which exposed the poor state of the health sector across the country.
This disclosure was made by the General Manager of the Lagos State Health Management Agency (LASHMA), Dr Emmanualla Zamba, on Wednesday, during a news briefing to announce the "Ilera Eko" grassroots sensitisation and enrollment drive across the local councils in the state.
Zamba said that the sensitisation and enrollment drive became quite imperative because the state government understood that health is wealth.
She revealed that the state has so far, registered 527,000 residents under the insurance scheme and hoped to enrol more residents with its "pay small, small" plan, which allows for monthly payment adding that 222 health facilities have been enlisted to attend to enrollees.
Speaking at the occasion, the Special Adviser, Office of Civic Engagement, Princess Aderemi Adebowale, said all around the globe, health remained on the priority list of government at all levels, and Lagos could not afford to be an exception.
She said that the current administration of Governor Babajide Sanwo-Olu was focused on making sure that all the residents of the state had access to quality, equitable and affordable healthcare regardless of their socio-cultural and economic status, towards the attainment of Universal Health Coverage (UHC) in the state.
She also said that part of the state government's effort at ensuring the implementation of this includes the construction and renewal of health facilities across the state.
She said, "This has also necessitated the continuous initiation and promotion of various intervention programmes that include the Lagos State Health Insurance Schemes also known as 'ILERA EKO.'"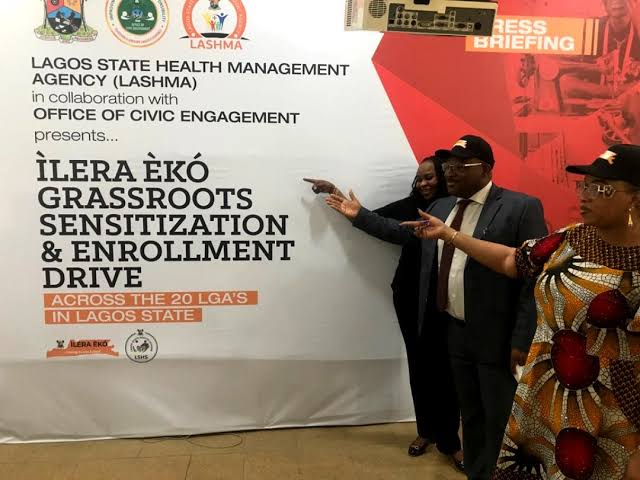 Adebowale said that LASHMA, in collaboration with the Office of Civic Engagement, had commenced vigorous sensitisation of the grassroots on the Lagos State Health Insurance Scheme (Ilera Eko) in the 20 local government areas of the state.
The Special Adviser said that the aim was to promote the Ilera Eko health plan, as well as scale-up enrolment of Lagos residents on the scheme.
The Lagos State Government had earlier said that with the take-off of the Lagos State Health Scheme recently, dubbed "Ilera Eko," residents of Lagos will have access to medical care in any of their chosen public and private healthcare facilities participating in the Scheme.
LASHMA General Manager had explained that enrollees on the Scheme will enjoy benefits which include consultation, treatment of common ailments such as malaria, hypertension, diabetes, family planning services, dental care, ultrasound scan, radiological investigations, child welfare services, care of childhood illnesses, neonatal services, gynaecological prenatal care and delivery.
Follow us on social media