Mercedes driver Lewis Hamilton bounced back from the disappointment of finishing 4th last weekend and gave a commanding and dominant performance to win from his pole position start today at the maiden formular 1 grand prix in Styrian, the same Red Bull ring venue of  last weekend's Austrian Grand Prix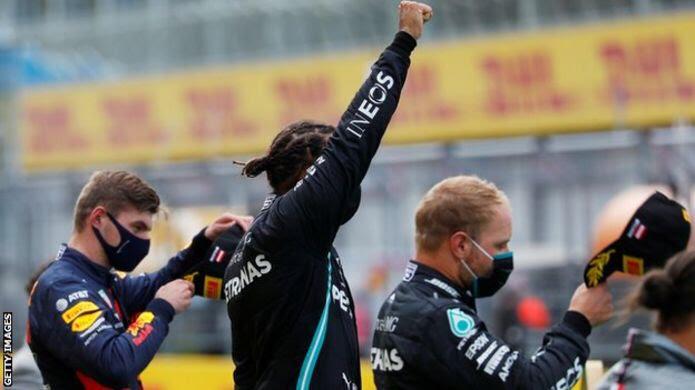 Last weekend's winner and leader on the drivers standing, Mercedes driver, Valteri Bottas overtook Red bull's Max Verstappen in the closing stages of the race and he ended up in 2nd position making the first Mercedes 1 and 2 of  this F1 season and he maintains his position as the leader on the standings.
Max Verstappen ended 3rd, the other Bull driver, British Alex Albion who retired early last weekend bounced back with had a great race displacing Mc Laren/Renault driver Carlos Sainz  and ended in P4.
Hamilton took advantage of his pole position and shot into a period of early lead without much pressure,
Verstappen on the other hand was under pressure as he held off a period of early challenges from 3rd pole sitter Mc Laren/Renault Carlos Sainz who made several effort to overtake and get in front of Verstappen from the get go, Bottas got a chance to overtake Sainz after the restart in the 6th lap and he went on to pile pressure on Verstappen throughout the race, he will finally get a chance to go pass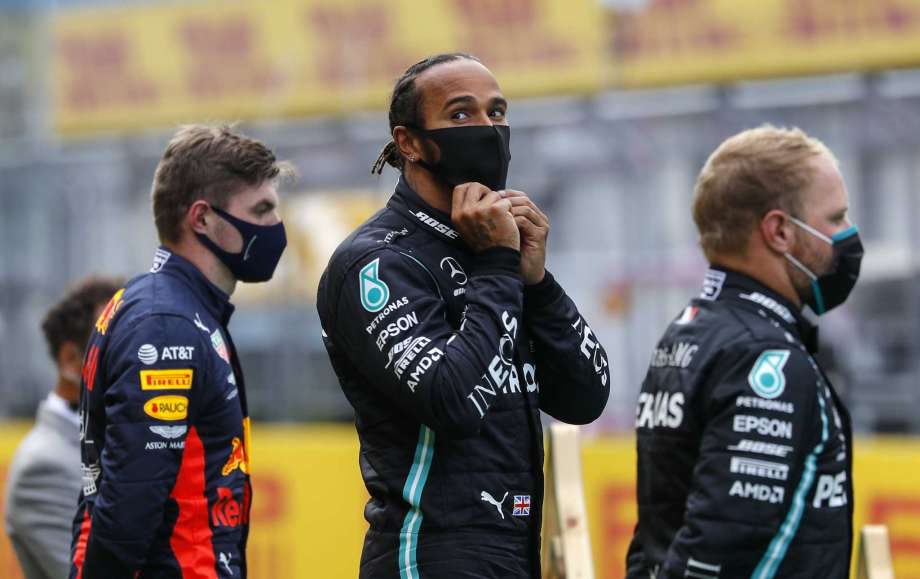 Verstappen in the closing stages of the race on lap 66 when he made the 1st attempt and Verstappen held off nicely, but Bottas used the DRS advantage and shot himself into second place and held off till the finish.
The race day today went on under a relatively clearer looking weather as compared to yesterday's weather which was rainy during the qualifying races and which saw the final qualifying race postponed by close to an hour.
All drivers got free choice of tyres at the start of today's race except Daniel Ricciardo who started on soft tyres and Ferrari's Seb Vettel started on medium tyres.
MAJOR RACE INCIDENCES
FERRARI PAIR COMING TOGETHER
The first talking point of the race happened early at the turn 3 of the 1st lap when the Ferrari pair of Charles Leclerc and Sebastine Vettel were involved in a collision and resulted in Vettel left wing badly damage. This brought about the emergence of the safety car and both driver went to the pit and retired. Charles Leclerc took all the blame for the incident.
Red Bull's Alex Albion and Racing point's Sergio Perez collided in the closing stages of the race, but Albion survived and came out better from the collision to hold on to 4th place finish. Pérez however had his front wing broken from the incident.
STYRAIN GRAND PRIX RESULT FOR 1ST 10 FINISHERS
1 Lewis Hamilton Mercedes 71 1h22m50.683s
2 Valteri Bottas Mercedes 71 13.719s
3 Max Verstappen Red Bull/Honda 71 33.698s
4 Alexander Albon Red Bull/Honda 71 44.400s
5 Lando Norris McLaren/Renault 71 1m01.470s
6 Sergio Perez Racing Point/Mercedes 71 1m02.387s
7 Lance Stroll Racing Point/Mercedes 71 1m02.453s
8 Daniel Ricciardo Renault 71 1m02.591s
9 Carlos Sainz Jr. McLaren/Renault 70 1 Lap
10 Daniil Kvyat AlphaTauri/Honda 70 1 Lap
DRIVERS THAT DID NOT FINISH
More woes for Team Ferrari as their both drivers Sebastine Vettel and Charles Leclerc did not finish the race.
Renault's Esteban Ocon also did not finish the race with cooling problems, his race ended on lap 25.
Up next on the F1 calendar is the is next weekend's 70 laps race of 4.318 kilometer at Hungarian Grand Prix which would take place between the 17th of July to 19th July at the Hungaroring in Budapest
Follow us on social media