… Soldiers Still Shooting at EndSARS Protesters in Lekki, Biden, Clinton Urge Buhari to Tame Nigerian Military
It was a night of sorrow, yesterday, in the Lekki area of the Lagos, as armed soldiers killed no fewer than 7 #EndSARS protesters at the Lekki Toll Gate.
A video streamed live on Instagram by an eyewitness, Obianuju Udeh, popular as DJ Switch, indicated that seven protesters were killed during the attack.
"They have killed more than seven people that I have seen with my eyes. They were killed with real bullets and not even rubber bullets," she said.
Tens of wounded protesters were rushed to nearby hospitals in the area where they are currently being treated for free.
The protesters were said to have been sitting in at the Toll Gate, protesting against the police brutality in the state when suddenly the billboard on the tollgate and the streetlights around the premises were switched off, shortly before armed soldiers opened fire on them.
It was learnt that the CCTV was also disconnected.
An eyewitness, Yekini Adedeji, said all the protesters around the tollgate scampered for safety, adding that the soldiers had taken over the premises.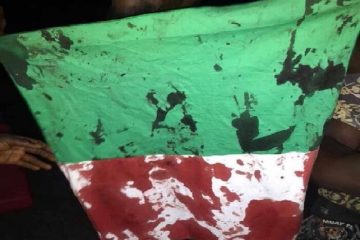 "The soldiers are shooting sporadically, they put off the street light and the billboard to make the place to be in total darkness. They started shooting up but they shot at the protesters as well and I have seen two people that have sustained bullet wounds.
"At first, when the soldiers started shooting, the protesters summoned courage and refused to move. So, they sat on the floor and raised up their flag but along the line, two of the protesters were shot and people started running. There are no protesters at the tollgate and the soldiers have taken over the tollgate. I saw the soldiers myself."
'Soldiers Resumed Shooting at Us This Morning' – Lekki Toll Gate #EndSARS Protesters Reveal
Lagosians near the Lekki Toll Gate have complained that, nearly 12 hours since Nigerian soldiers opened fire on peaceful #EndSARS protesters, they are still hearing gunshots from these security operatives.
Speaking with TheLagosToday, a resident in the Lekki Phase 1 axis, Margaret Oduwole, said "I am still hearing gunshots. It's sounding much closer to my street now. I'm close to Admiralty way."
Another resident, a Wathoni Anyasi, confirmed to still be hearing the gunshots clearly, as at the time of filing this report.
DJ Switch, who also witnessed the Tuesday night massacre, shared video footage on her Instagram live, revealing people who were wounded from this early morning's shooting.
She said, "It is morning. We are wearing the same clothes. We are same out at different day, from last night (sic). They are not even shooting up into the air; they are shooting stray bullets at us. They (soldiers) are positioned by the side of the Lekki-Epe expressway, and we are taking some of the (wounded protesters) guys to the hospital right now. We need support."
Successive gunshots could also be heard from the live video footage being streamed from Udeh's Instagram account.
Biden, Clinton Task Buhari to Restrain Military Troops from Harming Innocent #EndSARS Protesters
United States Presidential Aspirant and former Vice President, Joseph Biden, has clamoured for President Muhammadu Buhari to order the Nigerian military to stand down against harming EndSARS protesters in the country.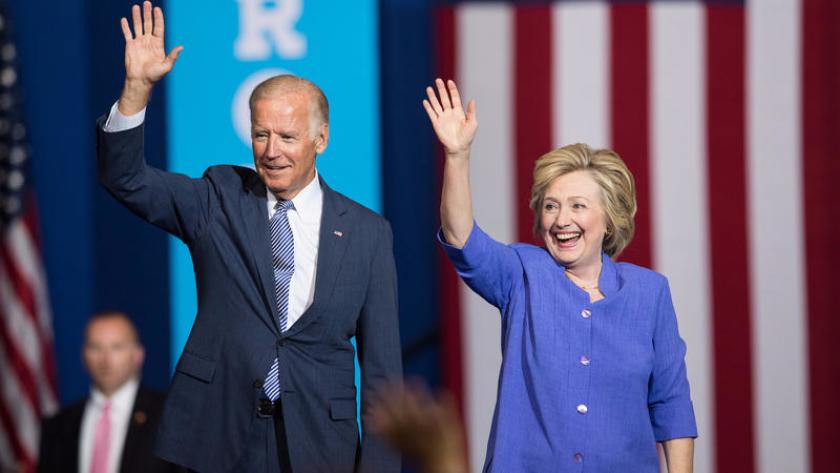 Lending his voice to the barbaric killings of EndSARS protesters, yesterday, by Nigerian soldiers, the Democrat urged Buhari to engage in a "good faith dialogue" with Nigerians on the protests, rather than apply military force.
He said, "I urge President Buhari and the Nigerian military to cease the violent crackdown on (EndSARS) protesters in Nigeria, which has already resulted in several deaths. My heart goes out to all those who have lost a loved one in the violence.
"The United States must stand with Nigerians who are peacefully demonstrating for police reform and seeking an end to corruption in their democracy.
I encourage the government to engage in a good faith dialogue with civil society to address these long standing grievances and work together for a more just and inclusive Nigeria."
Similarly, former United States presidential aspirant, Hilary Clinton, has also tasked Buhari to direct the Army to stop the killing of peaceful #EndSARS protesters calling for reforms in the police.
While world leaders and celebrities have condemned the senseless killings of EndSARS protesters, President Buhari is yet to give any official statement across all his media platforms, on the issue.
"Bank ATMs, Malls, looted by Hoodlums in Lekki After Curfew Was Effected"
Yet-to-be-identified hoodlums seized opportunity of the chaotic situation, yesterday, to rob innocent passers-by, banks and shopping malls, in the Lekki area of Lagos.
Several bank automated teller machines, and shopping malls were broken into and emptied of cash and valuable items.
Video footage of the aftermath of the incident, posted on Instagram by a Banke Lawal, revealed details of the arson, looting at several places in Admiralty way, Lekki.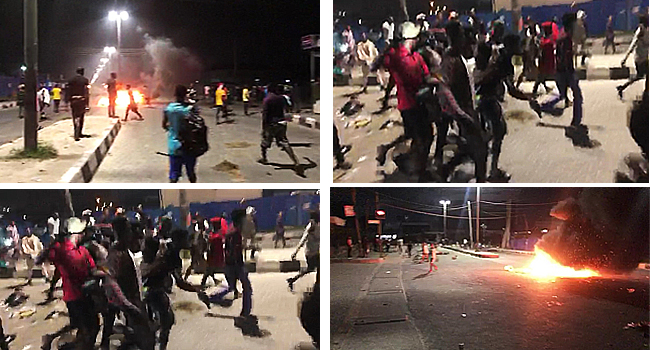 A twitter user, identified simply as @awriterlikethat, who witnessed the looting, decried: "The Admiralty Way, Lekki, is under serious looting and attacks by miscreants. Konga and Hi-fitness are being looted. The Union Bank glass has been broken and miscreants are headed to other banks. GT bank is under fire now. Hub mart has been completely looted."
Another Twitter user, who also witnessed the event, said that: "People in Lekki, please be safe; they are breaking cars at Fola Osibo; looting stores on Admiralty; Diamond bank is allegedly under attack; and Ikoyi toll is burning."
The State Police Command is still yet to give an official statement on the arson and lootings carried out across the state yesterday.
Lagosians are patiently awaiting Governor Sanwo-Olu's promised televised address scheduled for this morning.
Follow us on social media