…intercepts UK-bound 3.20kg skunk concealed in native black soap
…seize 3,000 pills of Tramadol concealed inside women hair
A laboratory located at No. 4 Bode Oluwo Street, Mende, Maryland Ikeja, Lagos State was stormed by anti-narcotics officers National Drug Law Enforcement Agency (NDLEA) recently where deadly substances were recovered.
The Operatives of the Agency uncovered a secret laboratory producing deadly illicit substance, Methamphetamine, in a residential community where already packaged sachets of the drug and various precursor chemicals used in the production were recovered.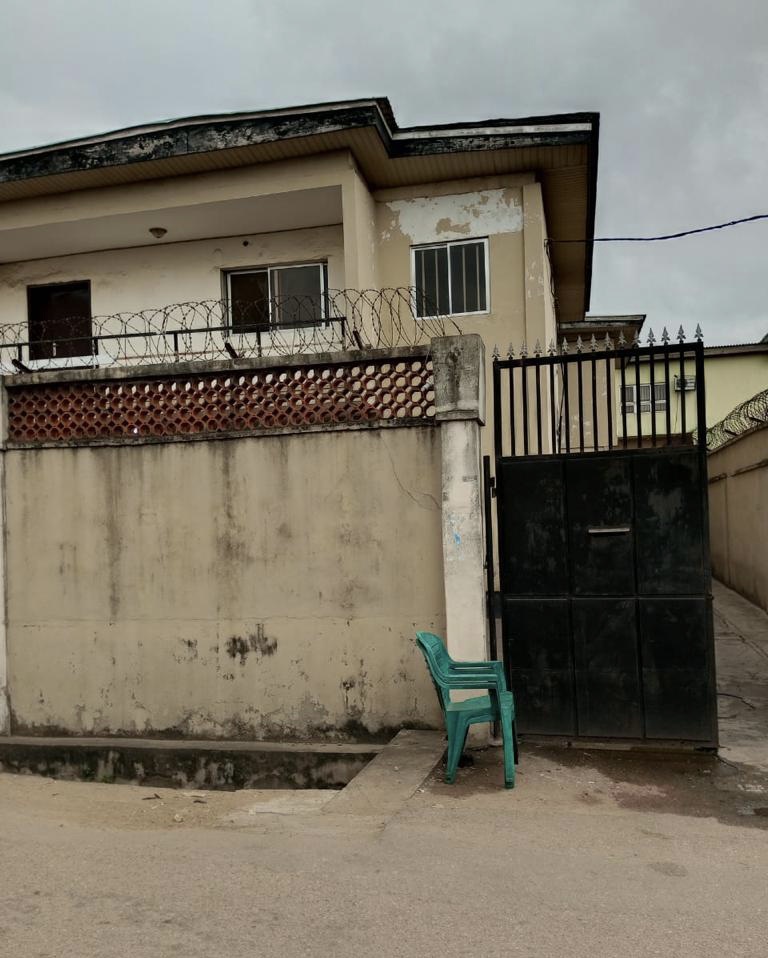 The Agency stormed the laboratory on Tuesday 6th June after credible intelligence and surveillance confirmed the illicit substance was being produced in the duplex building.
NDLEA spokesman, Femi Babafemi, notes that at the end of the search, one kilogram of already produced and packaged methamphetamine, quantities of precursor chemicals and other items used for the production of the deadly drug were recovered from the house while efforts are on to apprehend the fleeing owner of the house.
Similarly, officers of the Lagos Command of the Agency the previous day, Monday 5th June arrested two suspects: Wasiu Saliu and Afolabi Banjo with 247 kilograms of skunk at Oyingbo area of Lagos while Tijani Damilola was nabbed at Isheri with 12.5 litres of skuchies and 98kg of cannabis sativa belonging to a fleeing suspect recovered at Akerele area of Agege just as 12.5kg of the same substance was seized from Adebowale Babatunde after his arrest at Mushin on Thursday 8th June.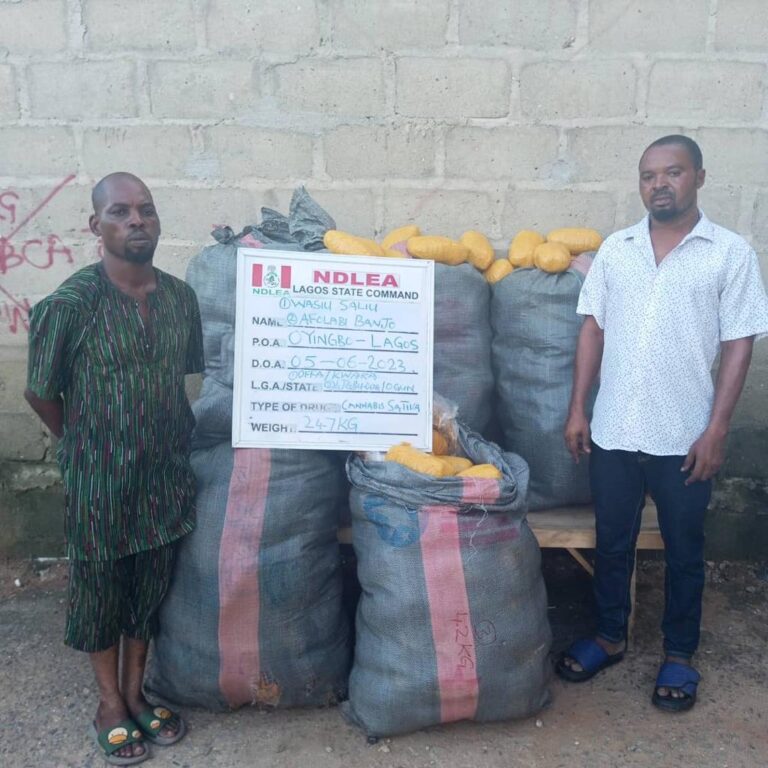 Meanwhile, a consignment of 3.20kg skunk concealed in native black soap heading to the United Kingdom has been intercepted by NDLEA operatives at the NAHCO export shed of the Murtala Muhammed International Airport, Lagos on Wednesday 7th June and a freight agent involved in the attempt to export the illicit drug, Olowokudejo Oladele Toyin arrested.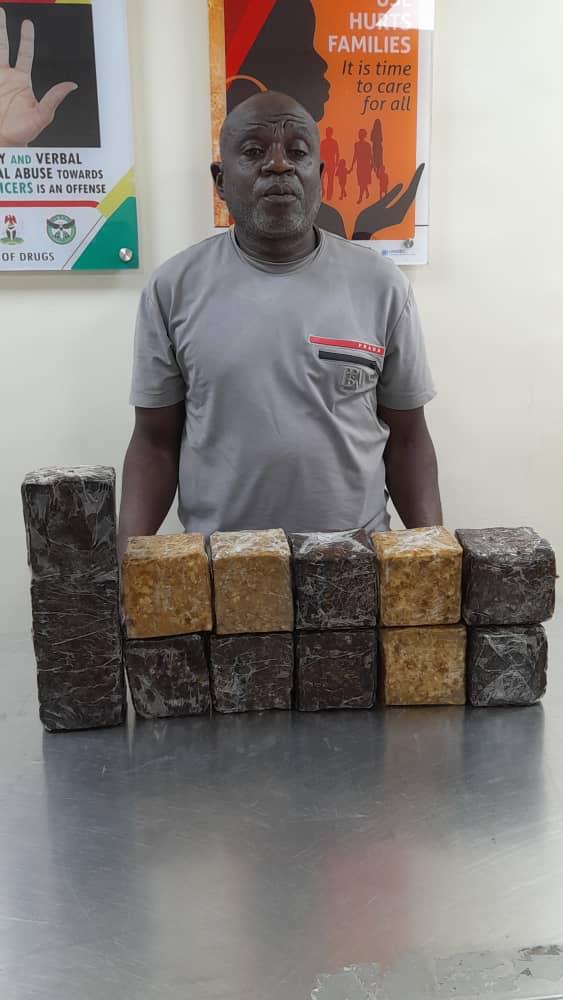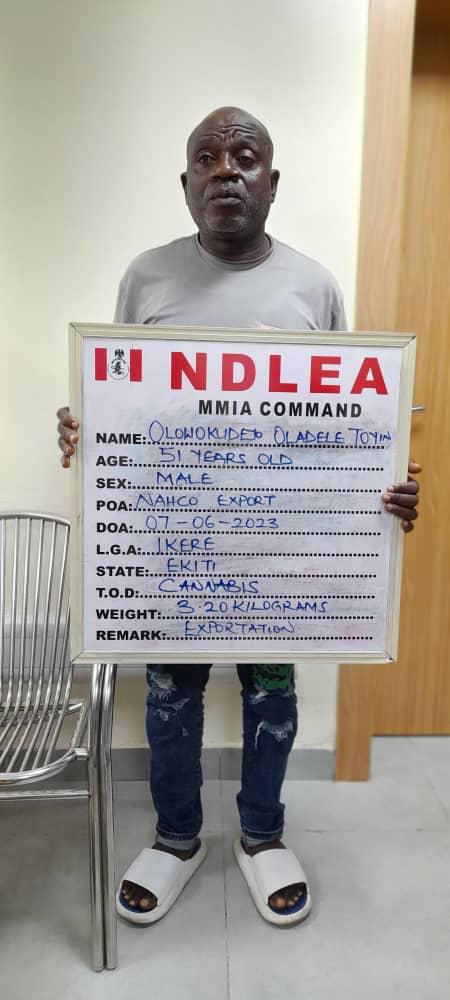 In a similar vein, a bid to export 3,000 pills of Tramadol 225mg concealed inside women hair attachments to Monrovia, Liberia, by a cargo agent, Akinwale Taiwo Bolutife, through the MMIA was thwarted by operatives who arrested him during the outward clearance of passengers at departure gate of terminal 2 of the Lagos airport.
While commending the officers and men of the MMIA, Lagos and other Commands for the seizures and arrests of the past week, Chairman/Chief Executive of NDLEA, Brig. Gen. Mohamed Buba Marwa (Retd) charged them and their counterparts across the country to remain vigilant and keep their focus on the corporate goal of the Agency.
Follow us on social media