For some, it has been 15 years of adopting a new home and lifestyle, and for others it is adjusting to the new normal with the hit from COVID-19 and the hustle for survival. Residents of Chibok Community of Eleko IDP in Lagos recount their sordid experiences as they thirst for better healthcare and skills to aid survival.
Now, for a handful of businessmen and women across Lagos, Nigeria and the globe, 2020 got off on the wrong foot. This is no thanks to COVID-19 pandemic and the immediate lockdown that greeted it; all businesses and industries bowed to its whirlwind. 
Sadly, the Internally Displaced Persons of Eleko Lagos were not excluded from this hit.
Although they are merely into many petty businesses ranging from commercial motorcycling, factory men, hairdressing to baby sitting, they look forward to the lockdown strolling pass just to pave way for palliatives and medical outreaches, especially for the women and children.
Interestingly, over 600 IDPs of Chibok community including women and children have found comfort at Eleko area of Lagos, which is on the outskirt of the state. They largely rely on commercial motorcycling if they must feed.
Paulina Haruna like others don't want to be a full-time housewife
Today, Paulina Haruna is 28 years old. She is a mother of three. She has trained herself to hustle despite living as a housewife for years. Her way of hustling is supporting and encouraging her husband, a factory worker, who has since scout for daily bread in the lockdown.
"Since they told us there is that sickness (COVID-19), we have been hustling to eat. It is not easy. My husband goes out daily to struggle and bring something to eat," she expressed faintly in pidgin English.
Recounting her sour experience as an IDP at Eleko for six years now, Paulina told LagosToday how several organizations come to do a survey and enquire their dire needs.
As a dweller, she thirsts for a little financial push to start up business with the skills she has bee empowered with and good schools for her three children.
"Many NGOs come to ask us what we lack. They take note and promise us everything – so many. But they don't come back," she decried.
She is a bold hairstylist and can create styles but she has no space to begin. "I know how to make hair very well. I can do it if I see even small space".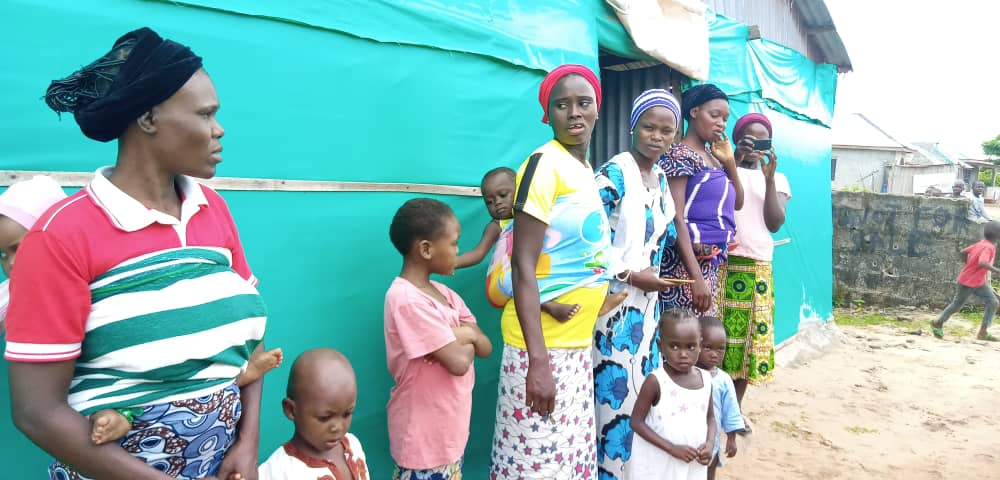 Paulina, other women patronize TBAs
Truly, these women spoke in a monosyllabic manner when communicating. One thing was clear, when one spoke, the others chorused unanimously their needs like better healthcare services for maternal needs the most.
"The hospital people don't treat us well at all. They always shout at us. They don't attend to us well at all. We use those house women (Traditional Birth Attendant, TBA).
Melle Kolo prefers TBAs Services to PHCs
Another resident and IDP, Mr. Melle Kolo, echoed Paulina's pain. While sitting on his bike flanked by his brothers from Chibok, he enthused, "The hospital doesn't treat our pregnant women well. We use Iya Abiye (traditional birth attendant). They are good. Although the cost of delivery is 25,000 naira as the hospital, our women use it. It works fine for us".
Diseases hunting IDP children
According to Kolo, some diseases have continued to rip the health of their children. Common among them are: red eyes, catarrh, skin disease. "Maybe because we are near the sea that is the reason we have these kind of diseases. But they are disturbing our children".
How they buy bikes on hire purchase for N400,000
As a commercial motorcyclist, Kolo says he and his people make a living by riding bikes. "We buy bikes on hire purchase. Bike they buy for N200,000 they sell to us at N400,000 naira. We would have no choice but to take it if not we will have nothing to do".
Although they find it a herculean task to pay up for the machines, the father of five decried that most times before they finish paying for the bikes, it would have worn out and not helped them feed well.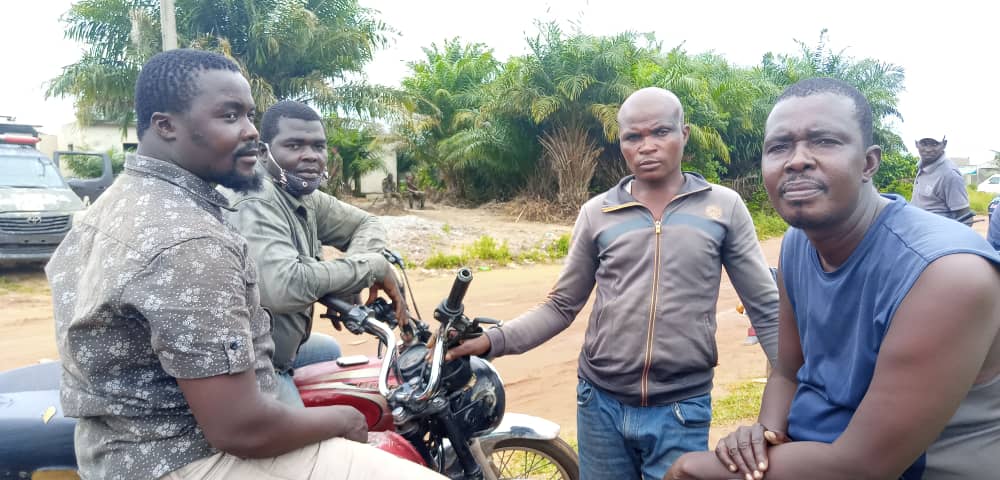 How much people are willing to pay for a ride in COVID-19
"We are not asking for so much. Usually, we take 200 naira for this minor road. Some beg us they don't have, we take 150 naira. But since this COVID-19 came along, we some people jump down from the bike and escape payment," he chuckled.
Explaining further, Kolo added: "Even yesterday, I carried a girl for N100, she jumped down from the bike and escaped. Some would get to their bus stop and tell you to wait for them to bring money out of their homes, you would not see them again".
Their tale of woes: exhuming the dead
While being grateful to God for not being idle, Kolo, who has been an IDP at Eleko for 15 years now bemoaned profusely their tale of woes.
Despite being dwellers of that community, the IDPs have no space to lay to rest their loved ones. "Nothing has ever ripped my heart like the unfortunate incident that we were forced to witness".
With protruding eyes and much grieve that smothered his whole being, he recalled how one of their 16 years olds passed on and was buried but could not rest in peace. "After burying her and gone our way, the person who donated the land ordered us to exhume the body because of some family disagreement. Oh!" He exclaimed.
He continued bitterly. "I have never heard of such in my life. Not even the Bible and the Quran has mentioned such". While the entire IDPs genuflected to avoid the abominable, it was all futile.
"If they had asked us to pay some money to buy the land at that time, we would have made calls and pleaded to raise the money.
IDPs in need of space to lay the dead
Although their needs seem insurmountable, Kolo who spoke in the presence of his fellow bike riders, pleaded humbly for one need. "If somebody can help us to buy a plot of land for us to use to bury our people when death comes, our hearts will rejoice".
Not forgetting to acknowledge NGOs who have been with them in good and bad times, Kolo lauded: "Dr. Nkechi of DHI is the only one that say it and do it. She always give us food and medicine to help us. Others come, promise us heaven and earth, give us nothing".
There is a shepherd steering their affairs
Meanwhile, the Chairman and Pastor, Mr. Jonah Solomon, has been the shepherd monitoring the affairs of the people. "It is good to teach them how to catch fish. We definitely need it. people need to acquire skill acquisition. Please we are very ready".
For the women of Chibok community Lagos, who are full-time housewives, they crave to scale up with skills like sewing, hairdressing and all kinds of skills.
How NGOs dash their hopes with empty promises
He narrates: "A lady once came from the US. She promised to rev up things here especially with empowering of the women. She even urged me to go to the market and find out the prices of sewing machines and send to her.
"I went to the market. I video recorded the machines and took pictures then sent to her. But till date, there is no feedback. There are a lot of NGOs like that. but I believe that Dr. Nkechi with her group is different because she has been helpful to us.
An unanimous call for help
He interceded for his people. "Please we need you to come and help us".
Indeed, these warm dwellers are not asking for much. They wish their un-amplified, weak voices would reach the meekest of hearts as they continue to exercise faith for a better healthcare services, skills and better opportunities.
Follow us on social media