Eight days after commercial activities were grounded in Ikotun and environs following heavy flow of Petroleum Motor Spirit (PMS) from a vandalised pipeline into Omoboriowo Street, and Prince Adeyemi Street off Governor Road, Ikotun, residents are still in panic mode.
The residents, who were forced indoors last week, to avoid fire outbreak, said the vandalised site has remained uncovered.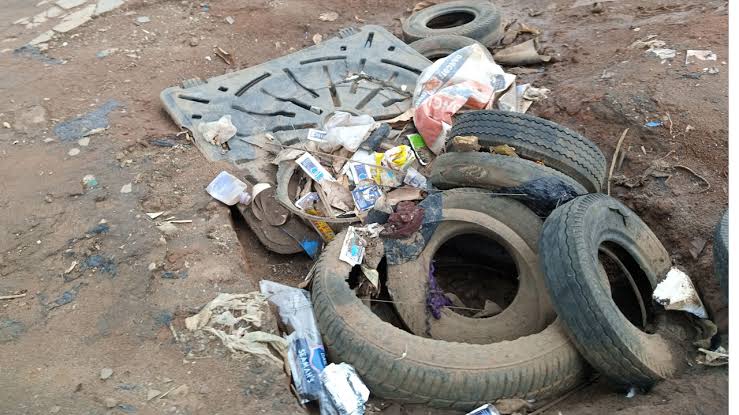 They are worried that government has not dealt decisively with activities of vandals and miscreants, who siphon petroleum products from the Nigerian National Petroleum Corporation (NNPC) pipeline.
According to them, pipeline vandalism has become a ticking time bomb and a recurrent issue not only at Omoboriowo, but in other nearby streets such as Governor Road, Odo and Sawmill.
The residents said their experiences were better imagined than experienced because both the young and old were in perpetual panic, until responders were able to clean up the place.
The residents said since officials of the NNPC Maintenance crew fixed the affected sites on Friday the entire drainage was still filled with PMS, while trees around the site have dried up.
According to them, they hardly sleep with two eyes closed since they do not know the hour vandals would strike, adding that no week passes without vandals coming to suck petroleum product.
From all indications, they know the day the fuel product would be pumped to the Ejigbo petroleum depot, on such days, they would definitely operate, a middle aged man who lives around the area but would not want his name in print, said.
A representative of Anuoluwapo Community Development Association (CDA), Adekunle Olayemi, lamented the rate at which the crime is being committed, adding, "It's not a crime that can be perpetrated by a layman."
Olayemi noted that it's not all the time oil passes through the pipe, but it's surprising that vandals invade the pipe whenever oil is being pumped from the petroleum industry.
"There are certain times oil flows through the pipe in which no one would know except for the insiders. So it's either the workers carry out the crimes independently or they inform the vandals when it's time to pump oil", he said.
According to him, the oil spill this time around was very frightening because its fumes were everywhere, making some residents run from the area.
He urged the state government to deploy security men to the area to avert devastating human and material losses that would be more than the Abule-Ado explosion.
Similarly, an aged man who begged for anonymity said it would be difficult for the vandals to loot the pipe without being supported by some individuals.
He said: "It appears that the vandals are well informed of how the pipe works and that is why they succeed whenever they come."
Narrating how it happened, the man said, "no one could be vivid enough to say this was what happened, because it was in the dead hours of Friday around 1:00a.m. when the pipeline exploded and we all woke up running for our dear lives."
He recounted that the pipeline had come under invasion several times in the last 40 years.
Another woman who owns a shop near the vandalised pipeline recounted that it was the third time vandals have tampered with the pipelines this year.
"The first was in February, another one happened around June-July and this one. But it is high time, government found a lasting solution to curtail similar incidents in the near future," she said.
When The Guardian visited the site, the affected area was covered with condemned tyres as residents vacate the streets.
A resident, who simply identified himself as Baba Ibeji, said the continued oil spillage has made residents to relocate from the area for fear of fire outbreak, adding that hoodlums make a living from oil bunkering in the area frequently as there are no security operatives to guard it.
"This will be the third time we will record oil spillage in this place with no effective response from the government. Whenever the people come and drill, NNPC officials would only come over to cover the place with sand. There are over 10, 000 people living here and if anything like a spark happens Ikotun will burn to ashes."
He added that several appeals for security and guards have not yielded results as men of the force claim to be afraid of keeping watch at night.
"People here have made several appeals to the government to provide 24 hours security, especially at night but they will only come during the day and leave in the afternoon, meanwhile the operation by vandals is at night. This is not our property and it must be protected by the owners and it seems our life does not mean anything to them", he said.
Another resident, Baba Adewale claimed he has lived in the area for 42-years in fear.
Narrating how Friday's incident occurred, he said he overheard the sound of a generator about 1:OO a.m. and could not confront those extracting the PMS as their looks were frightening.
"As you can see, I'm a very old man, most times when it happens like this, I hear a sound and when I peep from the window I do not even recognise who they are but from their look they would be ready to take anybody down.
"The last time this happened, Civil Defence Corps were deployed and what I see them do often is collecting money from people. Up till Saturday our drainages were soaked with fuel," he said.
It was also observed that a welding shop was located just a few metres from the vandalised pipeline, which could spark up flames in the area.
Meanwhile, the leadership of Anuoluwapo Community Development Association (CDA), said a quit notice, has been served roadside vendors and mechanics to relocate to other safer areas.
According to them, the decision was taken in their recent meeting held on September 4, 2021.
"This was necessitated by the incessant vandalism of oil pipelines in Maboriowo Street and other areas.
"The quit notice covered roadside vendors, mechanics and scrap dealers, who occupy the main road of Maboriowo Street," the leaders said.
Recall that Director-General/Chief Executive Officer, Lagos State Emergency Management Agency (LASEMA), Dr. Olufemi Damilola Oke-Osanyintolu, said the agency with other responders on August 27 averted a major fire accident in Lagos at Igando axis, where a pipeline was vandalised leading to serious threat to the lives and properties of Lagosians.
He stressed that further investigation revealed that the heavy leak of PMS was caused by suspected pipeline vandalism and bunkering.
Follow us on social media