You can literally hear the sorrow in their voices as they speak in low tones.
"They have abandoned us. For several months now, they have been fixing this road. They have just abandoned it. Business is bad. Everything is bad," Mr. Uche Okafor, 30, a fashion designer in the famous Katangua Market area of Central Lagos, said.
His eyes glinted with disappointment as he recounted how, after several months of an alleged sluggish rehabilitation of the linkage roads to the Kantagua Market – a hub infamous for fairly used clothing and fabrics – in the Abule-Egba area of Lagos, the roads remain dilapidated and business grinds to a slow halt.
"It has been up to five months now that the roads have been under construction. The roads were not good before, but it was okay. For two years, we have been managing the bad roads like that. But since they demolishced the market, it has been worse like this. It is affecting us seriously," he said.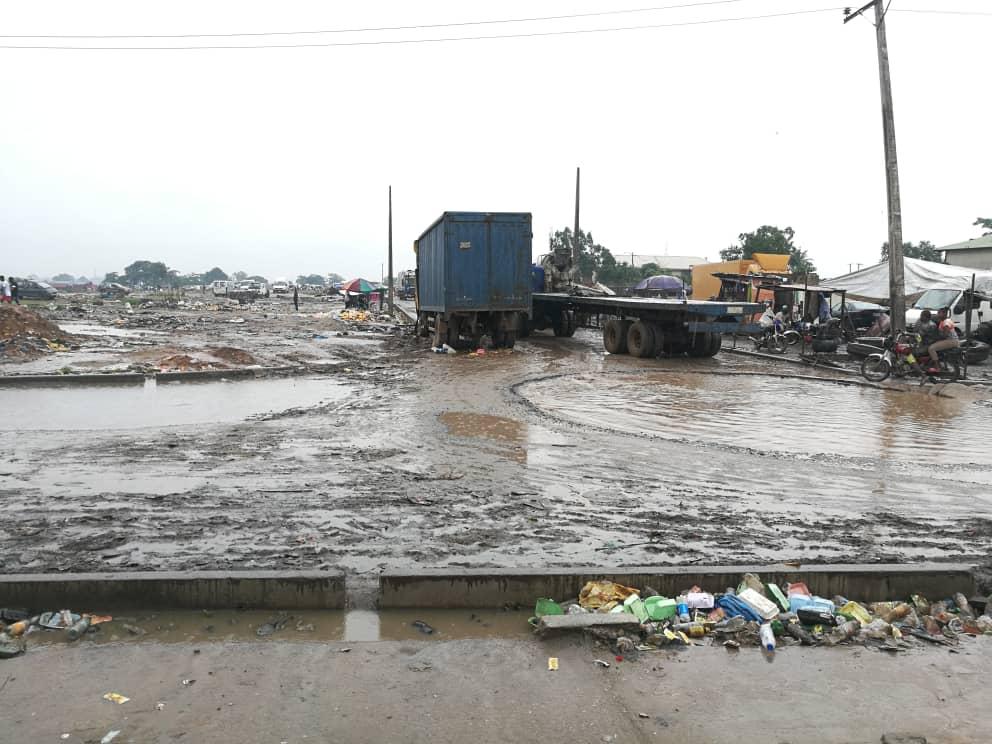 Pointing at the entrance to the road which links up to two other connecting routes, he lamented: "You know, many of our customers come through this way, but as the road is like this they are not more coming through this way again. Since then, our business has been bad. We have been complaining and they haven't been responding."
'Our businesses suffer low patronage'
The entrances to the road are marked by pond-sized potholes. The gutters have been excavated on the roads, for a drainage installment. As the project drags, the roads have become a bed for refuse, stones and building materials, rendering movement near-impossible. This, the traders claim is affecting their businesses negatively.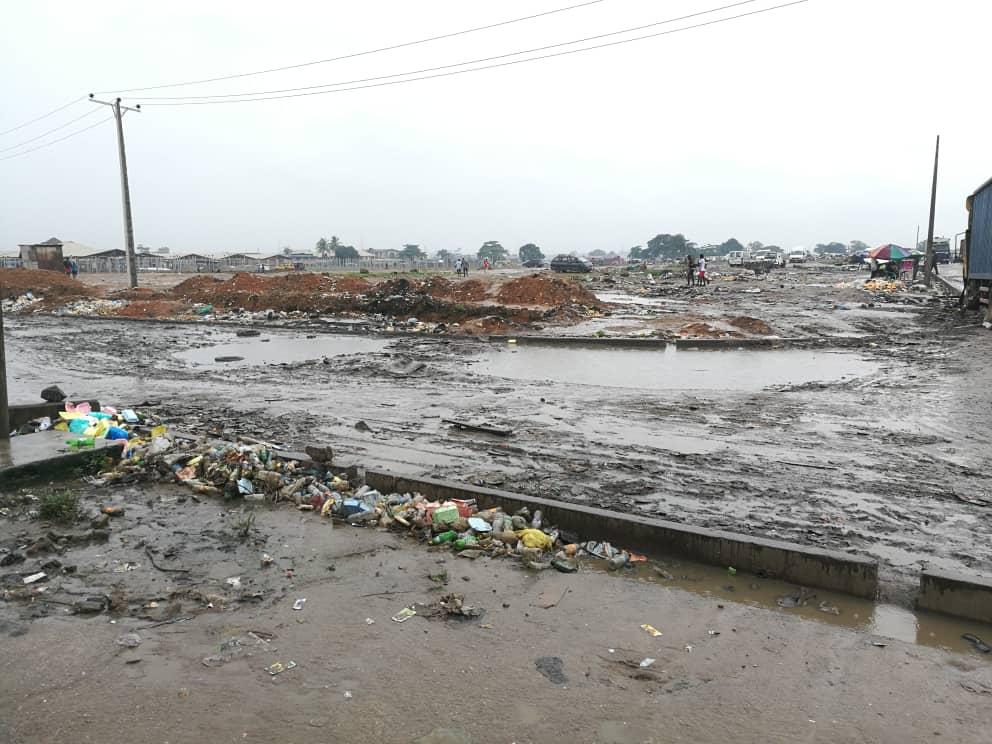 A foodstuff seller, Mr. Chinonso Ogbonna, 28, explained that: "Since ending January when they demolished here, I have been having bad market (low sales). This road has been disturbing us and the people that are constructing it they are doing nothing about it. Sometimes, they start work by 10 am and they are doing nothing serious about it. The thing is just affecting everybody selling anything in this place. The roads have been better than this before January, when they demolished the houses and the shops around. The thing has become worse since then."
According to him, all complaints filed to the government authorities have yielded no good result.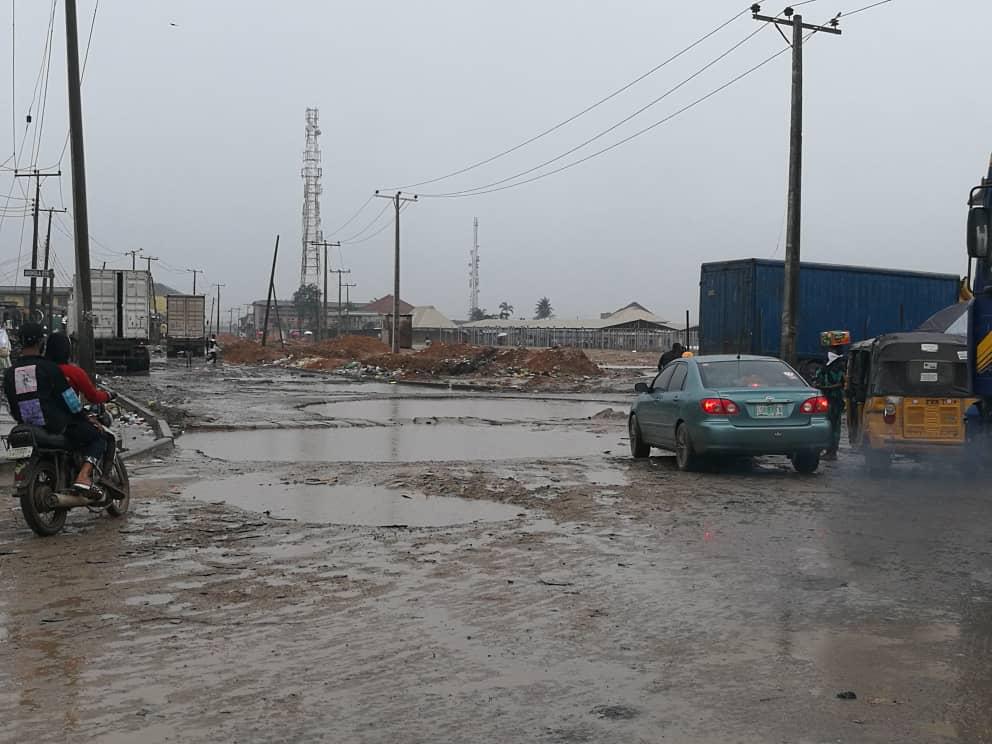 "We have been complaining to our landlords, and they have been complaining to the government, and they (Government) are doing nothing about it. The thing is affecting me, because I am just sleeping and waking up. Before, we do sell market but no market again; people don't come, because there is nowhere to pass; even bikes cannot pass. There is nowhere to pass. It is only people that are living around that can trek."
Another business owner, an electronics retailer, Mr. Emmanuel Anthony, also lamented that the situation in the area had reduced patronage in his business. Sitting down alone in his shop, staring into the road, he spoke with enthusiasm: "Since over two years now, the road has been bad. It has affected business because where cars were coming in before has been damaged. Bikes and keke maruwa (tricycles) cannot even pass here. You can only walk here. This construction has been so long. It has been so bad."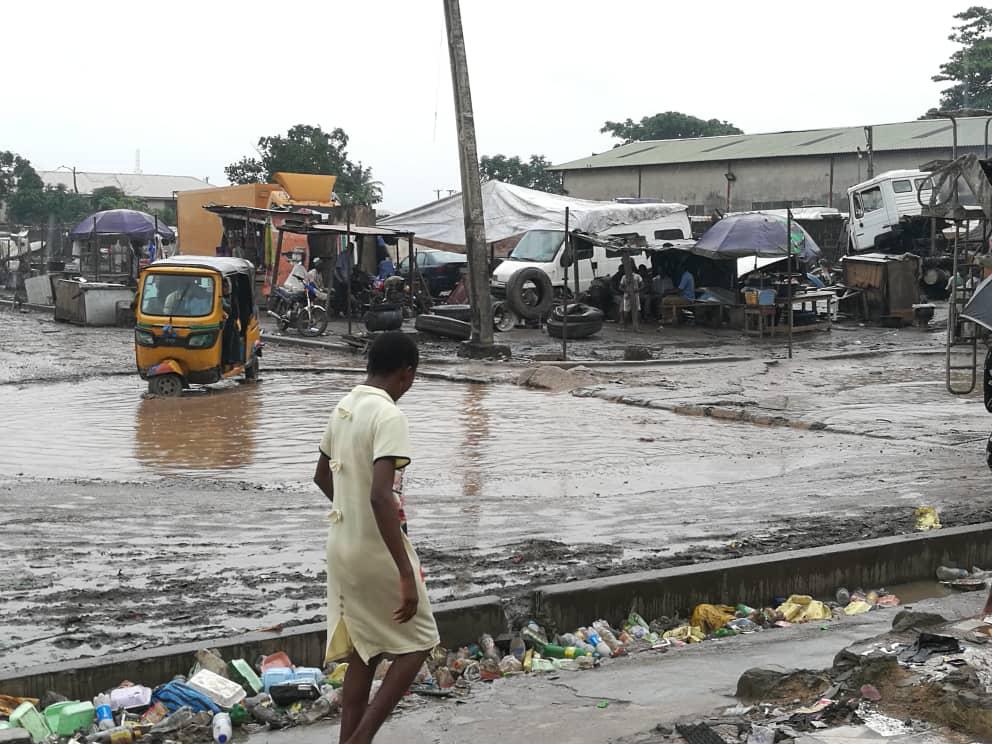 Anthony explained that the project had lingered for several months, with the contractors citing lack of funds as a reason.
He said, "Since they built the Abule-Egba Bridge, this road has been bad. That company that won the contract from Ambode to fix the road did not do it; the best thing they did was to just destroy the (Katangua) market and pursue people away. Since over six months now, they haven't finished one side of the road; they work today and they stop. They come back again, after a while, and they continue. If you ask them they would say the money has finished.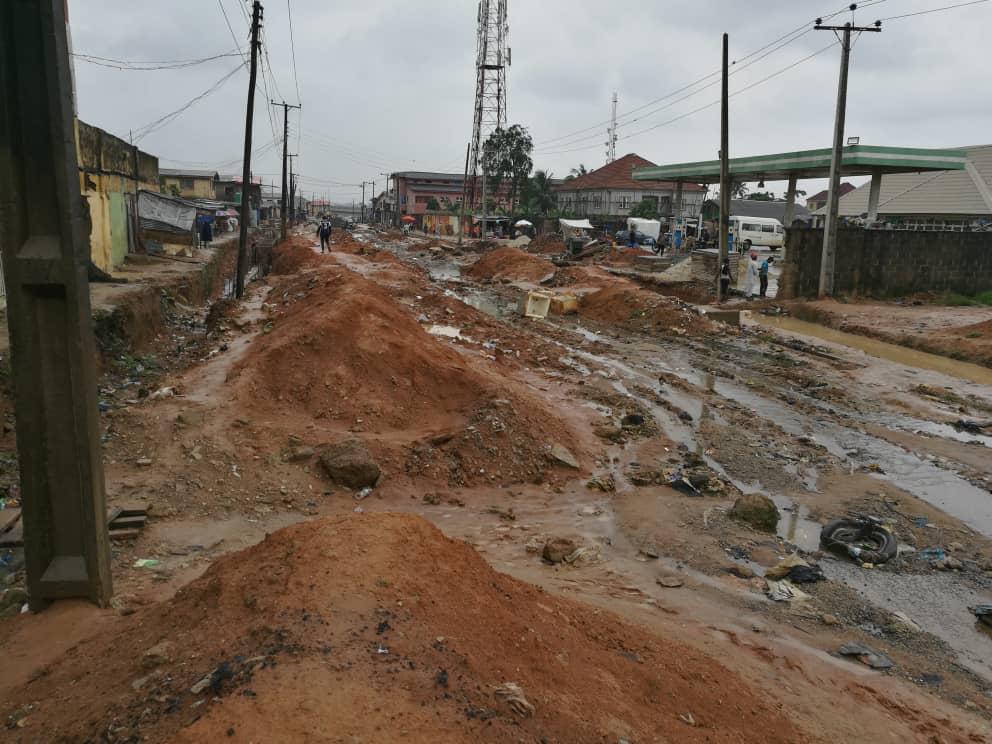 "Before they started the job, they said the job would last six months. But since that time till now, they haven't done anything. The government has been saying they would do it, but nothing till now. When you ask the contractors about it, they would say there is no money."
Another business owner and resident, Mrs. Akiduyi Funmilayo, highlighted that there have been allegations that the contractors paused the project due to the Coronavirus. However, she affirmed that since the project started, they have been lax in effecting repairs.
She also cited that the terrible state of the roads had negatively affected her business.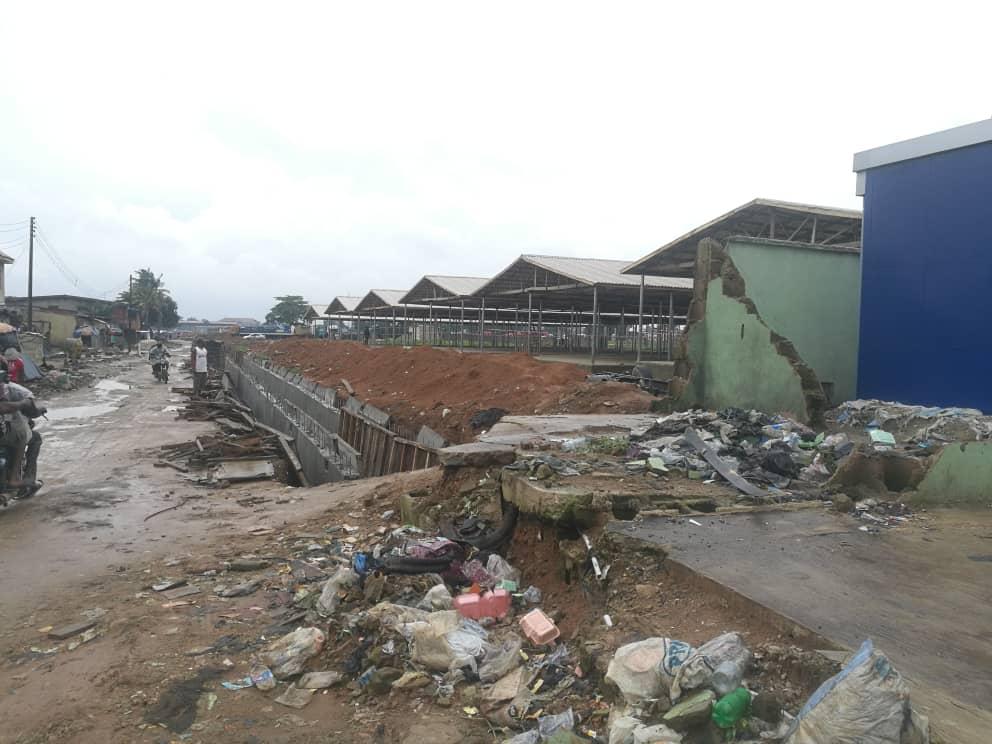 "Our roads are bad. There are no transport. You have to walk a long distance to get here. Even at that, when you see transport is has now become more expensive because the roads are very bad," she said.
Funmilayo also affirmed that the roads, which are bathed in pile of stones and mud, with wooden bridges dangerously sited at entrances to stalls and houses, which have been cut off from the road, because of the drainage installations, have been causing accidents.
"People used to fall down on these death traps we set up as bridges. They didn't even give us support for the bridges to our stalls. We had to put our wood there."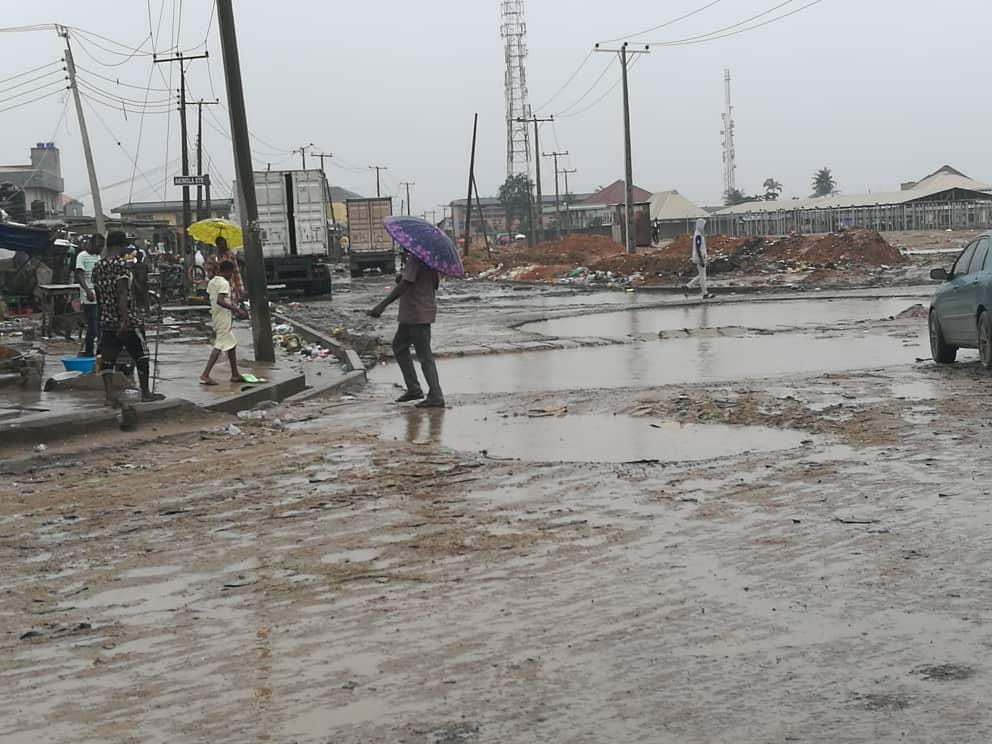 For the 25-year-old provisions seller, Bukola Oyelowo, the situation is no different.
According to her, "It is affecting sales in the sense that people are not able to pass through unlike before where we had motorcycles and keke maruwa always passing so that people can access the road. Now, that they can't access the road, it is affecting sales."
Oyelowo also decried that the contractors are inefficient in their operations.
She said, "They have not really been consistent. The last time I saw them was about two or three weeks ago. That was the last time I saw them. It has been going to three months now that they have been constructing this road.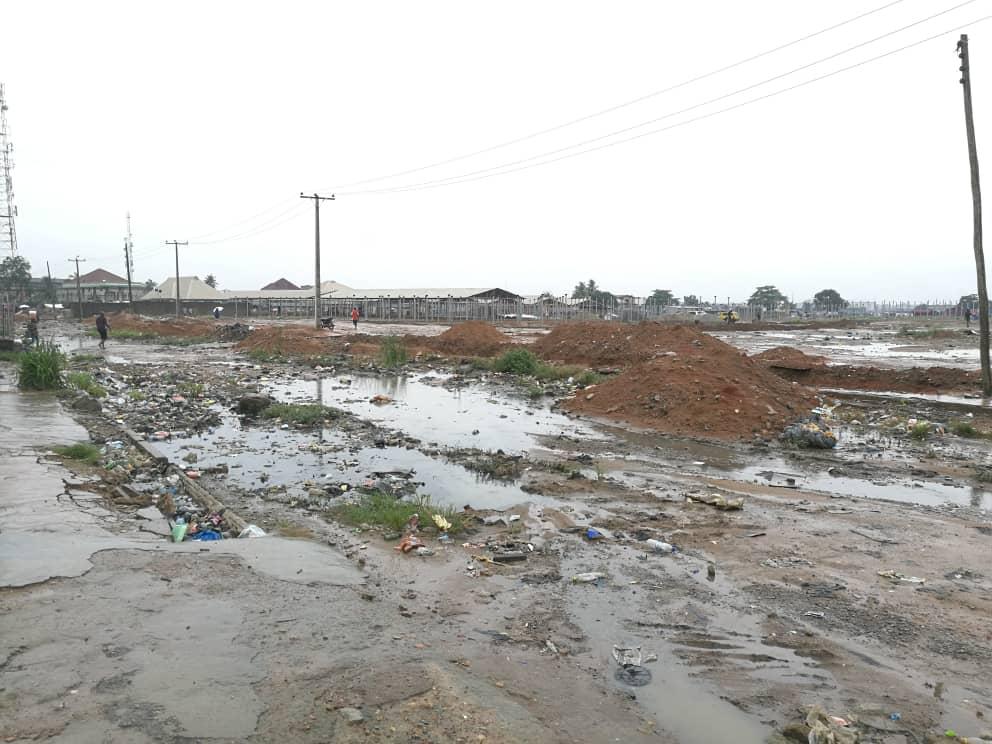 The situation is same for a Motor Spare Parts dealer, Mrs. Joy Enofu, 38, who claims that the situation "Is affecting our business. You can see that bikes or vehicles cannot pass. The government would tell you that the contractors are coming, they are not coming."
More Throes For Home Residents
For some home residents, the situation affects them in more difficult ways.
According to a resident, Faith Lukman, 23, the bad roads have limited her movements.
"I have been experiencing it going to about three or four months now. When they demolished the market that was when the bad roads started. The roads had also been bad since the four years I have been living here. There is no good road here at all. No bike, keke or bus can even pass here at all. It has affected transport fares too."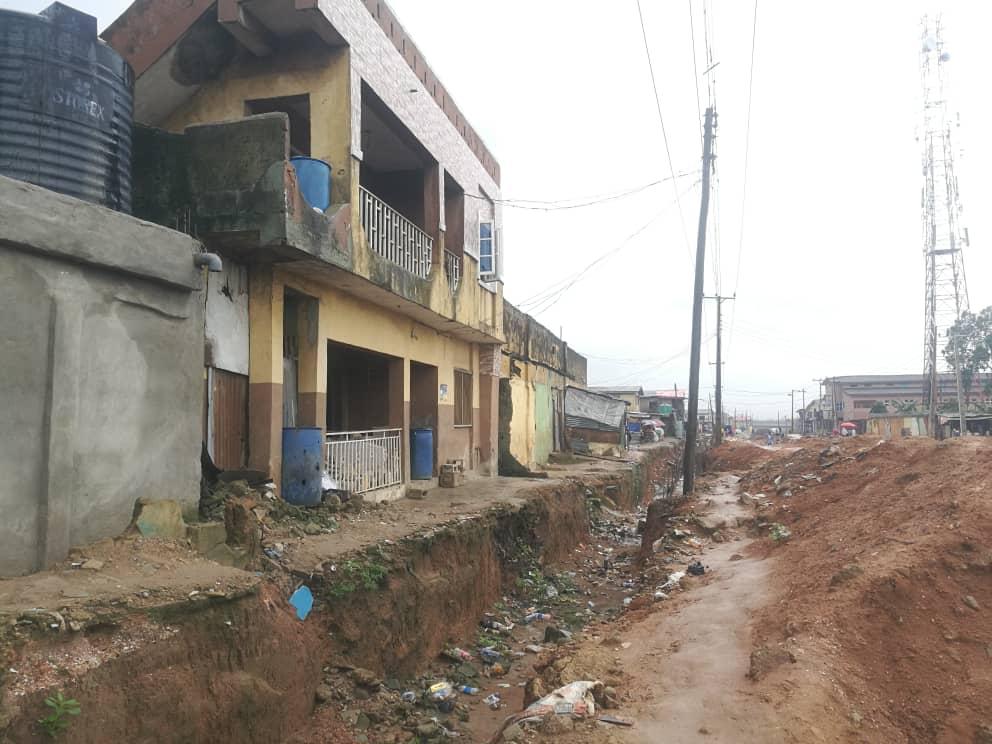 Apart from citing the riskiness of the roads, she further explained that it has also limited the waste disposal services previously enjoyed by the residents.
She said, "It is very bad. Even the LAWMA (Lagos Waste Management People) do not come here again to carry our dustbin. It is just bad. To buy anything is hard. Most times, if you want to go to the other side of the road, you cannot go easily, because everywhere is very risky. If you put one leg now, you could fall down."
The tussle for Katangua Market
The popular Katangua market was demolished, earlier this year, following an announcement by the government to relocate the computer village – a hub for electronics and technology-based business – to the old market's site. Several houses and shops were destroyed, because they fell on the alleged "government land".
The traders also attempted to forestall the government's demolition decision in court in December, 2019. However, they lost the dispute and with it, their shops and houses.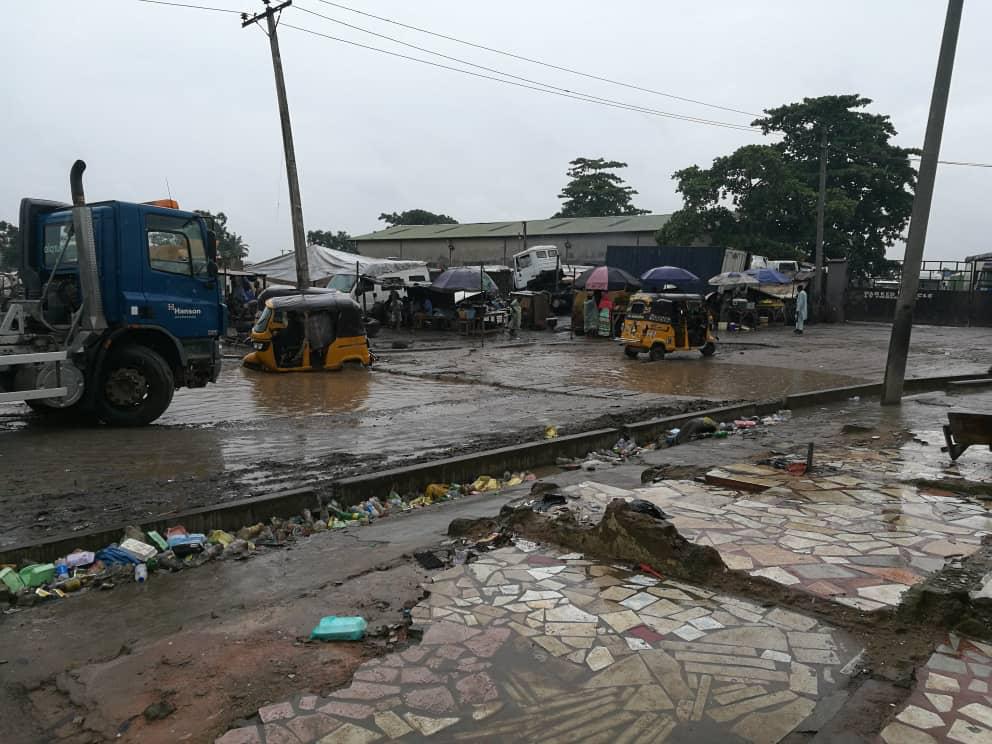 Most of them who spoke with TheLagosToday lamented that the government did not compensate individuals whose shops or houses were demolished with the old Katangua market.
According to Enofu, "They were not compensated. I have a brother in that place. They were not given one kobo. You see that place is a government land. That is what they said."
Ogbonna also agreed that "They did not give us any compensation. They pursued them. They did not even allow them shade their market (wares) along the road. They have all gone to different places."
Okafor explains that although the affected individuals were given prior notice, they were still not compensated.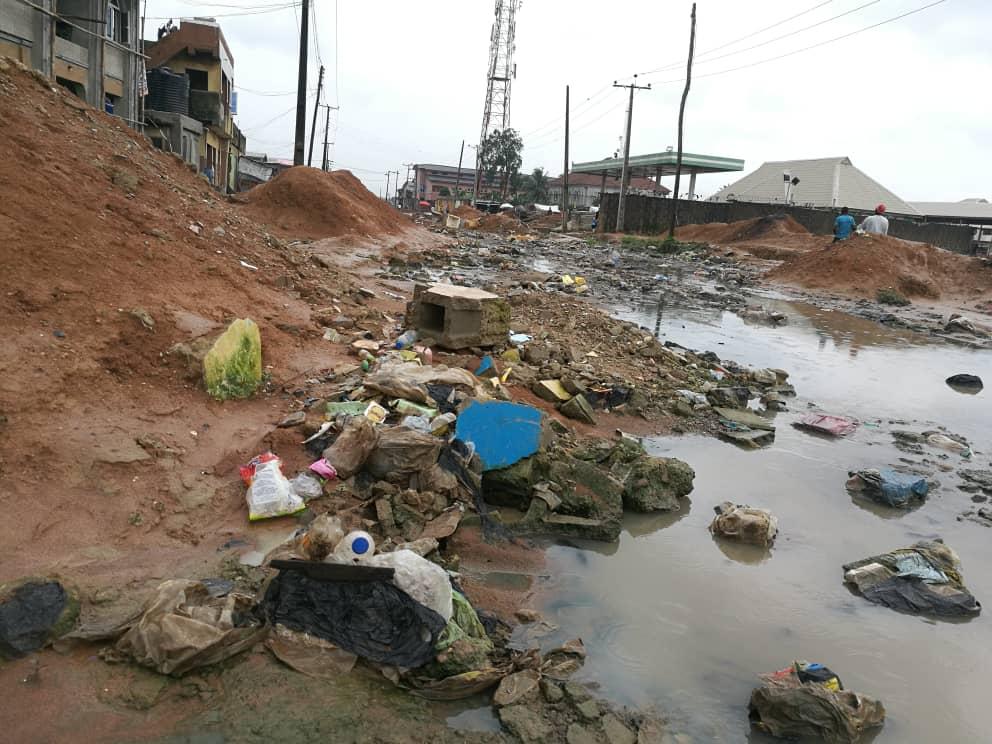 "They demolished it because they said they want to relocate Computer Village, in Ikeja, here. They did not compensate anybody.
You see some Landlords have met them but they said there is nothing they can do. They say it is government land and they have given us quit notice. Although they had been talking about it before, they only gave us seven days' notice," he said.
All attempts to reach the relevant authorities were futile as at time of filing this report.
Follow us on social media