Protesters in Ondo State have blocked the Ilesha-Akure-Owo highway over the scarcity of naira notes and fuel
The protesters prepared a musical stage and danced on the highway.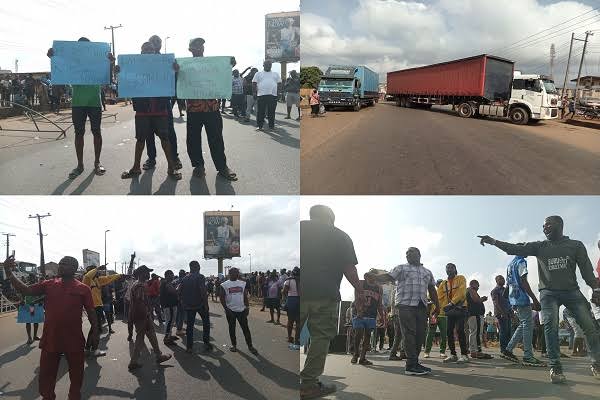 Organisers of the protest however warned hoodlums against making any attempts to hijack the protest.
"This is a peaceful protest. We are here to tell the government we are not happy but whoever wants to hijack this protest to loot and destroy properties will be handed over to the police," one of them said.
Ondo chairman of the National Association of Nigeria Students (NANS) Comrade Oloroso Surprise, said the protest was to send a message to the government that the people are not happy.
Comrade Oluyemi Fasipe advised the Federal government to streamline the naira policy in line with the need of the people.
According to him: "The current hardship from the scarcity of naira and the high price of petrol is causing frustration among our people. The situation is uncomfortable for everybody. It has nothing to do with personality. No one has access to the naira freely. We want to pass the message that the government should be fast to tackle the issue.
"We also have a message for the Ondo State Government. We realised petrol dealers hike prices necessarily even when they got the product at the official price. We want the state government to set up a committee to monitor sales of petrol and also access to money. We want to be part of that committee.
"The government should do what is good for the masses. The masses are at the receiving end. This policy is too harsh. Old notes should be used alongside the new notes."
Another protester, Mr Omotayo Samuel, said they were passing the message that the people were not happy with the situation of these past days. We are not happy. We are now buying naira. Government should reverse these policies. It is politics to change money at this time. Many people are suffering it is difficult to get money these days."
To Ilesanmi Ademola: "We are doing this peaceful protest. We have been hearing several youths want to disrupt the peace of the state. We do not want a repeat of ENDSARS. We want to fuel and cash to be available. The timing of the policy is bad."
Ondo Police Commissioner, Oyeyemi Oyediran, who addressed the protesters, commended them for being peaceful.
Oh He appealed to them not to allow hoodlums to hijack the protest.
Follow us on social media