Turkish Airlines, most valuable brand of Türkiye, has been honored with the World Class award for the third time by APEX (Airline Passenger Experience Association), one of the leading organisations in the aviation industry.
During the APEX/IFSA Global Expo held in California, Turkish Airlines received the World Class award in recognition of its global leadership in guest experience and service quality in the aviation industry.
Accepting the award on behalf of Turkish Airlines, Chief Marketing Officer Ahmet Olmuştur stated: "We are glad to receive the highly prestigious APEX World Class Award given by APEX, one of the world's foremost airline evaluation organisations. This award showcases the result of the dedication shown by all our team members. Our ergonomic seats, personalised services, and unique offerings aimed at meeting our guests' needs are all part of our efforts to make the flight experience exceptional. This award demonstrates the accuracy of our strategies and efforts while motivating us to further enhance our future goals."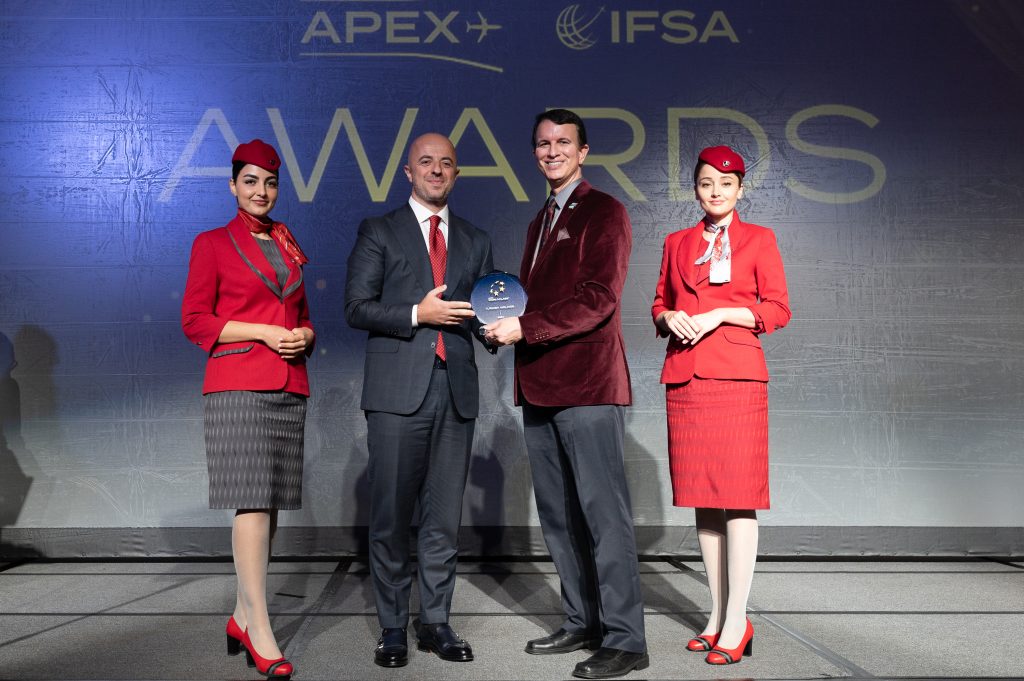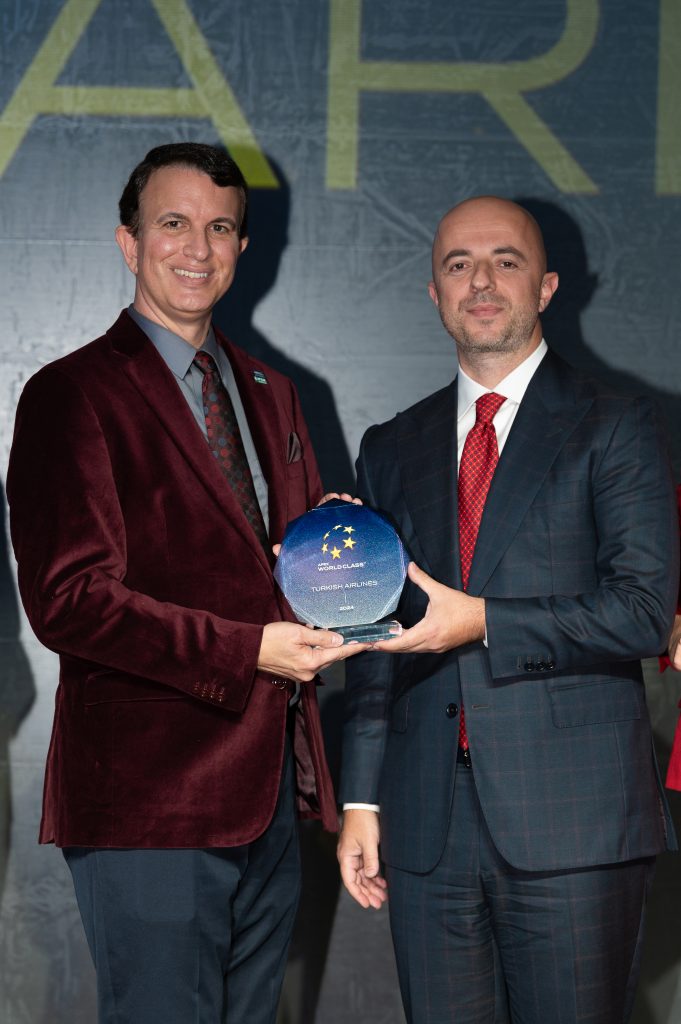 ​On the award, APEX CEO Dr. Joe Leader stated: "In the world of elevated aviation experiences, Turkish Airlines soars above five-star airline status as a paragon of excellence winning as one of the only prestigious 2024 APEX World Class airlines in the world. Through rigorous and professionally executed audits across both economy and business class service, our team gleaned insightful revelations about their unwavering commitment to passenger experience, safety, and sustainability advancements. On my own Turkish Airlines flights this year, I have been captivated by their new suite business class on select A350 aircraft. Each of their new generation aircraft embody enhanced opulence and innovation. With the touch of a Turkish Airlines flying chef, every meal becomes an unparalleled culinary journey, reminiscent of candlelit soirées under a starry Anatolian sky. Yet, it's their authentic and extravagant Turkish hospitality, a blend of warmth and luxury, that truly encapsulates the heart of their service. Bravo, Turkish Airlines, for crafting moments that transcend mere five star status as one of the very few APEX World Class airlines!"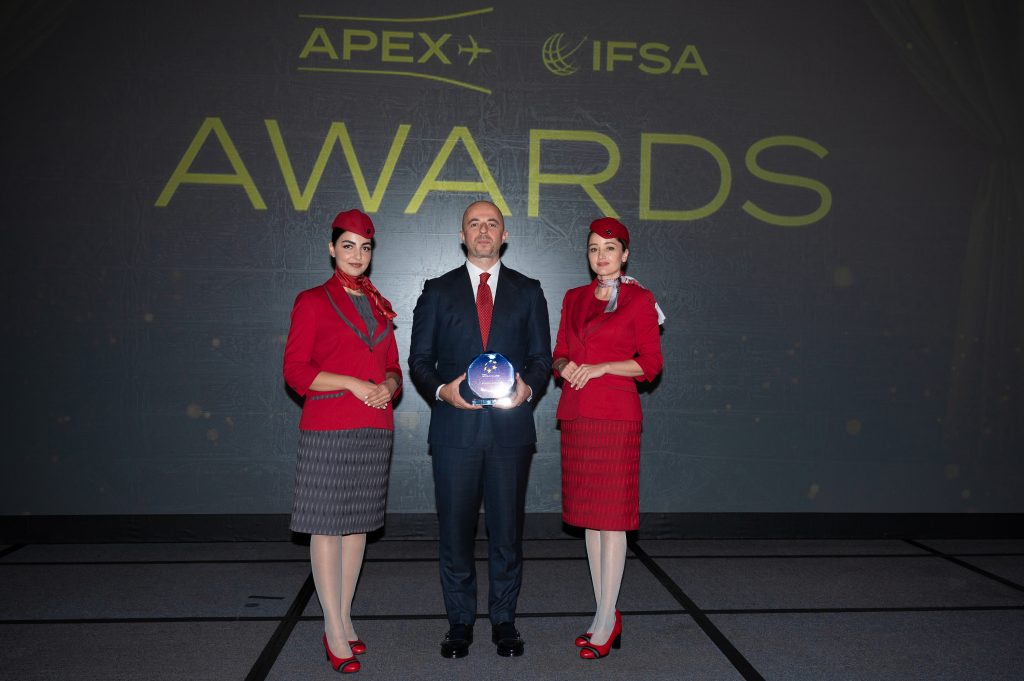 Flag carrier is among the select few airline companies recognised by APEX, which makes its evaluations by assessing safety, well-being, sustainability and service-guest experience criteria. Comprehensive assessments conducted by aviation industry professionals confirm that Turkish Airlines has reached global standards in these areas.
Furthermore, the APEX World Class award reaffirms Turkish Airlines' commitment to continuously elevate the guest experience and maintain service quality at the highest level.
About Turkish Airlines:
Established in 1933 with a fleet of five aircraft, Star Alliance member Turkish Airlines has a fleet of 429 (passenger and cargo) aircraft flying to 344 worldwide destinations as 291 international and 53 domestics in 129 countries. More information about Turkish Airlines can be found on its official website www.turkishairlines.com or its social media accounts on Facebook, Twitter, YouTube, LinkedIn, and Instagram.
About Star Alliance:
The Star Alliance network was established in 1997 as the first truly global airline alliance, based on a customer value proposition of global reach, worldwide recognition, and seamless service. Since inception, it has offered the largest and most comprehensive airline network, with a focus on improving customer experience across the Alliance journey.
The member airlines are: Aegean Airlines, Air Canada, Air China, Air India, Air New Zealand, ANA, Asiana Airlines, Austrian, Avianca, Brussels Airlines, Copa Airlines, Croatia Airlines, EGYPTAIR, Ethiopian Airlines, EVA Air, LOT Polish Airlines, Lufthansa, Scandinavian Airlines, Shenzhen Airlines, Singapore Airlines, South African Airways, SWISS, TAP Air Portugal, THAI, Turkish Airlines, and United. Overall, the Star Alliance network currently offers more than 10,000 daily flights to almost 1,200 airports in 184 countries. Further connecting flights are offered by Star Alliance Connecting Partners Juneyao Airlines and THAI Smile Airways.
Follow us on social media