Leading creative and experiential events management company, Q21 Solutions, is set to host a novel community-led festival for the alternatives tagged Alte Culture Festival on Saturday 16th April 2022, at Muri Okunola Park, Victoria Island, Lagos.
Alte Culture Festival, a first of its kind, was established with the sole purpose of bringing alternatives and emerging creatives in a space to showcase themselves and be celebrated for their uniqueness.
Aimed at inspiring and encouraging the community's divergent expressions, beyond the shores of Nigeria, this event will provide the opportunity for like-minds to interact, while promoting the alte culture.
In 2015, the Alte space witnessed a community uprising and the showcase of varying forms of artistry, lifestyle and ecosystem integration within different local regions in Nigeria, particularly in Lagos, as it became a melting pot for many who identified themselves within and outside the alternative spectrum.
Largely set apart, the members of this community have been identified as free spirited, adventurous, non-conformists and unconventional in their outlook and approach to social connections and interactions. Their underlying passion for distinction is evident in their choice of food, music, arts, fashion and lifestyle etc.
Admittedly, the alternatives have gone on to spark futuristic conversations around socio-economic topics, leading thriving careers in tech, fashion, entertainment and heralding impactful engagement that speaks to inclusivity and gender equality in the last decade, all of which has been instrumental in championing progressive societal change. It is no wonder why there's been an intense demand for more community targeted events that recognises the efforts and achievements of these individuals.
Commenting on the idea behind the Alte Culture Festival, a spokesperson from Q21 Solutions stated that, "The much-anticipated event will feature an energetic music roster headlined by some of Nigeria's biggest alte acts including WurlD, Pretty Boy, Wavy the Creator, Falana, Lady Donli.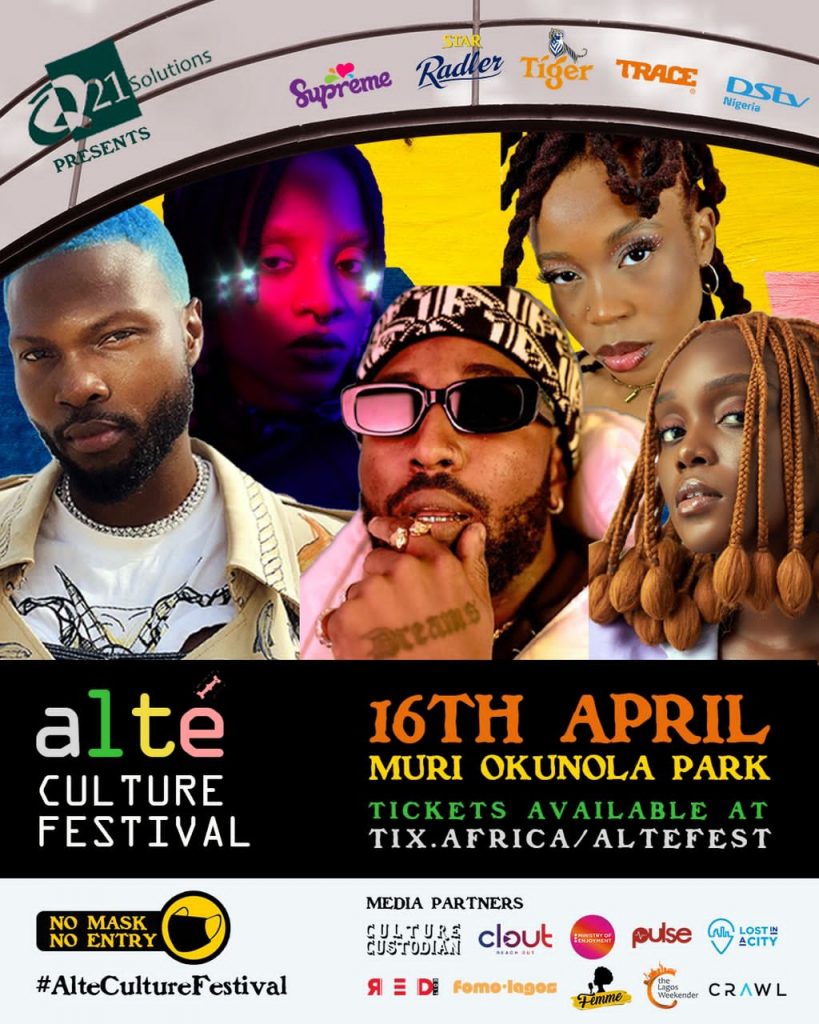 These stars will be delivering electrifying performances of their hit records and crowd favourites, to the cheer of teeming fans and music lovers.
In addition, the show will also afford new industry entrants in the community such as Maka, Kafayat Quadri, Eleesha, Erigo, Townboy, Yasir, a rare opportunity to showcase their artistry live on stage. The festival promises to be exciting and experiential with various artistic expressions and side attractions.
To maintain strict COVID-19 protocols, temperature checks and masks are required at the venue.
Stay tuned to conversations with the hashtag, #AlteCultureFestival
Secure your tickets NOW at Tix.africa/altefest.
The Alte culture festival is proudly sponsored by Supreme, Star Radler, Tiger, Trace and DSTV Nigeria.
For more information and PR inquiries, please contact eghosa.oyegun@roberttaylormedia.com
Follow us on social media