In line with the spirit of generosity that has followed their ongoing demonstrations, #EndSARS protesters have crowdfunded N7.4 million Naira, in a single day, to purchase prosthetic legs for two individuals spotted protesting physically in Lagos and Abuja, respectively, despite having a missing limb.
A donation link was set up by prominent Lagos-based doctor and social media influencer, Chinonso Egemba, popular as Aproko Doctor.
It was initially set up to crowdfund N500, 000 Naira for one Ms. Jane Obiene, spotted protesting, using her crutches, to support her movement, on the streets of Abuja. However, in barely 30 minutes the target was exceeded and another similarly-abled protester, Charles Nnamani, who led a protest in the Surulere area of Lagos, was added to the beneficiaries of the fund.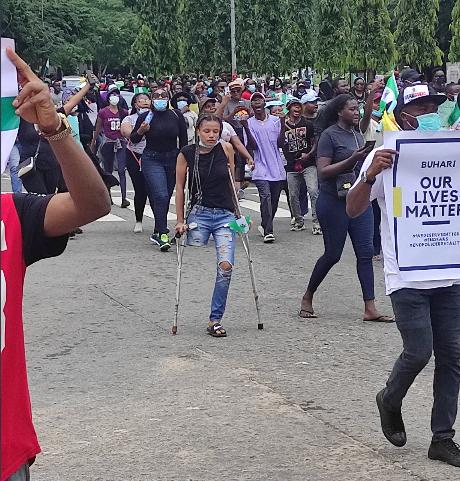 As at today, the fund has climbed to N7, 430, 675, from a total donor list of 1376 people.
Speaking with TheLagosToday, Nnamani solemnly explained the ordeal behind his amputation.
"On the 16th August 2016, at Airport road Ikeja, I was involved in a fatal accident which led to the amputation of my left leg at National Orthopedic Hospital, Igbogbi. Ever since then, I spent close to N2.5million on several surgeries, just to restore the leg, but it was totally damaged. Several treatments were given by many experts. After they said amputation was the only resort, I had to agree. Afterwards, I had nothing on me."
He also narrated that following the surgery, living conditions have been straining for him.
He said, "I had been hustling at National Airports, Ikeja. I was just a hustler. After the incident, I heard about Amputee sports, and I joined since I couldn't hustle anymore. I couldn't also raise enough funds to continue my business as an online commodity trader. I joined the sports, just to earn a living. Luck no dey Nigeria. I have not achieved anything, yet, but I am still believing in the Almighty. That is why I came out to join this protest to fight against injustice and everything bad about Nigeria. Even though I might not reap anything, but my generation would have a bright future. That is why I joined the protest. There is no free gift in Freetown. It is time to fight for your future."
Also, after the donations have been finally collated, Nnamani and Obiene would be treated for free by an Orthotics and Prosthetics Service Centre, Medivice, in the Yaba area of Lagos.
Follow us on social media