…Mistress allegedly absconds with his N12m to Plateau
Families of former Senior Staff of Chevron Oil Company, Mr. Solomon Akukwe, who is currently stuck at the Lagos University Teaching Hospital (LUTH) in Idi Araba, Mushin with mental disorder, has cried aloud for help after his mistress alleged absconded with his N12m and hospital management refrained them from seeing him.
As recounted by his family, Solomon's mistress, Mariam Seidu, now at large, secretly brought him to LUTH when he developed a mental problem against their wish.
When the family of Solomon, who suffered mental illness at his Surulere residence, eventually went to see him at LUTH, they discovered his phone and ATM card were in the hands of LUTH staff and his mistress while about N12m had allegedly been withdrawn from his bank account.
And with the strange attitude from the management of LUTH, Solomon's sister, Mrs. Ngozi Adenuga, cried out for help as the brother's mistress had jettisoned him at LUTH for months with the instruction that no family member should be allowed to see him.
She claimed: "The management of LUTH refused our family to see Solomon while his mistress had fled to her home town in Jos, Plateau State. The LUTH management said that they can only release him if Marian authorised us as the next of kin."
According to Adenuga, she smells conspiracy on the side of the management of LUTH and blamed the Lagos State Police Command for the development because the various petitions she had forwarded to the appropriate police quarters were neglected.
She adds: "Why would LUTH suddenly mandate its staff to prevent my cousin and I from seeing Solomon?"
Continuing, the sister noted that Solomon had had mental instability with intermittent normalcy after he retired from Chevron and sent his legitimate wife and son away.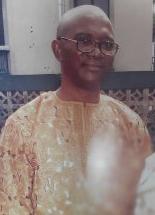 According to her, Marian met her brother in a rehabilitation facility in FCT, Abuja, where she was also being revived from complications resulting from drug addiction. "Since that meeting, Seidu had totally taken advantage of the occasional manipulated him to the point that she had strangely withdrawn over N12million from his bank account mysteriously, leaving Solomon's immediate and remote families in the dark and frustrated".
"She did not only abscond with Solomon, but she worsened his ill health with hard drugs and alcohol. His neighbours in Lagos called my attention. That was why I rushed down to Lagos to meet them."
Speaking further, she said the shocking thing is that since Solomon was at LUTH, they have acted strangely and proved that Marian seized the man and dumped him in the hospital with an inviolable condition that only her should see him.
She narrated: "One day, I struggled to enter LUTH Department where he was and found certain members of staff operating my brother's phone. When I challenged them due to the fact that they would be accessing vital information including his account, they turned against me and asked the security to bundle me out. Since then, they ensured that no one from Akukwe family comes to LUTH to see Solomon."
Noting that the mistress is yet to answer her call till date, she described the situation as a conspiracy. "I petitioned the Commissioner of Police Lagos, and I was refereed to SCID, Panti, where I was told that Covid-19 affected everything, and petitions were no longer accepted and treated".
Something took her aback, however. "But to my greatest shock, I got calls from my security man that an invitation came from the same SCID due to a petition it received from LUTH, the partners of Marian, my elder brothers abductor", Adenuga bemoaned.
Adenuga, therefore, called for help from relevant authorities and Nigerians in general as she alleged that strangers have abducted her brother and tampering with his wealth with ease and not bothered about his health condition.
Meanwhile, when LagosToday contacted the Public Relations Officer, LUTH, Mr. Kelechi Otuneme, he reminded the public that LUTH is neither a detention site nor a police station.
"We are not a police station. I often tell people. It is not good to publish a patient in the pages of newspapers because of patients' confidentiality," he stressed.
Otuneme further advised the sister to come to his office at the hospital with her claims and it would be sorted out. "Let the person come to my office. We will trash it".
Follow us on social media