A non-governmental organisation, Champions of Life Fellowship Foundation, has donated potable water, treatment plants and generator sets to LA Primary Schools in Amukoko and Ebenezer Primary school in Awodi-Ora area and its environs in Lagos.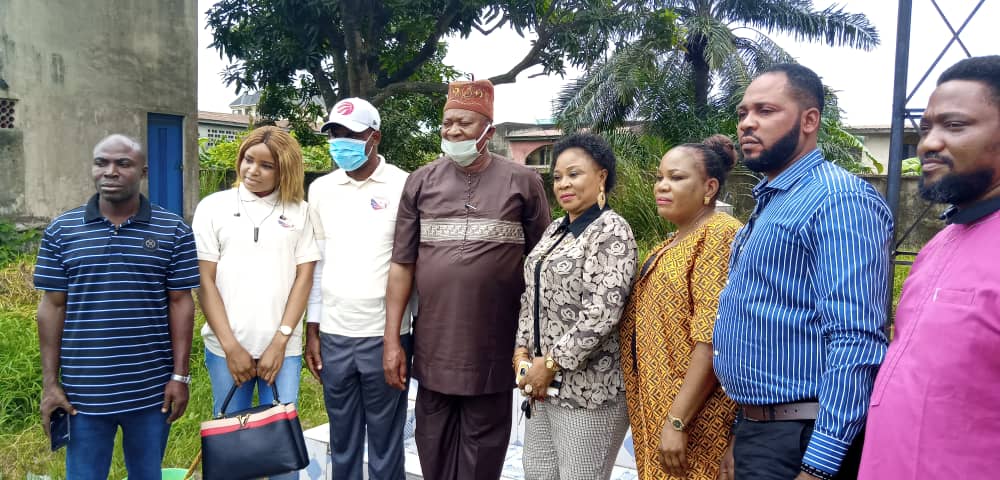 Now, before the outbreak of COVID-19 pandemic and the unexpected lockdown that deepened the economy, residents of Awodi-Ora and Amukoko in Ajegunle had desperately longed for potable water.
Part of their challenges in ultimate search for water included travelling a distance with litres of barrels and or trucks of varying water containers. Schools in the communities, however, would assign pupils and students to walk a distance just to quell their longing.
Although this was meeting shallow needs, it was not sufficient for drinking, cooking, laundry, chores and other daily essential uses. This was their sorry state until a nongovernmental organisation, Champions of Life Fellowship Foundation, bumped into the two communities during a project.
In the words of the Founder, Champions of Life Fellowship Foundation, Mr. Olusegun Akanji, "We were here last year where we had a programme over 250 students from the various schools here. We have a seven point curriculum that we teach on personal development. That was the first project".
After distributing some school supplies such as bags, exercise books among others, "we got notification that the people of the area do not have potable water supply. So, we decided as a foundation, since we are interested in children, one of the very important thing is to have access to water easily".
According to Kanji, his foundation crossed its heart to return to the communities to install borehole, water treatment plant and a generating set.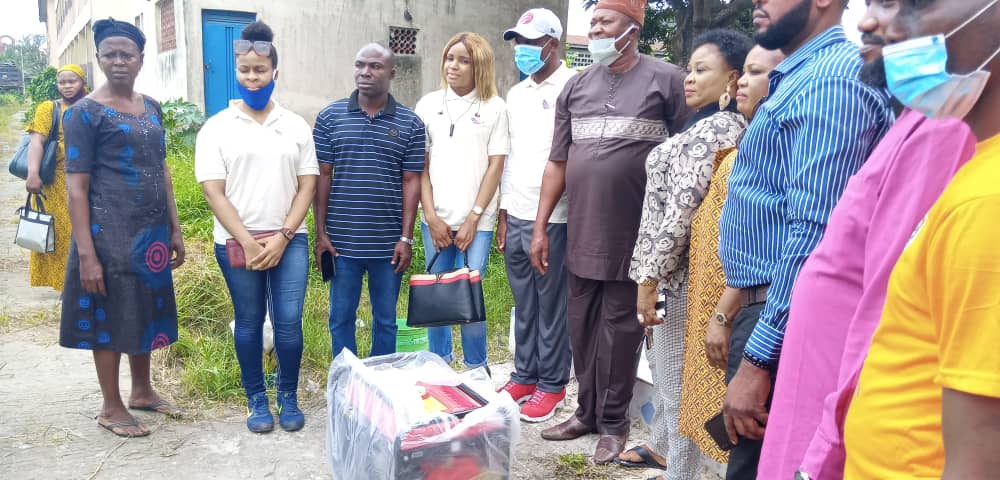 He adds, "Basically, Champions of Life Fellowship Foundation is involved in empowering people, particularly focusing on children and also training them to believe in themselves that they can be great in the future."
In line with its penchant, it installed a four-tap borehole potable water in the two communities, that is, LA Primary school near Amukoko local government, and inside the Ebenezer Primary school, Awodiora, Lagos.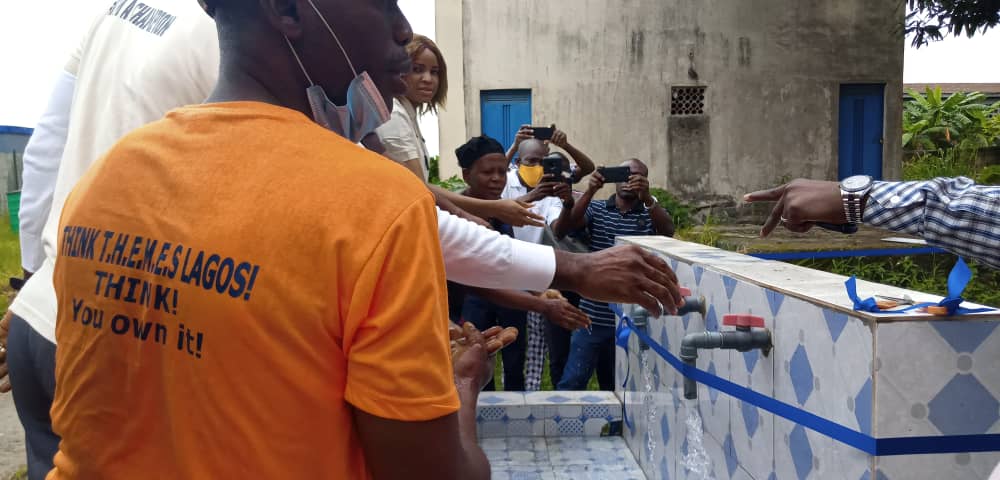 While the schools will have access to water, people within the neighbourhood will also benefit from the water supply. He expressed, "That is the essence of this. And then, our next project which is going to start very soon is called feed a family".
The project is to give families in need access to food. Now, we are not talking of cooked food, what we will be providing is packed uncooked food. It will be in package form.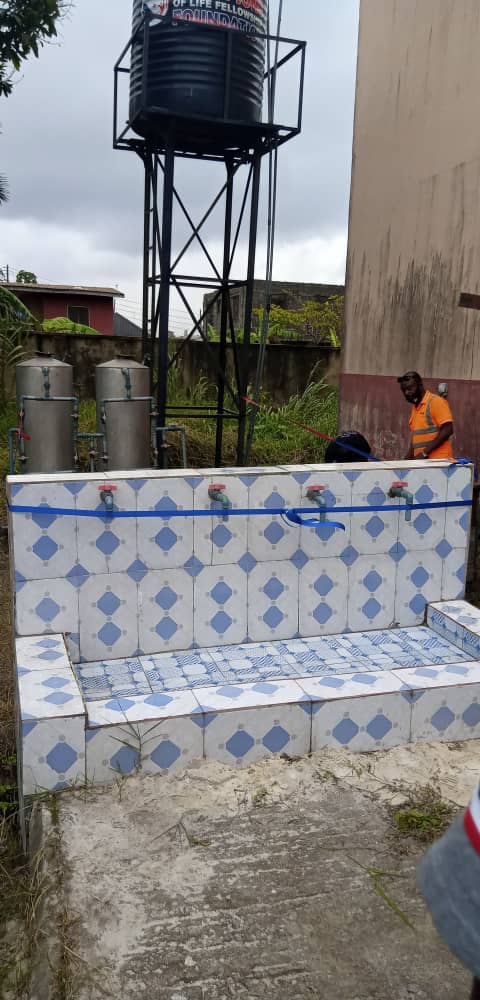 Speaking, Akanji said, "Our plan is to feed a thousand family within a week. Depends on how people respond, our target is to feed a thousand family at a point in time. That's the project we are about to start."
Since there is no water in the communities, the founder noted that they put the tap in a place where it can be controlled and not where it can be easily destroyed – in schools.
"That's why we handed it over to the school so that they can take responsibility. They can sell to outsiders at a very affordable rate. The token realised from the sales will be used to fuel the generators and maintain where and when necessary."
As part of its quest, Champions of Life Foundation have plans to extend this gesture to other communities such as Ajegunle in Ikorodu despite challenges.
"We are not encouraged by the way people are responding. When we were starting, we had problems with area boys, local government officials, a lot of stress. At a time, we thought we would not be continuing with the project but eventually, God gave us the grace to be patient and see the project through," he recounted.
Although the foundation is currently funding its projects with personal resources from members, the foundation says it is open for partnership.
The founder expounded, "We have not received funding from any individual, group or organisation whether local or international. We are open to partnership because whatever we are doing, we want it to grow and we want it to be transparent if people give us money."
This is our third project in Ajegunle. The first one project was standing tall where we collected clothes, food items, at that time, Honeywell supported us with some food stuff and we did the project with another NGO.
Reacting to the donation, the Education Secretary, Ajeromi Ifelodun LGA, Mr. Aboluwodi Solomon Adobufe, representing and the local government, expressed, "Water has been a major problem here for the pupils and we have three schools here".
"We are happy that this organisation has come to our aid. In this COVID-19 era in which water is very important, they have come to alleviate that particular problem."
His joy is the free access to water for pupils, especially. "As soon as we resume this month, my pupils and their teachers will have free access to water to drink and wash their hands. The era of going outside scampering for water is over. So that is why I'm very happy."
One of the teachers present among others at the official launch, Mrs. Abakpa Martha, could not contain her joy.
"I'm here on behalf of Ebenezer school for the donation of borehole by the Champion of Life Foundation. We appreciate them and we pray that God will replenish their purses," she enthused.
Describing the gesture as an act of God, Abakpa said God directed the foundation their way. "We were having serious water challenges in the school. We always go outside to search for water to take care of the children. Today, we are pleased to have this."
Follow us on social media