Turkey's President Recep Tayyip Erdogan has signed a decree converting Hagia Sophia in Istanbul – founded as a cathedral – into a mosque.
Earlier Turkey's top administrative court annulled the museum status of the world-famous cultural site.
Founded 1,500 years-ago as a cathedral, the Ottomans made Hagia Sophia a mosque. But in 1934 it became a museum.
It is a Unesco World Heritage site. Unesco urged Turkey not to change its status without discussion.
Islamists in Turkey have long called for it to be converted to a mosque, but secular opposition members have opposed the move. The proposal has prompted criticism, from religious and political leaders worldwide.
What has the reaction been?
The head of the Eastern Orthodox Church has condemned the proposal, as has Greece – home to many millions of Orthodox followers.
"The nationalism displayed by President Erdogan… takes his country back six centuries," Culture Minister Lina Mendoni said in a statement.
The court ruling "absolutely confirms that there is no independent justice" in Turkey, she added.
Mr Erdogan's decree hands control of the Ayasofya Mosque, as it is known in Turkish, to Turkey's religious directorate, to reopen it for worship.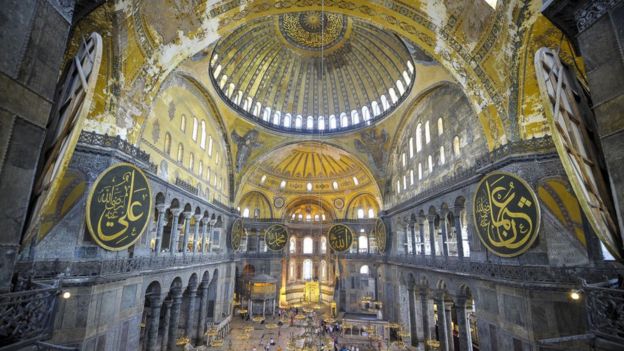 Modern Turkey's founder Mustafa Kemal Ataturk approved Hagia Sophia's status as a museum in 1934, and since then it has been a symbol of secularism, open to all faiths.
But the Council of State, Turkey's top administrative court, said in its ruling on Friday: "It was concluded that the settlement deed allocated it as a mosque and its use outside this character is not possible legally".
"The cabinet decision in 1934 that ended its use as a mosque and defined it as a museum did not comply with laws," it said.
The Russian Orthodox Church immediately expressed regret that the Turkish court did not take its concerns into account when ruling on Hagia Sophia, Tass news agency reported.
It said the decision could lead to even greater divisions.
But Turkey hit back at claims that the move would exclude people of other faiths.
"Opening up Hagia Sophia to worship doesn't keep local or foreign tourists from visiting the site," Ibrahim Kalin, Turkey's presidential spokesperson, told Anadolu Agency.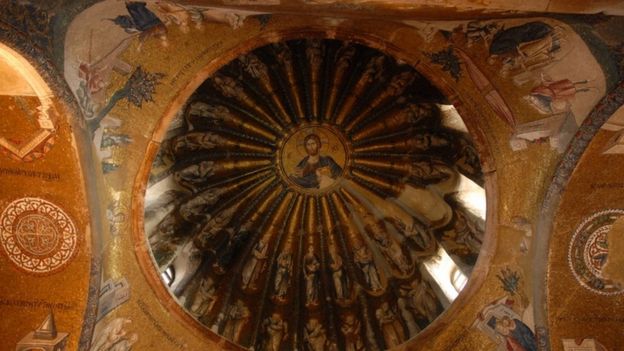 History of a global icon
Hagia Sophia's complex history began in the year 537 when Byzantine emperor Justinian built the huge church overlooking the Golden Horn harbour
With its huge dome, it was believed to be the world's largest church and building
It remained in Byzantine hands for centuries apart a brief moment in 1204 when Crusaders raided the city
In 1453, in a devastating blow to the Byzantines, Ottoman Sultan Mehmed II captured Istanbul (formerly known as Constantinople) and the victorious conqueror performed Friday prayers inside Hagia Sophia
The Ottomans soon converted the building into a mosque, adding four minarets to the exterior and covering ornate Christian icons and gold mosaics with panels of Arabic religious calligraphy
After centuries at the heart of the Muslim Ottoman empire, it was turned into a museum in 1934 in a drive to make Turkey more secular
Today Hagia Sophia is Turkey's most popular tourist site, attracting more than 3.7 million visitors a year
BBC
Follow us on social media