The remains of the late elder statesman and first civilian governor of Lagos State, Alhaji Lateef Jakande, was yesterday interred at the Vaults and Gardens private cemetery, Ikoyi, Lagos.
This is as many eminent Nigerians have continued to commiserate with the family of the deceased through condolence messages and visits.
Islamic scholars and clerics from different communities and mosques in the state, who prayed for the repose of the soul of the deceased, conducted the funeral service.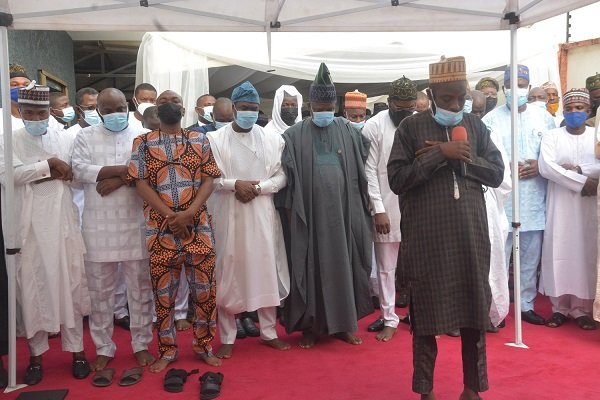 Governor Babajide Sanwo-Olu led the Lagos State Government delegation to the funeral. He was accompanied by his deputy, Dr. Obafemi Hamzat; Head of Service, Mr. Hakeem Muri-Okunola and other members of the State Executive Council.
The body of the late Jakande, escorted by his wife, Abimbola; children, Deji and Seyi, among other family members, associates and eminent personalities, was brought into the Vaults and Gardens Ikoyi at 5:19p.m. It was conveyed by TOS Funeral Ambulance in a MIC Funeral Casket guarded by six pallbearers.
Sighting the ambulance from far, security agencies and sympathisers who were standing outside the cemetery sang the National Anthem and other renditions for several minutes. Many sympathisers also shouted the name of the deceased repeatedly to bid him farewell.
Some of the dignitaries that attended the funeral service were former governors of Ogun State, Chief Olusegun Osoba and Senator Ibikunle Amosun; former deputy governor of Lagos State, Alhaja Sinatu Ojikutu and many All Progressives Congress (APC) chieftains, among others.
Speaking earlier during a special Fidau in honour of the former governor at his Ilupeju residence, Sanwo-Olu described late Jakande as an embodiment of all the positives.
Hamzat, who represented Sanwo-Olu at the event, said the former governor was a great man who cared and served his people meritoriously when he had the opportunity.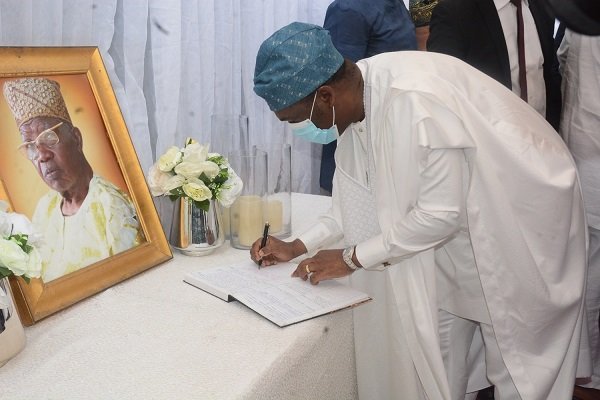 "Baba Jakande was just an example of what all of us should aspire to be. A great man, humble, selfless, loyal, and dedicated. So, he is an embodiment of all the positives; a great man that served his people when he had the opportunity to serve. A man that cared for the people and a fantastic journalist," he said.
Hamzat, while paying tribute to the late Jakande, stressed the need for political leaders in the country to emulate the former governor by being humble and loyal to the country.
Relieving his last moments with his late father, his son, Seyi Jakande, said he was with him during the weekend before his demise.
"Nothing was different or unusual from every other day of his life. Baba would always ask, 'how are you doing, how is your family?' He will ask about your welfare. I visited him on Thursday and came back on Saturday to visit him again, and he said to me, 'Seyi, o to ojo meta (it's been a while)' and I responded, 'Sir, I was here two days ago, and he responded, 'don't stay away for too long.'
"Baba had a fantastic health; he was never on any drug despite his age, no high blood pressure or other ailments.
"I will remember him for everything. There is nothing I can take away; he was very disciplined."
Former Chairman, Nigerian Communications Commission (NCC), Sen. Durojaiye Olabiyi, described the deceased as "a direct follower of Obafemi Awolowo."
He added: "We were the younger elements behind him. He was a man of good vision and courage. It was part of his vision that he recognised the fact that Lagos would not be federal capital and state capital at the same time when Lagos was created. So, he separated and moved the seat of government from Lagos Island to Ikeja. That shows foresight of a man who saw tomorrow. He also conceived the idea of low-cost housing for the less privileged. This was a man who saw the importance of education and built schools to be able to get more children into schools. All these are remarkable feats. The only thing he was not able to achieve was the building of railway to ease the congestion of traffic in Lagos."
In a similar development, the remains of former Minister of Information, Prince Tony Momoh, was also, on Thursday interred on Grail Land, in the Iju area of Lagos.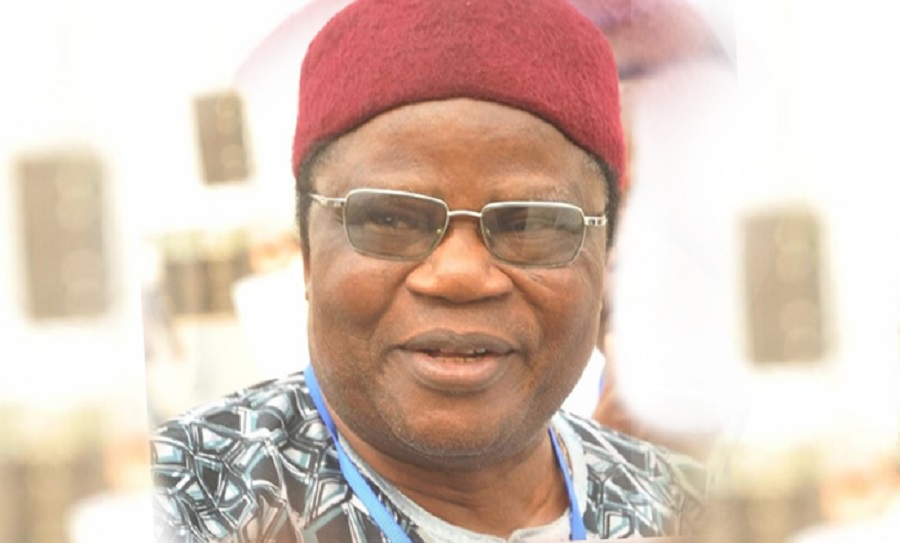 The funeral was also conducted under strict observance of COVID-19 protocols.
The burial was preceded by a Grail Funeral Hour of Worship in the Temple of God on Grail land at 4p.m.
The funeral service was conducted by the Grail Movement, without the social convention of lying-in-state.
The hour of worship ended at exactly 4:33p.m., followed by a procession to the cemetery for burial.
The media were not allowed either to move into the worship arena or get to the graveside.
One of the children of the deceased, Mr. Abdulrasheed Momoh, who spoke with newsmen at a restaurant situated in the premises of Grail land, said: "Honestly, he has left a huge gap and I have to emulate him.
"He invested in humans, a father to all and he was there for all. He had a list of people he was giving money to, we saw huge vouchers of these people in a bag. He was a rare man, I am happy for having him. I am proud of him.
"I will miss him. He has moved on, he had lived a fulfilled life on earth and moved to the next level. The Almighty has called him for a better job to do," he said.
The Deputy Governor of Edo, Mr. Philip Shuaibu, said that late Momoh never discriminated between Christians and Moslems, Southerners or Northerners, but stood for the sanctity of the constitution and unity of Nigeria.
Shuaibu said: "He was an exemplary leader. He believed in the unity of the country and spoke about it a lot. Through his speeches and commentaries, Tony Momoh made his opinion known.
"He didn't care about what people say but about what unites us. We should do things that unite us. He was a man that believed in the sanctity of our constitution and unity of our country."
An activist, Mr. Ebenezer Oyetakin, Executive Secretary, Anti-Corruption Network, said that Momoh worked and laboured for a society that works for all.
He said: "He was a wonderful man, I have never met a patriotic Nigerian like Prince Tony Momoh. He sang, he breathed and he lived Nigeria.
"Three days before his death, he was still talking about Nigeria. He wanted the best for this country. He worked for it. He was somebody Nigeria will miss.
"I think he has left a very beautiful footprint on the sands of time. He was one of the best members of human community anywhere in the world as described by President Muhammadu Buhari."
According to him, Nigeria has reasons to celebrate Momoh's life and not to mourn him.
Tony Momoh died on Monday, Feb. 1, 2021 at the age of 81.
Momoh, an astute journalist, lawyer, author and profound thinker and writer especially on spiritual matters, was accorded a Grail Funeral in accordance with his wish as an adherent of the Grail Message.
Follow us on social media