The Nigerian Nightmare as he is popularly referred to, retains his UFC welterweight champions title after winning in a unanimous point win over Jorge Masvidal.
The 33-year old was dominant in all the rounds and he earned  a unanimous point title defense win, with  all three judges scoring  the fight in his favour.
Masvidal didn't get as much preparation time as he was only notified of the fight less than a week and he had just six days to prepare for the fight after initial challenger Gilbert Burns pulled out due to illness.
1st Round
It was a very keenly contested battle as Masvidal did not just lay down and get run over, he was a worthy challenger as he made the 1st round difficult for Kamaru.
He threw some nice shots and landed some punches as well which made the 1st round almost a close one to call.
2nd Round
In the second round, Kamaru came out better and he totally dominated. He was tactical in his approach which was a bit slower than the 1st round, Masvidal also did throw some leg and punches in the closing stages of the second round.
3rd Round
Kamaru returned to the cage again in the 3rd round, this time gunz-blazing with a superior attitude like he was hoping to get the job done in this round, his background in wresting was kind of an advantage to him over the Mexican – American Masvidal  who is a specialist in martial arts, he clinched him a couple of times.
The fight was stopped for a moment and Kamaru was cautioned for hitting his opponent very low.
Kamaru took his man down quickly immediately after the restart and he appeared to have hit him with his elbow a couple of times on the mat.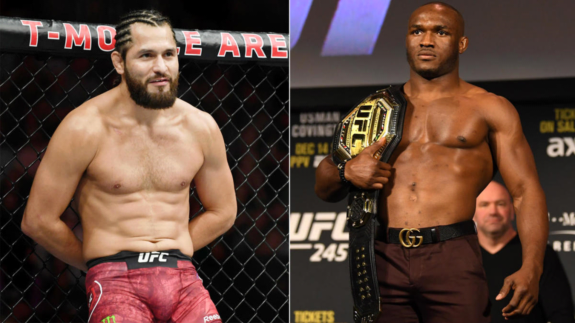 4th Round
Kamaru was dominant in the 4th round as well, he dropped Masvidal and closed marked him severally. He did not giving him any realistic chance of landing any punch that would score him a point.
5th/Final round
Masvidal came into the round looking all exhausted and he caught an image of a deafeated fighter already, it was easy for Kamaru to take him down yet again and Masvidal was more of defending through out the final round. The fight ended and Kamaru was declared winner, retaining  his welterweight title scoring favorable unanimous points from all  the 3 judges.
Congratulations KAMARU USMAN, the UFC WELTERWEIGHT CHAMPION!
Follow us on social media