…Doctors Criticize '3ft Social Distancing' In Buses
It was a calm chilly Monday morning in the Abule-Egba suburbs of Lagos. I joined several other individuals wading into a commercial bus, popularly dubbed 'Danfo', trying to commute into the in-skirts of the city. Nose masks donned different shapes and sizes of faces, like dresses on a Mannequin. The bus conductor stood loading passengers. By the busy junction, some men were trading hot snacks and cold drinks. Several hundred people were simply walking to unknown destinations. A typical Monday morning in Lagos. All was normal, until the dark-skinned haggard conductor loaded the bus to a 100 percent passenger capacity – breaking all existing Covid-19 bus transport guidelines – and in a few seconds the bus zoomed off, exposing all 15 passengers on board to a higher risk of contracting the Coronavirus.
Despite my fear, I couldn't help but ponder on whether the legalized 50-percent loading capacity, which realistically pitches passengers at a 3ft "social distancing" space – as against the agreed 6ft spacing – actually has any impact in curbing the spread of the virus. And it seems most Lagosians disagree.
"This whole social distancing thing in the bus is really a serious scam; the safety is not really guaranteed. Most bus drivers are actually not following these guidelines. Even when they are following the guidelines, I don't think it is sufficient enough for proper social distancing. There would definitely be contact," Mr. Chris Udoh, 23, a Lagos resident affirmed.
Many trail Udoh's line of thought. Like the experienced filmmaker, who commutes via the city's public transport systems, they also think that 3-feet spacing within the bus might not have any impact in mitigating the spread of the airborne disease.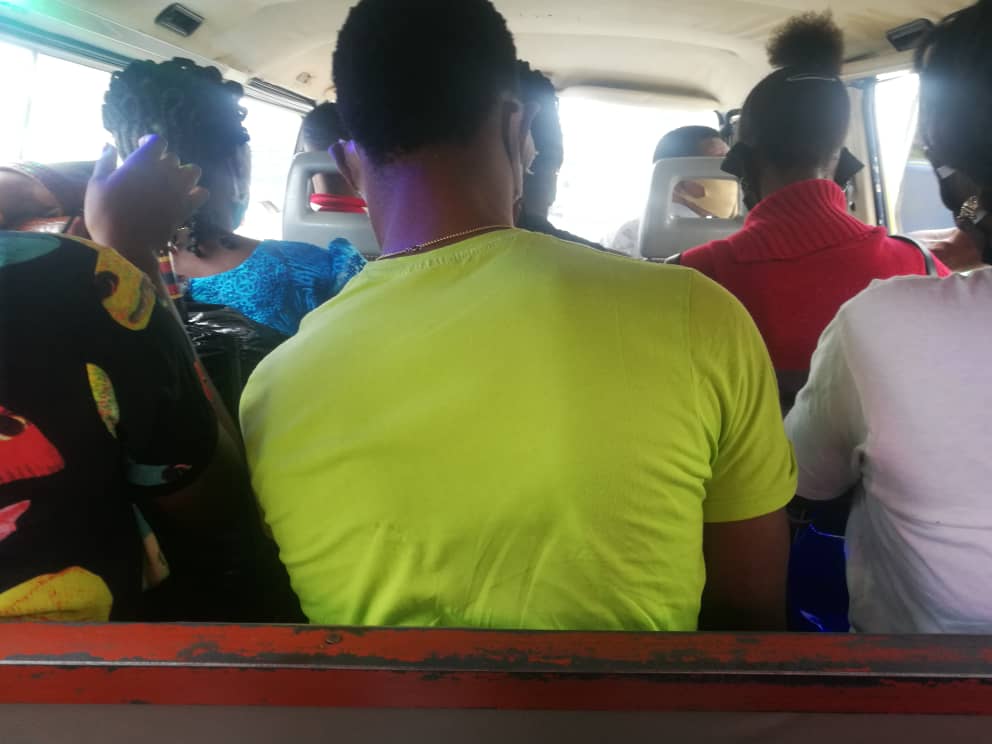 "The truth is that the social distancing inside Keke (tricycles) is not really social distancing. There is no difference. I believe that if we are talking about social distancing, you need at least 6 feet distance; but inside the keke (tricycle), there is no social distance," Ms. Mary Ogunleye, 26, said while jovially sharing her opinion inside the speeding tricycle.
According to another frequent bus user, Mr. Akinnuga Ayobami, the social distancing within public transport systems does "not have any effect". He also stated that it was not strictly adhered to by the drivers.
"The government has made sure that social distancing inside the bus doesn't have any effect; because I have entered bus how many times and we had to fight to make sure that we are spaced three passengers or two passengers per row. And some of these drivers claim that the people at the park are still collecting the normal money. So, they can't take us in twos or three," the 23-year-old Chef said.
For 21-year-old Nwamaka (who pleaded anonymity), the social distancing within "public buses has not reduced the spread of the Covid-19, because every day the numbers keep going high."
With many Lagos residents, the perceived risk of the virus' spread, despite the 3-feet "social distance" remains on the edge.
Mixed Reactions
However, some still maintain their beliefs in the governmental regulation.
According to Mr. Olarenwaju Daramola, 32, "I think the social distancing inside the bus is useful, because I cannot face you; you cannot face me and there is still a space between me and you. It is helping very much.
"What the government said is that there should be a social distance within the bus. They know the reason they said it. We have seen, through the TVs and Internet, you have seen what is happening in other countries."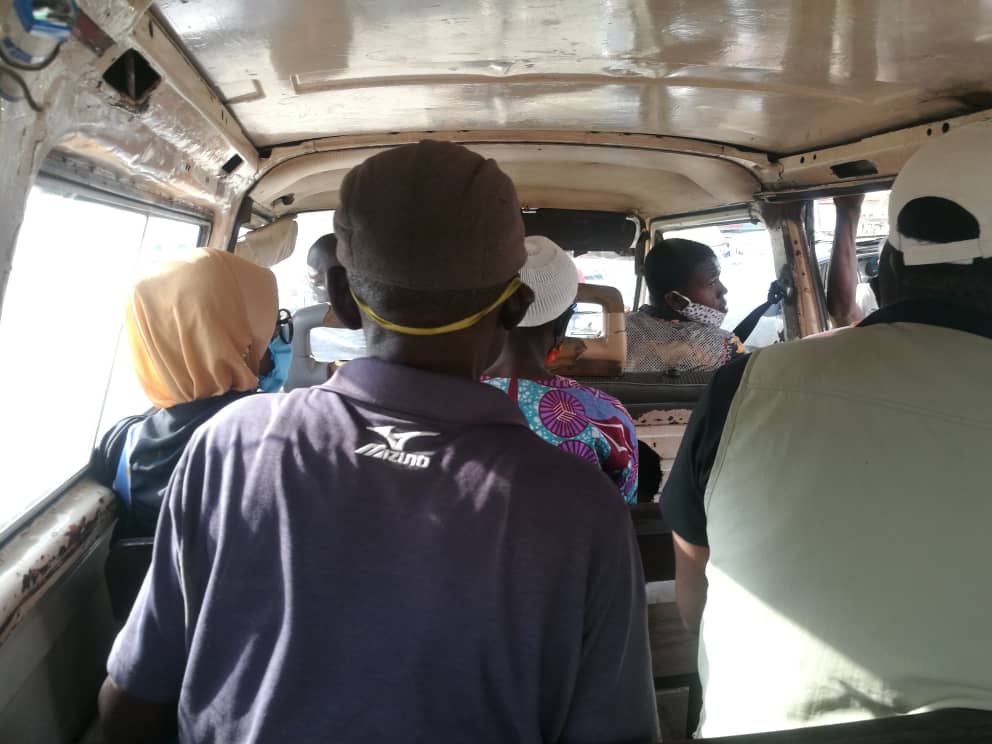 Ms. Daniella Anunobi, also shares Daramola's beliefs. The 28-year-old upholds that "since the pandemic, the social distancing inside the public buses has curbed the spread of the Covid-19, in a way or two."
Passengers Lament Fare Hike
"The transport is the main problem that we are having," Daramola announces. With the crackling tone he uses, I do not need to see the sour glint in his eye to interpret his frustration. It was a quiet trip, but his agony was loud enough.
"It has affected the way I spend. I spend beyond my salary for now. I work in Yaba. Before, from Iyana Ipaja to Yaba, we pay N300 Naira, but now some would carry N1, 000 if it is a market day and more people are outside, and other days N500 Naira.
"They say it is two passengers per seat. We cannot blame the passengers because they have to satisfy themselves too; they have to buy fuel for their vehicle and pay other things, like the Agbero people," he narrated.
Several bus stops are usually crowded with residents waiting desperately for a bus driver to load at a reasonably lesser fare, as the bus fares have become erratic and are fixed based on prevalent circumstances, such as crowd, gridlock, among other indices, following the new Covid-19 regulations.
Most of them bemoan the harsh conditions the fare hike has spiked on their finances, while maintaining that the fault is not of the drivers.
"The increase (in transport fares) is not helpful to me, because the money they added – we are the ones suffering it. Before I pay N100 Naira to convey me from Ile-Epo to Captain Bus stop, but now it is N150 Naira. I am not blaming them (the tricycle drivers); it is the directive (on social distancing) that they were given that they are following. So, they have to add up the fares, if not they are going to lose," Ogunleye noted.
Udoh lamented that "this spike (in bus fares) is really crazy; I walked from Omole to Berger and I took a bus going to Iyana Oworo. Normally, the bus should be like N200 highest. But I paid N500 to Iyana Oworo. It has really frustrated me. The increase is too expensive."
Another frequent bus passenger, Ms. Mary-Jacinta Ezekwobi, 26, complained that the bus-fares hike has made travelling via public transport slower, as more passengers wait longer hours for buses than it was before the pandemic.
"Once it is 8pm and you come out at your bus stop, you hardly even find buses. You have to follow short-cuts," she said.
Ayobami also confirmed that "there have been serious increase in price." He noted that the situation has swayed him to limit his movements to only necessary outings.
Reduced Income, Increased Woes For Drivers
Seeing his eagerly cheerful face, I could sense that Adio (who pleaded anonymity) was a jolly-good soul trying to maintain a positive spirit, despite his biting challenges. For the 31-year-old driver, following the Covid-19 Bus transport regulations, he has had to battle increased expenses, reduced income and worse of all, run-ins with the law.
"The government is the owner of the country and the state. It is what they say that we follow," he sprouts a smile as if assuring me he was cognizant of his wits.
For Adio, the finances are not the major problem. It is the ripple effect of stubborn passengers wrongfully wearing their nose masks that are his biggest problem.
With enthusiasm, he narrates that: "Some of these passengers are stubborn. I remember carrying a passenger and I told the man many times to wear his nose mask. I was observing through my side mirror. Sometimes, he would wear it well. Other times, he would bring it down (to his chin). The police finally stopped us on Capitol Road and that was how they arrested my bus and I had to pay N5, 000 Naira, because they said that the man was not wearing his nose mask well."
Despite the domino effect of disobedience and the lower returns, the problem of extortion by law-enforcement officials is also dragging the finances of these drivers down the slope.
A driver plying the Lagos to Ibadan route, Mr. Jerry (full name withheld), 52, decried that: "After you spend so much on fuel, and even that we are not loading full, you would find out that the police and even road safety officials are extorting from you. At least, you must spend N5, 000 naira from here to Ibadan, settling them on the road.
"The transport fare we collected before the whole lockdown started was N1, 000 to Ibadan, now it is N2, 000. The real pandemic is the extortion on the road, not even Covid-19. On a daily before, before the pandemic, we normally earn 15, 000 or N13, 000 Naira, but now you can hardly go home with N3, 000 Naira, at the end of the day. We are earning less these days.
Another driver, plying a similar route, Mr. Adeboye (full name withheld), 38, noted that the informal motor park regulators, touted as Agberos, have also hiked their loading fees, even without having cause to increase their expenditure.
"On the other hand, it is affecting us because the Agberos at the park have seized the opportunities to increase the charges a little bit. In other words, after paying the Agberos for loading and buying fuel on the road, it is only a little money that remains for bus drivers, it reduce our income."
For Mr. Sunday Akindele (real name withheld), 27, the situation is also financially draining. For the tricycle driver, the current 60-percent loading capacity has strained his daily income.
He said, "The money (profits) have reduced. Before we used to make N400 naira per trip, when we load full capacity, but now we make just N300. And it takes time to even load. Even though we increased the price, we are still losing."
Social Distancing Is Non-feasible Within Lagos Buses – Public Health Professionals
Sitting side-by-side with two others, I could feel my knees scrubbing against theirs within the rectangular bus. Despite our nose masks on, I could have inhaled their breath should they have exhaled.
According to the World Health Organization (WHO), the recommended social distancing criteria within public transport systems should be 6 feet. However, with the current 3-feet spacing practiced in the city, health workers have affirmed that it would have little or no impact in reducing the spread of the virus. They cited issues such as our population density, largely stubborn population psychograph, and lack of basic prevention amenities within the bus, as influencing factors behind the spread via buses.
"I do not think that the social distancing of three meters is having any significant impact, because we are not even following it holistically. The 3ft between passengers is supposed to be maintained at all costs, keeping in view that everyone is supposed to be using face mask and sanitizing.
"In Lagos, we only use face mask because the drivers are begging us to wear it to prevent their buses from being arrested. The plan was that we are going to have our buses and parks sanitized. That has not been the case. Nothing. Even the policemen are looking for money and that is why they are looking for people not wearing face mask. I do not think it is having any significant impact on reducing the spread of the virus," a medical doctor, Dr. Mathias Wusu explained.
According to another health professional, Doctor Onyinye Ogbochukwu, the virus spread would not be reduced with the current social distancing regulations within buses, because "the distance (between two passengers) isn't sufficient and most public transport workers aren't really adhering to it."
'LASG Needs To Increase Efforts In Safeguarding Public Transport Systems'
To allay the fears of several millions of Lagosians who utilize the under-equipped public transport systems, the government has to focus its attention on improving awareness on Covid-19 prevention and providing basic self-protection devices, such as nose masks and sanitizers to the public.
According to Doctor Okonkwo: "Apart from the social distancing, I think we are not doing enough when it comes to creating awareness on how to prevent the virus, and also in providing self-protecting tools, such as the Hand sanitizer and free nose masks.
"The government is not paying enough attention to awareness, especially at the grass-root level. I think if it was done, it would help in containing the spread of the virus. So far, a lot of people are lax, in terms of precautions, and that is because the sensitization is reducing. And I think the markets should be more strictly controlled."
Doctor Wusu corroborates this opinion, adding that the government needs to expand its efforts in regularly sanitizing markets, as well installing hand wash basins in public places, and so on.
Weak Enforcement Of Lagos' Covid-19 Bus Guidelines
Despite the lockdown on the city's public transport system was eased, in May, the Lagos Government, in unison with the Federal Government issued lofty guidelines to curb the spread in the vibrant commercial capital of the country. However, these guidelines largely remain a non-reality within the bustling economic metropolis.
Some of the regulations include: "For (public transport- buses, tricycles, taxis, Ensure provision of hand sanitizers to all passengers; Reduce occupancy to half for buses (maximum 50% of usual occupancy); Mandatory Use of face mask/coverings; Mandatory temperature checks; Taxis to carry only 4 persons (driver and 3 persons); Tricycles to carry only 3 persons (driver and 2 persons); Daily motor park sanitation; Travel should be between 6.00am and 6.00pm."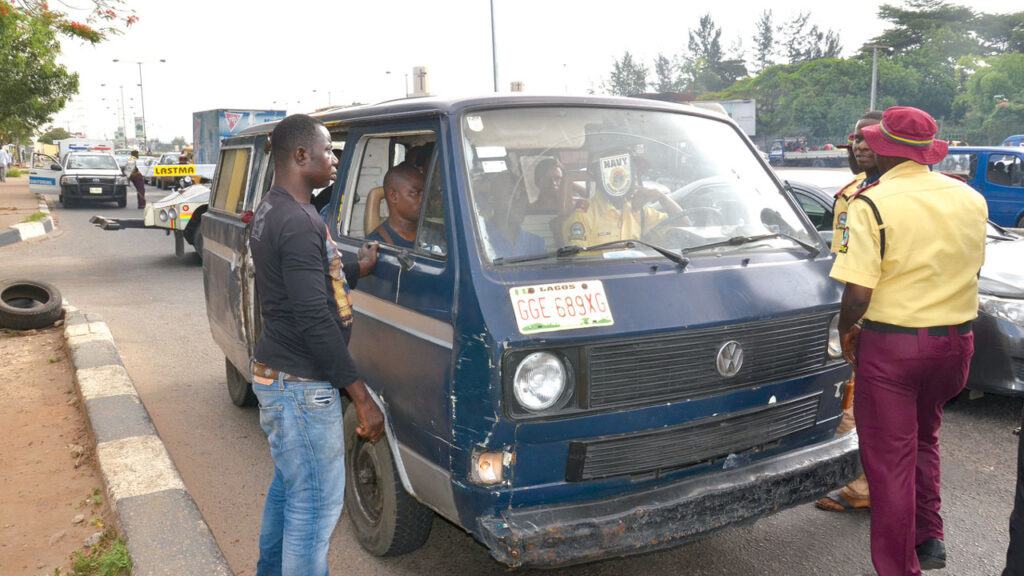 Other necessary guidelines stipulated by the FG included: provision of hand washing facilities at bus stops and motor parks; maintenance of social distancing; Mandatory Use of face mask /coverings; Mandatory temperature checks; Provide hand sanitizers and hand washing; opening of parks from only between 6.00am and 6.00pm."
TheLagosToday has observed that within the city, most of these guidelines, especially with regards to improvement of sanitizing bus parks and buses, daily, are not currently being implemented by the city's law enforcement agents and public health workers.
Also, most of its supervisory exercises on maintenance of the Covid-19 have sabotaged the situation as an extortion mechanism.
'Above 100, 000 Cases, Public Transport Unsafe For Lagosians'
According to Wusu, corroborating DOC B, affirmed that If the virus spreads beyond 100,000 cases it would not be safe again."
He said, "You have to understand that prior to the pandemic, our transport system was not even enough for Lagosians. Lagos is small and choked. So many individuals within a very tiny space. That is a fertile ground for any pandemic, so we have to do better than what we have at the moment."
Also, all three doctors added that many Nigerians are "disenchanted from the reality of Covid-19", a situation they fear could accelerate the spread of the virus city-wide.
Way Out: The London Example
London is primarily the economic capital of Nigeria's foster parents, Britain. Since the pandemic began, like Nigeria, they have initiated several policies that have helped to transition their public transport system to a near-normal situation, while still cushioning the spread of the disease within the system. However, unlike Nigeria, they have dedicatedly enforced these policies, with the general wellbeing of the public in view.
According to Commissioner, Transport for London – London's executive agency supervising public transport – Mr. Andy Bedford, "there are now enhanced safety measures such as: increased cleaning of transport networks; use of additional hospital-grade killing substances that kill viruses and bacteria on contact, and protect for up to 30 days; cleaning of key interchanges, frequently, during the day; as well as cleaning of regular 'touch point' areas on buses, such as poles and doors, with strong disinfectant, daily."
Other countries like the United States, in addition to imposing limits on passenger capacity in buses or trains and improving hygiene around the transport network, have also stationed marshals around the public transport network, to strictly ensure that commuters adhere to the rules.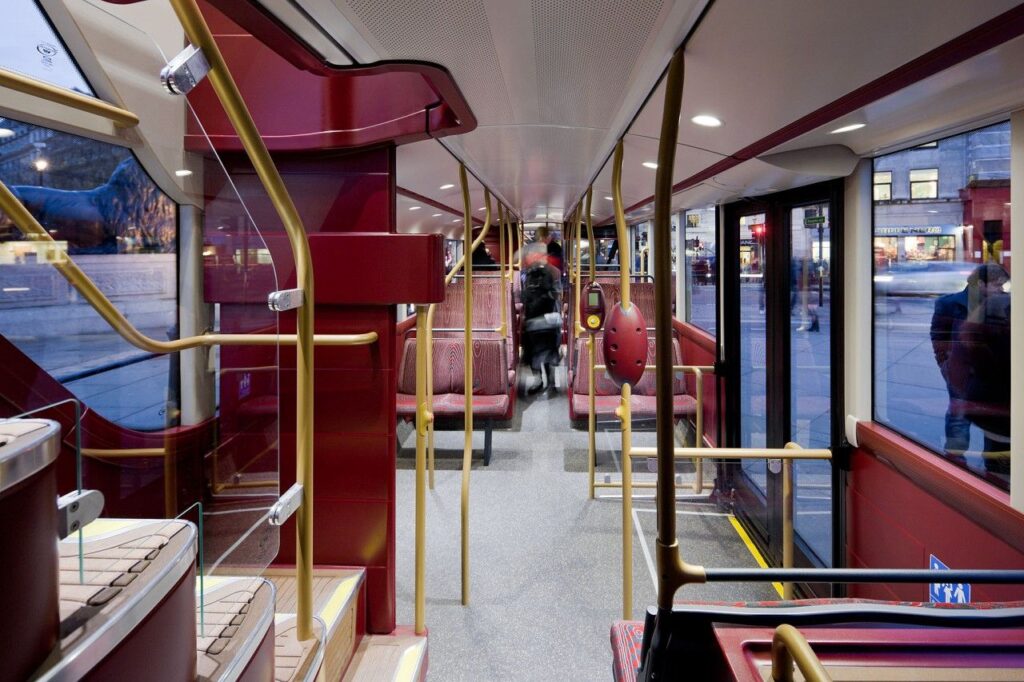 TheLagosToday observes that Lagos, Nigeria's commercial nerve centre, with over half of the country's Covid-19 active cases, does not observe these strict hygiene measures within its public transport systems.
Also, it is observed that the moribund alternative transport systems, such as rail and water transport systems, have contributed to the concentration on the poorly sanitized road transport system in the state, creating a social distancing-impossibility situation which the Nigerian Centre for Disease Control have described as breeding ground for the virus.
Follow us on social media