Suspect rammed car into two Capitol Police officers, was shot when he 'lunged' towards police.
A US Capitol Police officer is dead after being attacked by a man who rammed his vehicle into a barrier just outside the Capitol building on Friday.
The driver of the car was shot by police and died after being taken to hospital in a critical condition. Another officer has been hospitalised with undisclosed injuries.
"The suspect rammed his car into two of our officers, and then hit the north barricade barrier. At such time the suspect exited the vehicle with a knife in hand," acting Capitol Police Chief Yogananda Pittman said. "Our officers then engaged that suspect. He did not respond to verbal commands.
"The suspect did start lunging toward US Capitol Police officers, at which time US Capitol Police officers fired upon the suspect," she added. "The suspect has been pronounced deceased.
"And it is with a very, very heavy heart that I announce one of our officers has succumbed to his injuries," Pittman said. The slain officer, William "Billy" Evans, was an 18-year veteran of the Capitol Police.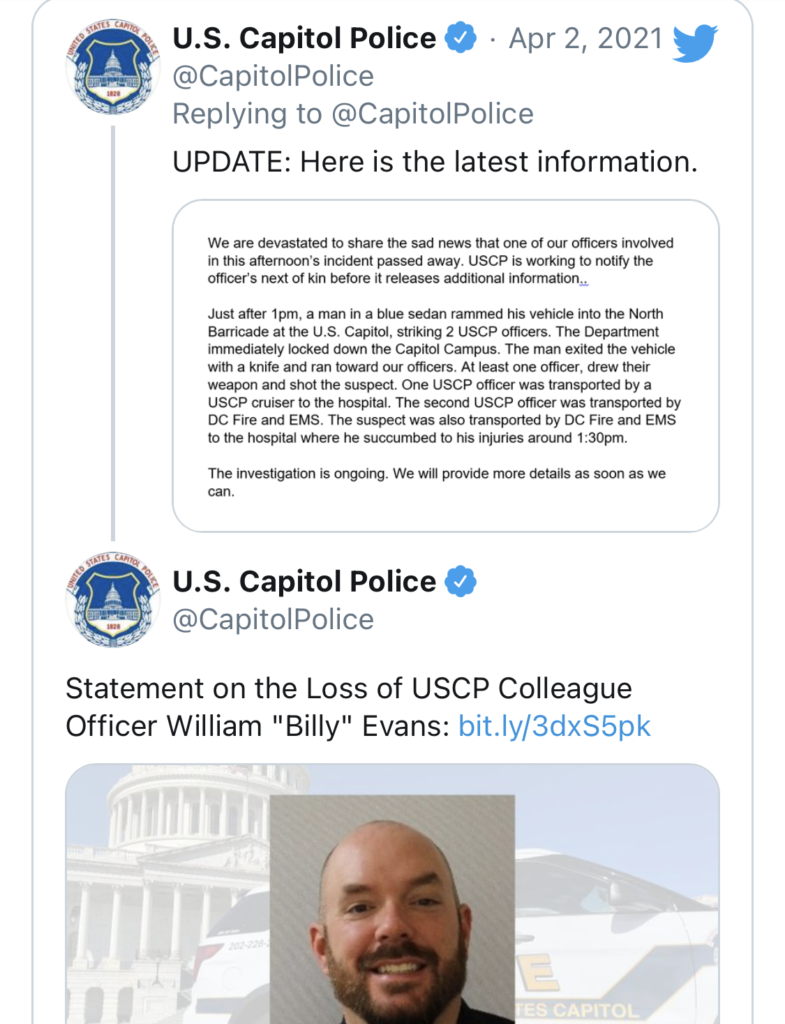 House Speaker Nancy Pelosi has ordered that all flags at the Capitol be flown at half staff to honor Evans and said in a statement, "Today, America's heart has been broken by the tragic and heroic death of one of our Capitol Police heroes: Officer William Evans. He is a martyr for our democracy.
"Members of Congress, staff and Capitol workers, and indeed all Americans are united in appreciation for the courage of the U.S. Capitol Police. Today, once again, these heroes risked their lives to protect our Capitol and our Country, with the same extraordinary selflessness and spirit of service seen on January 6. On behalf of the entire House, we are profoundly grateful."
President Joe Biden, who is spending the Easter weekend at Camp David and had landed there just prior to the attack, said in a statement, "Jill and I were heartbroken to learn of the violent attack at a security checkpoint on the U.S. Capitol grounds, which killed Officer William Evans of the U.S. Capitol Police, and left a fellow officer fighting for his life.
"I have been receiving ongoing briefings from my Homeland Security Advisor, and will be getting further updates as the investigation proceeds."
Senate Majority Leader Chuck Schumer tweeted, "I'm heartbroken for the officer killed today defending our Capitol and for his family. I'm praying for the officer injured and his family. We're in their debt".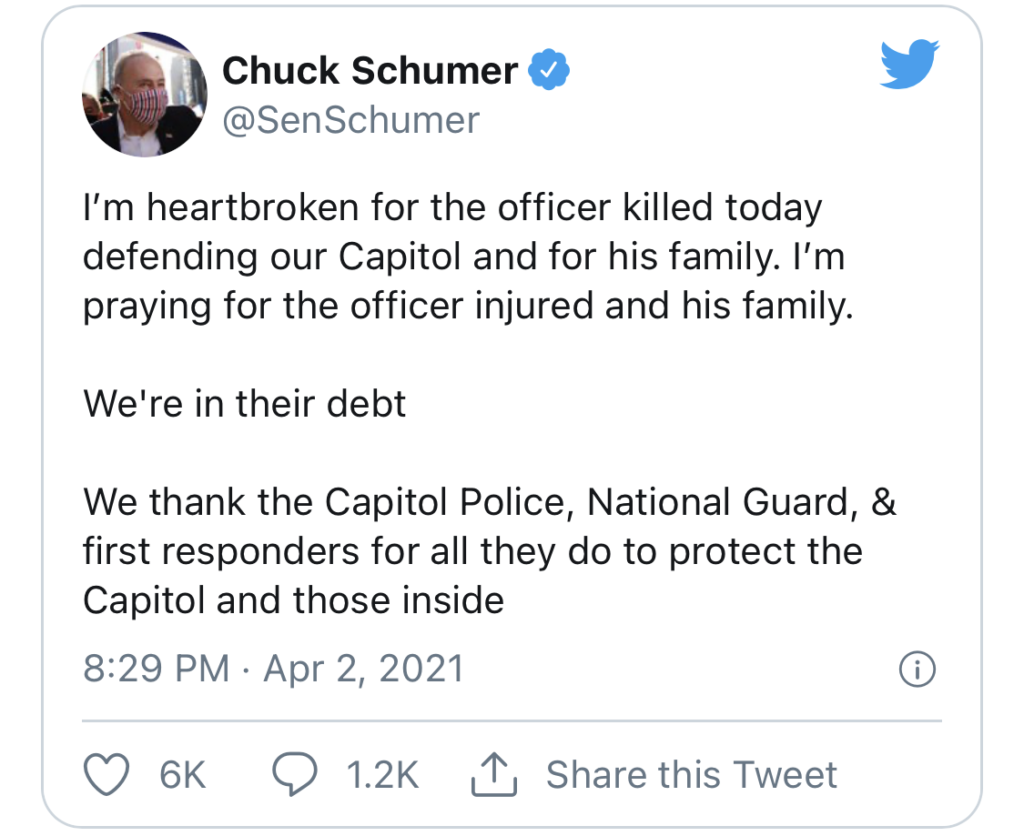 Police offered no motive for the incident but Robert Contee, the acting chief of the Metropolitan Police Department, said "it does not appear to be terrorist-related" or "an ongoing threat".
Contee said it did not appear that the suspect was known to Capitol Police or the Metropolitan Police prior to the incident.
Security at the Capitol has been heavy since a mob attacked police and overransecurity checkpoints on January 6 after attending a political rally organised by former President Donald Trump.
Five people died in the rampage, including Capitol Police officer Brian Sicknick, who tried to fight off rioters and was hit with a toxic spray, which officials believe may have contributed to his death.
A wide perimeter around the Capitol was sealed off after the riot with tall fencing topped with razor wire and guarded by police and the National Guard. After weeks of debate about loosening security measures, the enhanced fencing and increased security personnel had begun to be removed last month.
Security fencing remains around the Capitol building itself and it is not clear how the suspect got his vehicle past that perimeter before crashing into the vehicle barricade.
US Capitol Police responded to the incident at the north barricade, outside the US Senate, after "reports someone rammed a vehicle into two USCP officers" shortly after 1pm EDT (17:00 GMT).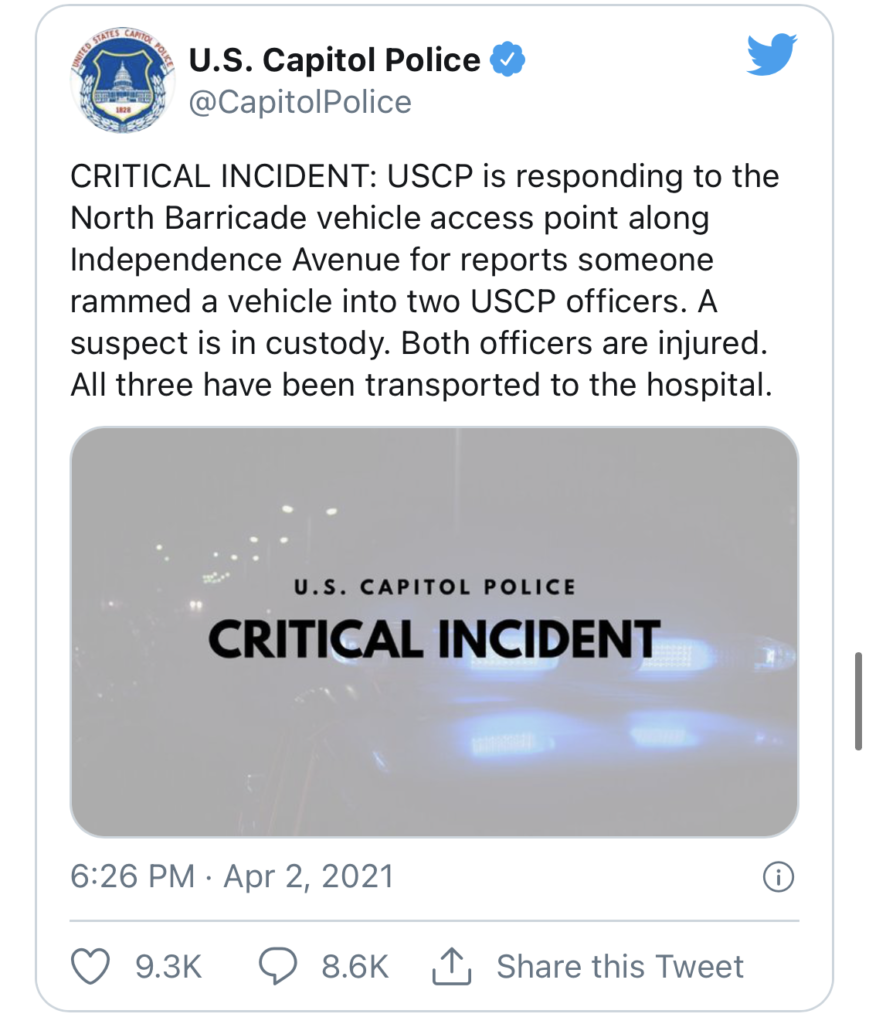 The National Guard, which has been deployed at the Capitol since the January 6 riot there, responded quickly to the incident.
"This is very different than what happened on January the 6th," reports Al Jazeera correspondent Mike Hanna. "Then, it was a number of hours before the National Guard were deployed".
"An indication of just how more intense the security and response to any threat has got since the event of January the 6th".
There were reports of gunshots at the Capitol as the incident unfolded and police ordered staff via text and a message broadcast on loudspeakers to shelter in place.
Most members of Congress were not at the Capitol on Friday because both the House of Representatives and Senate are in recess.
AL JAZEERA
Follow us on social media