Six months after the Toyota Bus Stop stretch of the Murtala Mohammed airport link bridge was closed to traffic due to a fire incident that damaged a part of the bridge repair works have commenced on the bridge.
The bridge has been put out of use since the tanker conveying 44,000 litres of diesel crashed with another trailer and discharged its contents, which led to an explosion under the bridge.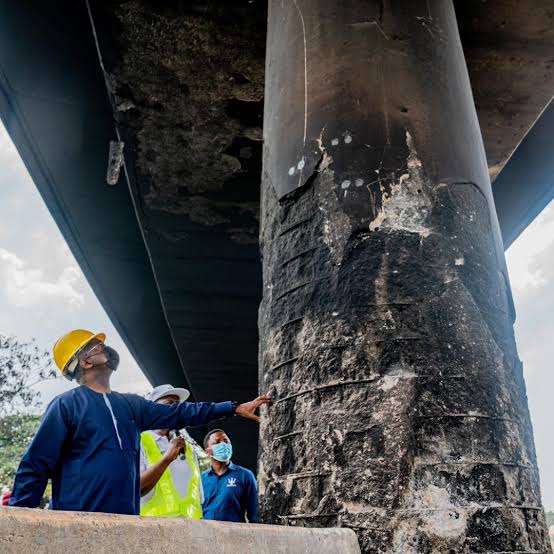 Its poor state and closure had caused untold hardship to motorists and commuters around the area. Before the start of the rehabilitation, the only means of transportation from the bus stop to the airport area had been through okada, which costs between N300 to N500 per passenger.
The Permanent Secretary, Federal Ministry of Works and Housing, Alhaji Babangida Hussaini, had, during a two-day technical inspection of roads and housing projects in Lagos, gave residents hope that work would commence on the bridge by the end of March.
Despite publications and calls, the ministry of works stayed off the area until yesterday when it commenced repair on the bridge.
The contractor, Plycom Nigeria Limited, had already mounted scaffoldings and constructed wire mesh around a portion of the bridge.
Also, some men were already on-site, while sand and gravel were also offloaded to signal full commencement.
The engineer handling the contract for Plycom, Johnson Abolarewaju, said repairs would last for four weeks.
He said: "If we have the full support of the Lagos State Traffic Management Authority (LASTMA), the work will last for four weeks. The job took a long time may be due to the fact that many people have to sign for the work to commence, but we have commenced fully."
Follow us on social media