Saudi Arabia has announced it will ease some of the contractual restrictions giving employers control over the lives of some 10 million migrant workers.
The reforms will allow private sector workers to change jobs and leave the country without an employer's consent.
The Saudi government said it was seeking to "improve and increase the efficiency of the work environment".
Rights groups say the current "kafala" (sponsorship) system leaves workers vulnerable to abuse and exploitation.
One activist described the reforms as significant, but cautioned that parts of the system remained in place and called for it to be abolished fully.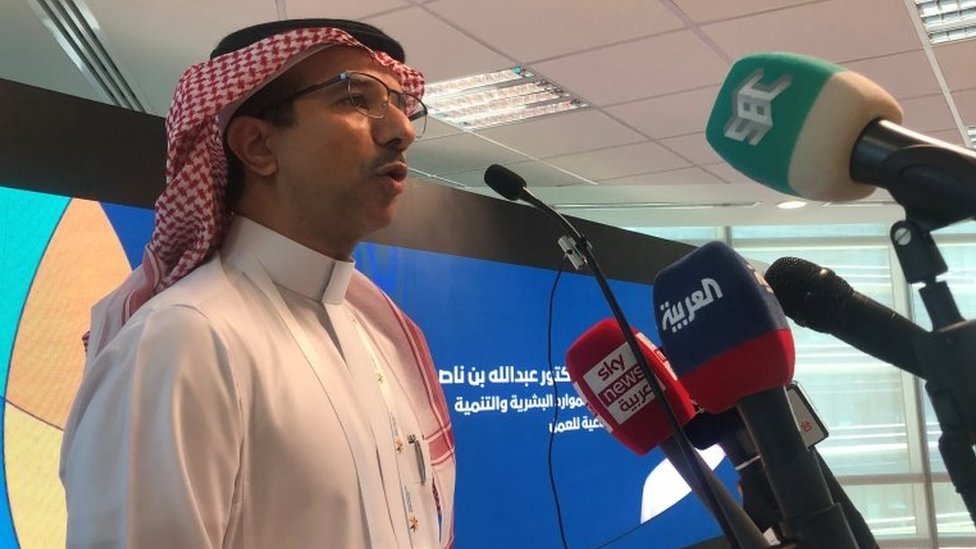 The Saudi ministry of human resources said the Labour Reform Initiative it unveiled on Wednesday would apply to all expatriates employed in the private sector and would take effect in March.
Those workers will no longer be required to obtain their employers' consent to leave or change jobs, and they will be allowed to travel outside the kingdom without their employer's approval.
They will also be able to apply directly for government services, and their contracts with their employers will be documented digitally.
"Through this initiative we aim to build an attractive labour market and improve the working environment," Deputy Minister Abdullah bin Nasser Abuthunain told reporters in Riyadh.
He said the reforms would also help achieve the objectives of Vision 2030, the country's plan to diversify its oil-dependent economy.
Rothna Begum, a senior researcher at Human Rights Watch, told the BBC that the ministry's announcement was "significant and could improve conditions for migrant workers".
"However, this is not a full abolition of the kafala system."
Ms Begum said it appeared workers would still be required to have an employer act as their sponsor to enter Saudi Arabia, and that employers would retain the power to renew or cancel workers' residency permits at any time.
"This can mean that workers can still face abuse and exploitation, as employers hold this power over them," she warned.
"Moreover, this reform does not apparently apply to migrant domestic workers, who are some of the most vulnerable workers in the country."
Ms Begum said Human Rights Watch had documented how many employers had forced domestic workers to work long hours without rest or days off, denied them their wages, or confined them to their homes. Some workers had even been subjected to physical and sexual abuse, she added.
"There are also hundreds of thousands of undocumented workers in Saudi Arabia, and the authorities have not said whether they will allow such workers, many of whom became undocumented through no fault of their own, to be able to regularize their status, including by finding new employers."
BBC
Follow us on social media