As a part of celebratory programmes of Bangladesh High Commission, Abuja, Nigeria to observe the birth centenary of Father of the Nation Bangabandhu Sheikh Mujibur Rahman, a seminar was held on 'Relevance of Philosophy of Bangabandhu in Africa and Beyond' in Abuja University, Abuja, Nigeria on 17 March 2021 in the morning. The seminar focused on Bangabandhu's philosophy and thoughts on foreign policy, international relations and struggle for emancipation of mankind across the world. Professor Abdul-Rasheed Na'Allah, Vice Chancellor of Abuja University and Mr. Masudur Rahman, High Commissioner of Bangladesh and Professor Dr. Musa Olaofe, Director of Asian Studies Centre of the university were discussants, among others.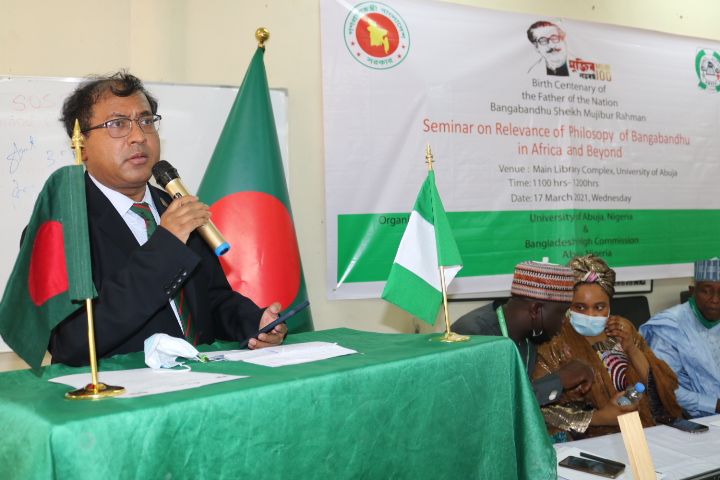 In his welcome remarks, Professor Abdul-Rasheed Na'Allah mentioned that Bangabandhu was a great visionary leader. The Vice Chancellor observed, 'It is the strength of Bangabandhu's character that has led Bangladesh's independence and what Bangladesh today is''. Focusing on bilateral relations, Mr. Na'Allah informed that Abuja University would continue to collaborate with Bangladesh High Commission in Abuja to celebrate the Mujib Year and Golden Jubilee of Independence of Bangladesh in future while stressing the need for further strengthening bilateral relations between Bangladesh and Nigeria in the field of education and research. While delivering his keynote speech, Professor Olaofe elaborately discussed Bangabandhu's philosophy and thoughts on bilateral, regional and multilateral relations for regional peace and development. He said that in today's challenging times, Bangabandhu's political philosophy continues to be relevant around African region and beyond. He presented a keynote paper at this time.
At the concluding remarks, Mr. Masudur Rahman, High Commissioner highlighted the phases of emergence of independence of Bangladesh including partition of India and from language movement to the liberation war. Mr. Rahman mentioned that Bangabandhu never compromised on the question of the rights of the oppressed and freedom-loving people of then Bangladesh while adding that Bangabandhu was not only the architect of independence of Bangladesh but also a forerunner in realizing the rights of the deprived people of the world. Focusing on the relevance of Bangabandhu's philosophy in African people and beyond, High Commissioner informed that 'Friendship to all, malice towards none' was the masterstroke of Bangabandhu's foreign policy while adding that Bangabandhu supported the struggle against colonialism, imperialism and apartheid for economic freedom of African people and beyond. Highlighting on bilateral relations between the two countries, the High Commission pledged to work together to strengthen the existing friendly relations between Bangladesh and Nigeria.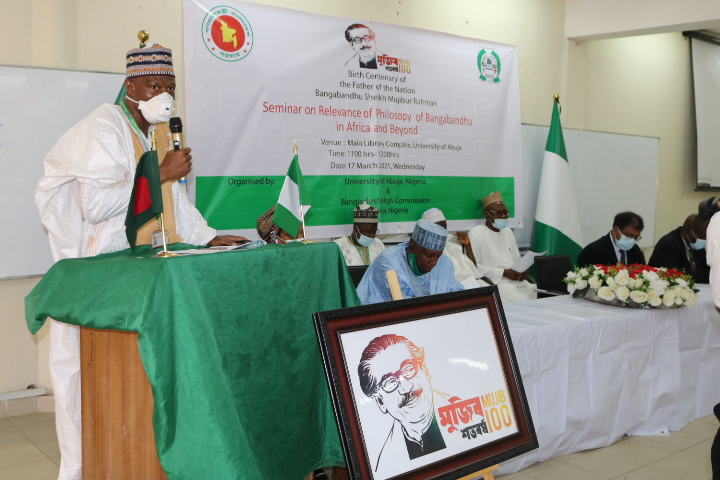 Two Deputy Vice Chancellors, faculty heads and about 200 students were present at the seminar, held at the Library Hall of the University. Professors and students expressed their keenness about Bangabandhu and Bangladesh while participating in Question and Answer session. A song (If it could be heard when night was over that Bangabandhu had not died…/Jodi Raat Pohale Shona Jeto….) was rendered by eminent Nigerian singer Mrs. Princess Bola Ezeji and a documentary on the historic 7th March speech was screened.
Ceremonial Event at the Mission: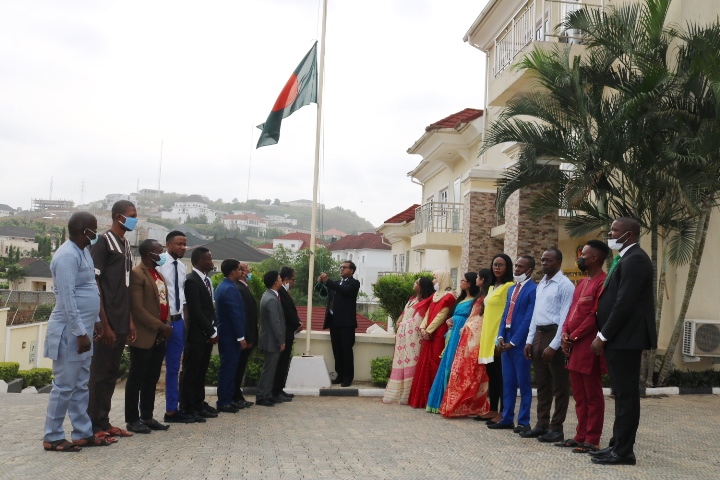 It may be mentioned here that Birth Centenary of Bangabandhu and National Children's Day resumed at 8 am on 17 March 2021 with the hoisting of national flag at the Chancery by the High Commissioner in presence of the officials of the Mission. Floral wreath was placed at the portrait of Bangabandhu by the High Commissioner along with his spouse, officials of the Mission and their family members followed by one minute-silence and a special prayer for the salvation of the departed souls of Bangabandhu, his martyred family members and martyrs of the War of Liberation. Messages from President, Prime Minister, Foreign Minister and State Minister for Foreign Affairs were read out. During the discussion meeting, Mr. Masudur Rahman paid rich tribute to the Father of the Nation Bangabandhu Sheikh Mujibur Rahman for his visionary leadership for the independence of Bangladesh. He urged everyone to work together under the able leadership of Hon'ble Prime Minister Sheikh Hasina to build 'Golden Bengal' as dreamt by Bangabandhu. The guests were served with traditional Bangladeshi cuisine. The programme was attended by officials of the Mission along with their families and expatriate nationals.
Charity events by Bangladesh Mission in Abuja at orphanage: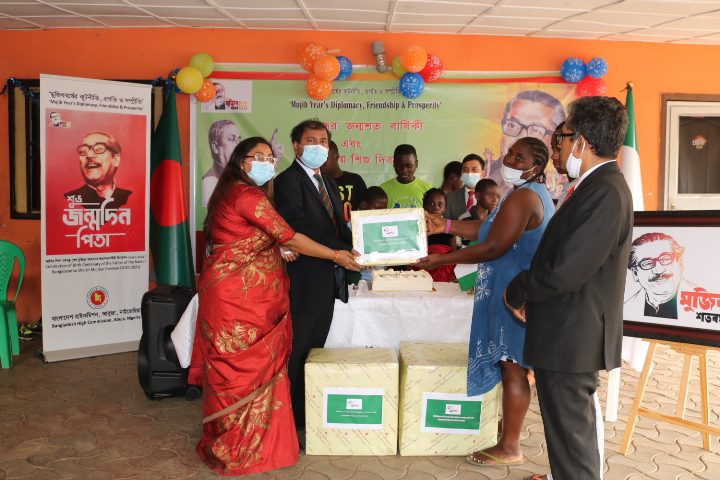 In the afternoon, a charity event is held at the City of Refuge Orphanage, Abuja where High Commissioner and officials of the Mission along with their spouses participated.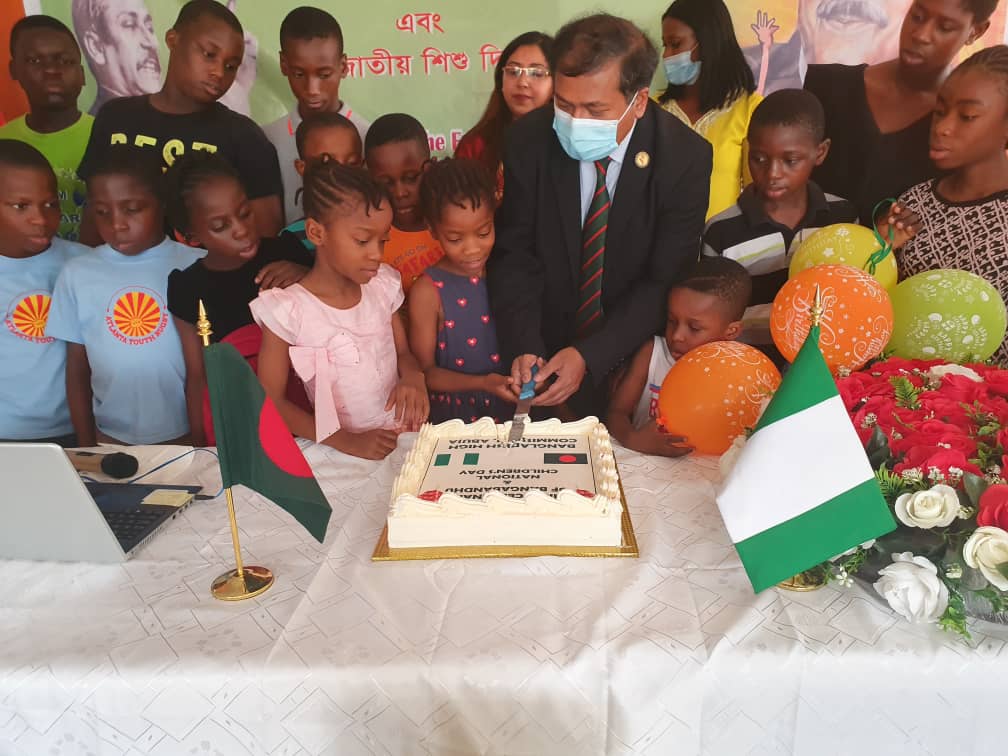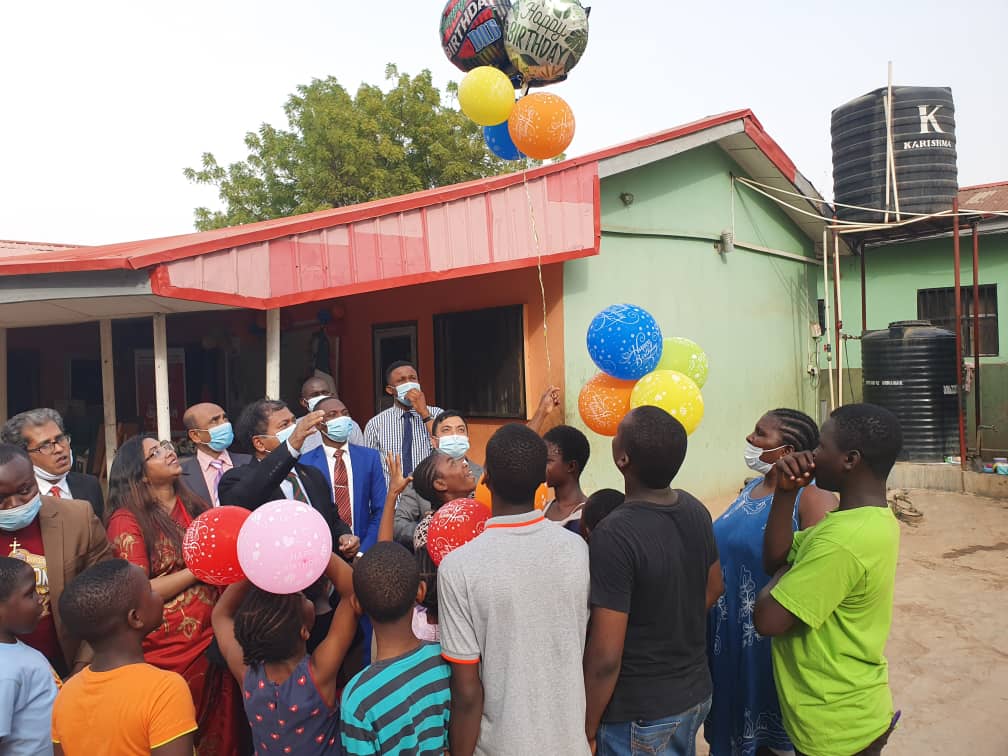 The program included cutting of cake, sharing of sweets and essentials to the orphanage, followed by releasing of birth centenary ballons and rendition of special songs for the Birth Centenary and National Children's Day.
Follow us on social media